Student Profile: Emma Collins – BSc in Psychology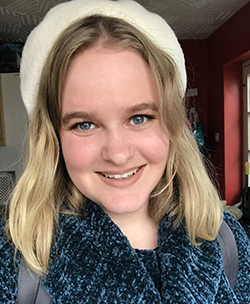 Emma Collins
Why did you choose Bangor?
As soon as I arrived, I felt welcomed, the atmosphere was much friendlier and relaxed than other universities. I immediately met amazing friends and engaging lecturers, while also being surrounded by beautiful scenery.
The course
Everything is amazing but I particularly love the very wide range of content, allowing me to explore many areas whilst focusing on down what I enjoy the most.
Clubs and societies
I am involved in three volunteering organisations, which all provide excellent opportunities for myself and those that we help. I participate in LEAPs (leap into literacy), which is a tutoring service for dyslexic children. Another is Splodge, an after-school club. The final volunteering I do is Walk&Talk with Connect@Bangor. This involves two weekly group walks around Bangor and some special events and gatherings. This provides a place to get away from stress and pressure to spend some time talking, relaxing and making friends.
The location
There are many chances to gain vital subject specific experience and amazing extra-curricular opportunities. We are surrounded by incredible places to go - castles, rivers, and mountains.