Student Profile: Niyal Gahramanova – BSC Psychology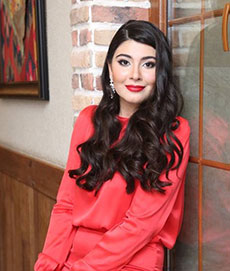 Niyal Gahramanova
Why Bangor?
I am currently getting a bachelors degree in Psychology, 2nd year undergraduate.
Bangor University was on the top of my universities list after various researches about the degrees that university offers and about the city itself. Bangor is a beautiful small city that is mainly focused on university students. Bangor is also considered as a very safe city, which played a crucial role in my decision in choosing a university.
The International Ambassador Scheme…
The scheme of International Ambassadors influences the university life of students. When I first moved to Bangor all by myself by the age of 16, I found it very hard to do some basic things by myself, such as registering with the NHS and exploring North Wales. However, events took a fortunate turn, I was introduced to peer guides, course reps and international ambassadors, who helped me get through the difficulties that every student faces. With the help that I got, I immediately promised myself to try and help students, so that their academic road is a bit easier.
What is the most difficult thing about being and international student?
I find the most hard thing about being an international student is the language barrier, which is usually caused by international students being scared local students would not understand their accent. The solution of this might be in the International Ambassador Scheme, where international students feel free to contact a person from their country in order to overcome their language barrier, and obviously, get to know Bangor better. Homesickness is also one of big problems in International Students. And what is the best way of overcoming it and feeling like home again? Talking to International Ambassador from your country in your language, eating food from your country, and feeling that you have someone close from your country, who is always willing to help!
The course
Psychology is the biggest department in Bangor University. It has interesting lectures, seminars, and many other activities. You get to hold in your hands an actual brain of a real person! However, there is also free time for students to be able to enjoy Bangor and the events that university offers.
The lecturers
The lecturers in Psychology are always enthusiastic about the subjects they are doing, and they always encourage students to contact them if they need help.
Clubs and Societies
I have been a proud member of the Feminist, Horror and Dog Walking societies. The activities and events of each society were different, yet all were colourful and very fun to participate in!
Bangor and the area
What's not to love to about North Wales? You've got Snowdonia to play snowballs, you've got interesting castles to explore, you've got beautiful waterfalls, and amazing beaches to enjoy.
The best thing about Bangor
The best thing about Bangor that it is a small city, which makes everything easily accessible. It is almost impossible to get lost here! Plus, it takes around five minutes to get to your lecture rooms, which means more sleep, which every student feels grateful for.
Bangor has become a huge part of my life for the two years that I have lived here. I have made the most amazing memories in this city. I have met friends that became family members to me. I will miss amazingly interesting seminars, passionate lecturers, and my friends from all over the world!
Support from the University
The University has offered me every type of help I have ever needed. I always felt loved by my personal tutor, lecturers, and my GIs.
Advice for new international students?
One thing I would say to myself, when I first arrived in Bangor if I could travel back in time would be... you're not prepared for your experience here! You will have the most amazing university experience ever. Don't be scared to seek for help, the university does its best and succeed in order to give students the help they need. P.S. and don't bring umbrellas, better go for raincoats!
The Future
After I successfully finish my Bachelors degree in Psychology, I plan to do a Masters somewhere in the UK and then return back to Bangor for my PhD. From the reviews that I've heard, Bangor University offers an amazing experience for students doing PhD in Psychology! Don't be scared to contact me! Either with your personal experience or your university life, I will make sure to help you in any way possible.