Student Profile: Samantha Powell – Psychology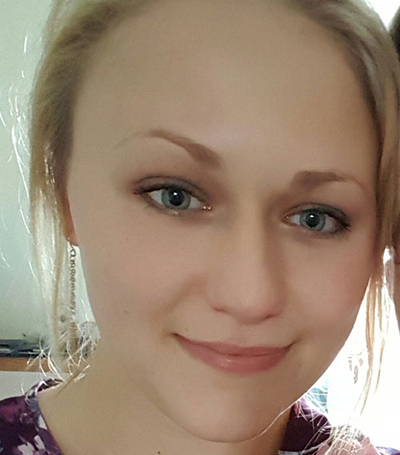 Samantha Powell
Sammy Powell is from Wiltshire. She studied A Levels and undertook an apprenticeship and is now studying Psychology.
What made you decide to study Psychology?
I was really unsure what to do and initially wanted to study animal behaviour, however after my psychology A level I realised I found the subject so interesting and wanted to learn more, plus after working with a variety of people I decided maybe I should study human behaviour instead!
Why did you decide to study at Bangor?
Bangor was recommended to me by my psychology teacher for having excellent ratings for psychology students and once I had taken a look online at the uni and the city itself was hard to resist the appeal of Bangor! However, being told I will be able to hold a human brain in my 1st year is the final factor that swung it for me!
Did you come to an Open Day?
Yes; the uni itself and the Ffriddoedd halls impressed me the most on the open day. The uni is so grand and definitely has a Hogwarts feel about it, plus the halls were the nicest and most inclusive of perks that I had seen, by far, compared to any other uni. If it hadn't been raining and misty that day I'm sure the mountains would have been another highlight for me. As they say, if you like the place in the rain, then you'll love it in the sun!
What is the social life like in Bangor?
Although Bangor is small, that definitely doesn't mean its not fun! Pub and club wise we have all you need to keep the nightlife entertaining, and the small size means you feel safer at night and will easily bump into all your friends. A massive highlight of Bangor however is the number of clubs, societies and volunteering opportunities – not only are they free to join, but there are so many that you can try something completely new, meeting so many other people with the same interests as you. I joined the Gymnastics club this year even though I have never tried it before, and I've learned skills I never thought I would!
What is it like living in Halls of Residence
I couldn't really fault the halls that I lived in. I lived in Peris on the Ffriddoedd site and the price I paid was definitely reasonable for everything that was included – you get 24/7 security, a sports centre, sports dome and fields, student cafe/bar, electronic keys, en-suite bathroom, modern interior, large kitchen/communal area, short walk to uni, town and shops, and even barbecues!
What do you think about life in Bangor and the surrounding area?
Bangor has a very relaxed atmosphere and a community feel. Therefore it is easy to settle in here, with everything you need no more than a 20 minute walk away. Bangor and the surrounding area is lovely, so if you have a car you can go explore! I could see the mountains from my bedroom in halls and the sea is just a small car or train journey away. Otherwise, the pier in Bangor has amazing views, along with certain walking routes that you can find and enjoy the views over the Menai Straits. Llandudno is nearby and is a massive tourist destination – always a nice day out! Plus in Wales you are never far from a castle to explore, and there are so many opportunities for outdoor and water sports that you may never have tried before, because everything is right on your doorstep!
Anglesey is a 5-minute drive away over the bridge and has many towns to visit, including Llanfair­pwllgwyngyll­gogery­chwyrn­drobwll­llan­tysilio­gogo­goch.
What kind of support is there for students?
In my course, all my lecturers have always provided online material and weekly drop-in times for help on their modules, plus they work by a 2-day response time for their emails, so help is always there! The uni has many clinics for extra help such as counselling and a dyslexia unit, with forms available to allow extra time if needed for exams and coursework pieces. There are also employability, career and CV drop-ins to help you prepare for life after uni. Mindfulness sessions are also free as a great way to learn how to reduce your stress through uni.
Has studying at Bangor given you any specific opportunities?
Bangor has provided what feels like unlimited opportunities for volunteering and trying new skills. I have completed so far a (free) German course, 3 volunteering placements and tried 3 new sports with the uni. However I could have done so much more! My current volunteering includes mentoring children with literacy problems at a weekend club to increase their confidence and abilities – it is so rewarding and, I believe, definitely not an opportunity I would have found at home. Also, I held a real human brain in 1st year, which was a very humbling and amazing experience – one that I most likely would not receive in other unis or ever again in my life!
How did you find welcome week in Bangor? Was it easy to settle in?
Welcome week was both the scariest and most exciting time of my life! Moving in and meeting the people you will be living with for months is terrifying, but everyone is in the same boat and you form a different kind of bond as you go through this experience together! Welcome week has many different activities for you to attend, with the aim that you try something new and meet new people – it is great fun!
What advice would you give to people applying to Bangor?
I believe I got accepted into Bangor mainly due to the things I had done after school, not my actual results. I had work and volunteering under my belt and they are open to taking people from a wide variety of places – therefore apply to Bangor whatever your predicted results, they are likely to look at your other achievements too.
What is the highlight/best thing about being a student at Bangor?
The relaxed atmosphere, the area and views, the opportunities, the prices and the lecturers – you are unlikely to find such a wide combination of perks in another uni.
What have you particularly enjoyed about your course?
I enjoyed learning a variety of subjects, but especially those focusing on the brain itself. In 3rd year we got to pick our modules and I am excited that I get to specialise a bit more into my interests and future plans. The Psychology course is BPS credited which means you are already a step ahead than others to becoming a chartered psychologist, as the skills we have learned are recognised as credible. I have also enjoyed having a mixture of lectures, seminars, podcasts and skill sessions.
Have you taken part in the Bangor Employability Award?
Yes, I am aiming to achieve the Silver Award! The BEA is a brilliant way to give your CV some extra credit, as it will provide a transcript of all the extra-curricular things you have achieved while being a student at Bangor. This is everything from part-time jobs, to volunteering, to being a course rep, to being a member of a club, to having a driving licence! It doesn't take long to build up points, and in hindsight I would have taken advantage of more opportunities in my second year and I could have been on track for the Gold!
What career do you want to pursue after your studies?
I am still not entirely sure, however after trying a placement working with children, I am considering working with a dyslexia unit to help more individuals get over their literacy barriers. Otherwise, my Organisational module has given me ideas of working in a HR role.
How do you think the course at Bangor will help you?
Bangor has given me plenty of different experiences that I wouldn't have found at home. The course itself is a BSc and BPS accredited, from a high ranking uni, leaving me in good stead to impress on my CV. Also, the course provides so many more skills than just learning the material – scientific writing, stats, presentation and discipline skills all enhance your employability.
What will you miss most about Bangor when you leave?
Walking around the city and the uni, being about to explore mountains and castles, and living in the Bangor bubble!