5 reasons to study Product Design at Bangor University
The only UK Product Design BSc (Hons) with 3 separate industrial work placements
You will put what you have learnt in lectures in to practice and gain hands-on experience in bringing innovative products to market, managing commercial projects professionally and helping companies to be more effective, competitive, and relevant in the world today.
Study in a stimulating environment with excellent facilities
You'll be taught in small teaching groups by lecturers who want to see you thrive. Our multi-material prototyping workshop, CAD suite and host of top of the range equipment will allow you to turn your ideas into a reality. There is no extra cost for materials or usage of workshop or studio spaces.
Be a part of a lively and friendly community
Our students and staff come from a variety of backgrounds, but all share the same goals and are visionaries who are dedicated to improving the world we live in through design and innovation.
Pursue the career of your dreams
Product Design will open a world of interesting and creative career options. It encompasses a wide range of careers for creative people who want to problem solve, innovate, and change the world. We are rated 1st in the UK for Graduate Prospects in Product Design (The Times and Sunday Times Good University Guide 2023).
Help make the world a better place
Everything we experience in our built environment has been created by people for people. Our Product Design BSc (Hons) will help you to realise your ideas to make the world a better place.
Product Design student working with Solidworks CAD software
Choose the right course for you
Compare Product Design Courses
Here's a quick overview of our undergraduate Product Design courses so that you can compare and find the right fit for you.
Compare Product Design Courses
Here's a quick overview of our undergraduate Product Design courses so that you can compare and find the right fit for you.
Why Study Product Design at Bangor University?
Read the Why Study Product Design? video transcript
[00:03] We believe we've got an unique approach at product design Bangor.
[00:07] Our students develop to be creative thinkers, practical in their approach, and we put the students at the centre of everything that we do really
[00:15] Although the course is actually titled as product design, we cover a whole vast array of sort of design activities here, leading to a range of design professions at the end of this.
[00:24] I think that's one of the key strengths of the course. The type of companies that our students go to...
[00:31] So we've got students in high end position engineering jobs, we've got agency designers, we've got in-house designers working on specific products...
[00:39} We've got students that are working as graphic designers, either self-employed or with companies.
[00:44] So they are highly employable and companies take them on. We've got a well-developed workshop where our students prototype that is both in traditional materials as well as digital.
[00:57] So we've got CMC routers, plasma cutters, 3D printers. We bring in 30 students and four lecturers and it gives us a family feel. We get to know the students really, really well.
[01:08] The students between the years get to know each other well through collaborative projects.
[01:12] So the workshop that you see around us is available for them to use. Students can come here and have a tailored approach to this and have the course actually fit
[01:22] in with their individual needs in terms of where they see themselves working in future.
Prototype your product using our excellent facilities
Read the Our Product Design facilities and equipment video transcript
[00:03] It's important that students understand the materials and the processes that goes into into building products, making products.
[00:10] And it's something that employers value very highly.
[00:14] Typically in the first year, we run through a whole variety of making skills, fabrication skills, production skills and so on...
[00:21] And then that escalates into the second year so that everything that we have here in the workshop, we actually train the students to use.
[00:26] I think we pride ourselves that we can work in pretty much any material -wood,
[00:30] metal, plastics, composite, silicones, anything goes here, to be honest with you.
[00:34] We can fabricate, we can assemble, we can weld. We've invested in different types of 3D printing.
[00:39] We have a 3D printer farm, we can do the FDM, we can do the resin printing, and we use that a lot in the course.
[00:47]
So one of the strongest messages we get from industry is that they want design students who can not only imagine stuff, design stuff, but also build prototypes.
[00:57] And that's what we do here on the course. Having and developing creative ideas is the key really to product design.
[01:04] Students imagine a new future and then actually make it happen.
[01:09] Highly commercial projects that could actually spin, that typically do spin, into new company start ups... To actually see a student come here,
[01:17] learn all the skills, develop their sort of vision, decide where the future is going to be,
[01:22] design and create that product that the market will need in future and establish that start-up
[01:26] business is something that's very valuable and an awful fun to be involved in.
Take a 360 virtual tour of our Product Design facilities
A Product Design degree that will prepare you for a successful career
As a graduate of BSc Product Design you'll be highly employable. You'll be able to use your design-thinking skills to make the world a better place by solving problems for customers, users, clients and companies all over the world.
You'll work on live projects with companies and will gain industrial experience, learning how to manage commercial projects professionally, allowing companies to be more effective, competitive, and relevant in the world today. 
Our students often graduate into jobs, with many of them securing a post at their second- or third-year placement companies.
You will attend three placements across the degree rather than one-year long placement at the end of the course. Our Product Design BSc (Hons) degree is the only course in the UK to offer this. 
Workplace experience consists of 24 weeks over three years - that's a block of 8 weeks during each year of your course. 
Benefits include:
Full support of experienced mentors
Visits by college link tutor
Excellent portfolio generation
Collaboration experience
Involvement in real projects
Personal and professional development
Career driven experiences
 
Design Subject Study (x 2 modules)
You will study human-centred design and design thinking methodologies. A range of briefs will challenge and develop you both creatively and professionally. Projects with industrial partners will ensure a grounding and context of how industry works. Your challenge is to be creative and ensure innovation within the given challenge.
These include:
Principles of design thinking
Creativity
Design communication and modelling
Computer Aided Design (CAD)
Computer Aided Manufacture (CAM)
Manufacturing skills
Prototyping
Sustainable development and the circular economy
Presentation skills
These lectures are designed to make you competent in the issues that affect product designers in industry:
Design innovation for industry
Strategic leadership
Project management
Organisations and management
Marketing
Presentation skills
What have our graduates gone on to do?
Agency designers
Product designers in consultancies
Technical specialists in engineering and CAD
Production engineers
Production managers
Technical designer
Interior design
Furniture design
Design engineers
Graphic designers
Digital designer
Jewellery designers
Marketing managers
Business development managers
Innovations solutions lead
Strategy managers
Self-employed business owners
Independent consultants
Teachers in secondary education
Take a look at our Product Design graduate profiles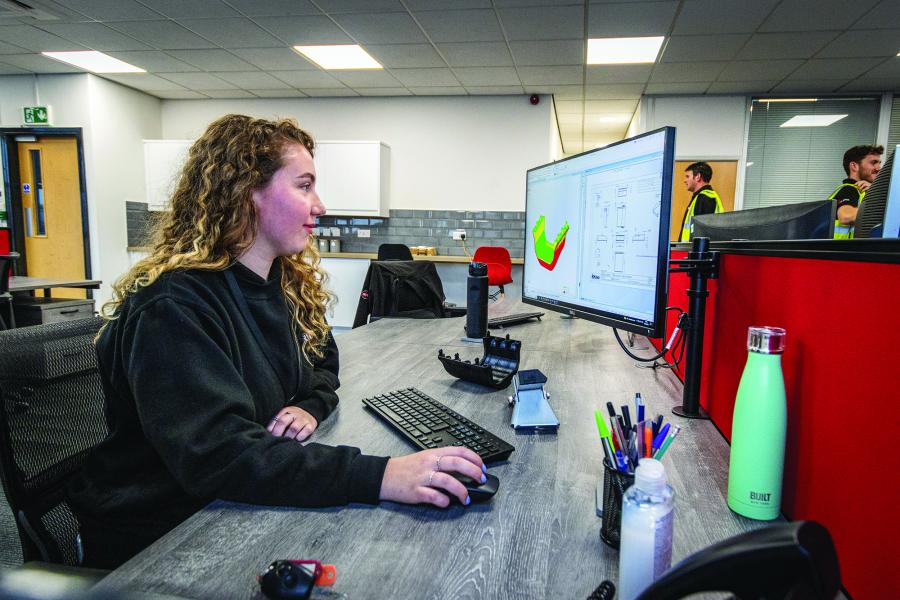 Product Designer, Rhino Products Ltd. Lowri Edwards
"Rhino Products Ltd. is Europe's leading van accessory manufacturer who design and manufactures roof racks, bars, ladder transportation systems, rear steps, side steps, pipe tubes and door ladders. I use Solidworks to design and test our new products and FEA (Finite Element Analysis) to test products before commissioning tooling for manufacturing. I get 'hands-on' with our products to test and look for improvements for the next models, working with 4 other design engineers."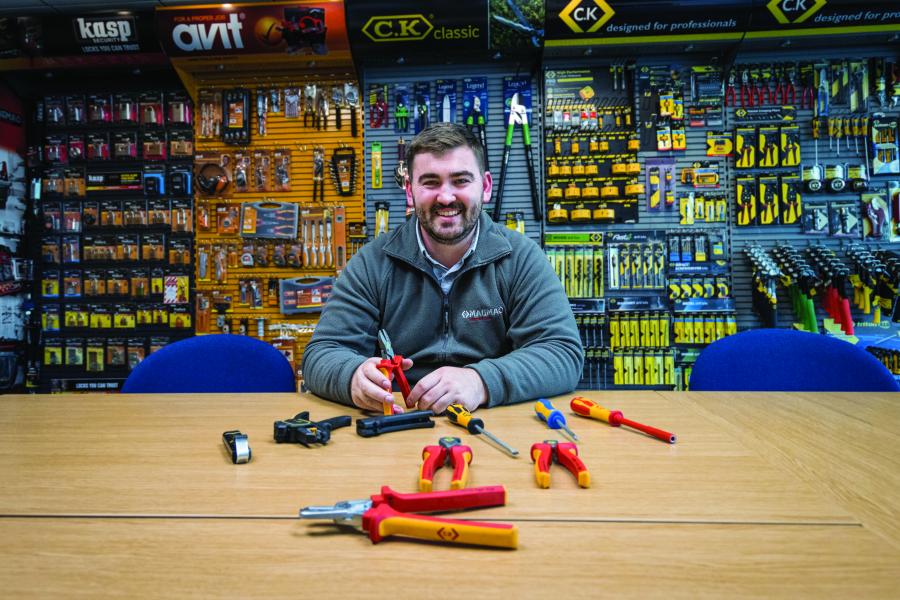 Product Design Engineer, Carl Kammerling International (CK) Mathew Jones
"For over 100 years, CK has been at the forefront of hand tool manufacturing. I use Solidworks to design our products, but I also use Cura 3D to print off basic prototypes. We constantly talk to the end users of our products such as electricians to learn how we can improve our products. In our office there are two design engineers and we work closely together on product development and typically manage 20 projects at any one time."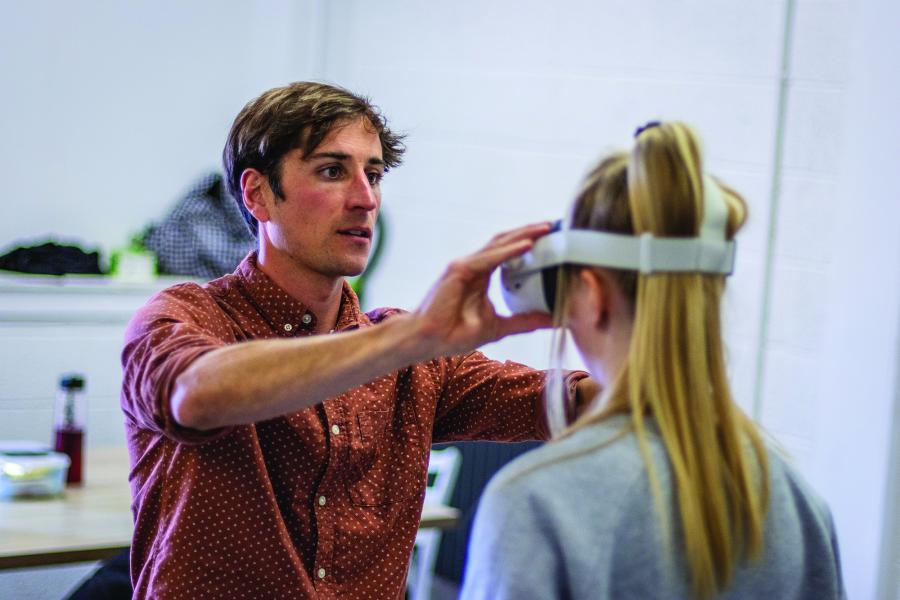 Lead Designer, Welcome Furniture Tim Hunt
"Welcome Furniture has been manufacturing in the UK for over 15 years. We supply to a huge range of companies and stores, including Argos, Matalan, Very & Wayfair. I prepare designs to be manufactured using CNC machines. I use VR to evaluate new designs and test alternative materials and finishes. I also use VR to showcase our products to potential customers. I research current interior design trends and we use a combination of Adobe suite, Solidworks, Keyshot and iMOS during the design process. There are 250 people in our workplace, and I am responsible for managing a team of 3 designers."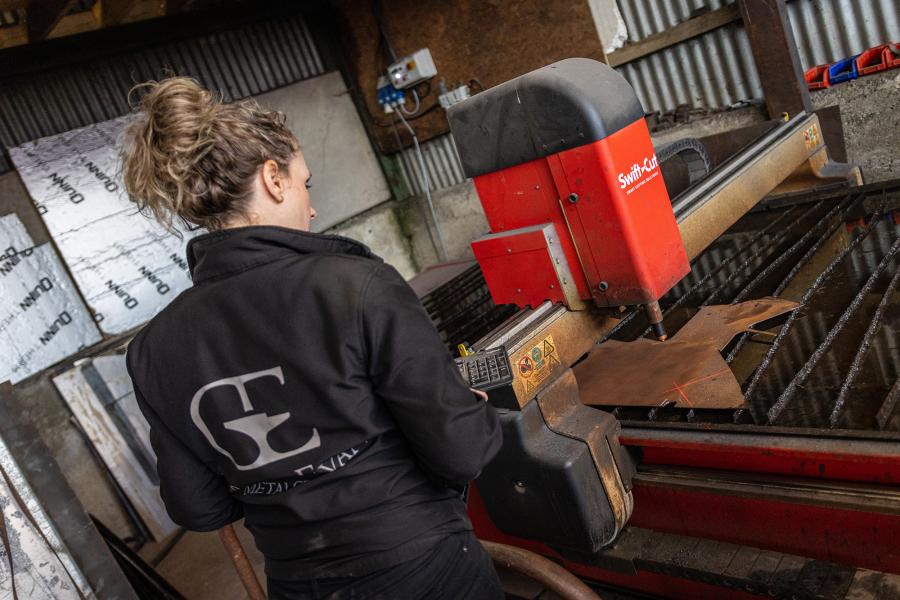 Company Director, Gerallt Evans Metalcraft Victoria Rushton
"Gerallt Evans Metalcraft are a multiskilled team of craftspeople who are passionate about creating beautiful items, using a wide range of metals and finishes, that will stand the test of time. I use Autodesk Fusion 360 and Inventor to design, develop and test our new products. We have a SwiftCut Pro CNC plasma cutter and SAFAN CNC press brake. Every project requires its own design process. It's always a challenge ensuring the engineering of the product is balanced with its visual appearance. Since becoming director, I have increased profitability, staffing roles and responsibilities and structured project management systems."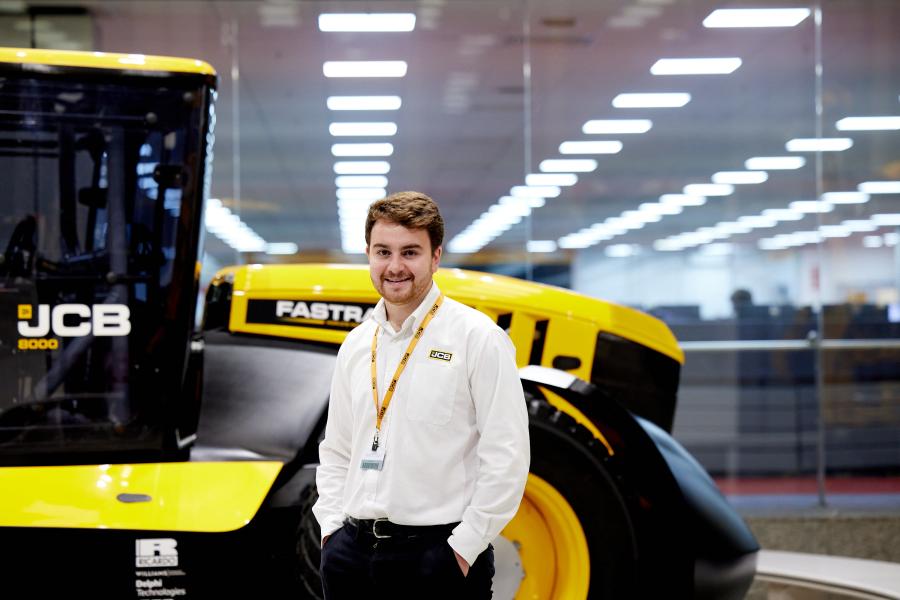 Engineer in Structures and Hydraulics, JCB Charlie Small
"My current role involves designing and testing hydraulic systems, as well as structural components and bracketry, for a range of excavators and other plant machinery. It also involves less design-specific tasks as well, such as risk assessments, failure mode analysis and problem solving exercises. I am often presenting concepts and solutions to a small team of 10-15 people, and sometimes discussing the work I undertake to the wider team of around 60 or 70 people. Bangor really helped bring out my work ethic and my passion for good design and also the idea of continuous personal improvement - trying to be the best version of yourself every day."
Watch this graduate profile video of Tomasz Weber
Our students' work placement experiences
Read the transcript for the Our Product Design students' work placement experiences video
[00:03] So, we have an annual work placement every year and the students spend six weeks in a company of their choice.
[00:08] Some students might view this is an opportunity to experience working in a large factory with a design team.
[00:14] We've had students go as far afield as California and Sweden, so on, and to Poland.
[00:18] The best placement for you is wherever you think you should be...
[00:22] Whatever company can actually give you the experience that you think you need for your own development.
[00:26] I went to Arielworks up at MSparc not too far from here in Anglesey.
[00:31] They're a company that mostly do drone filming for television and cinema.
[00:36] I can definitely say that I've really enjoyed my work placement working with them. It was a really fun environment.
[00:41] Overall, it was a complete blast because not only did I get to work in an industry on an active project and watch it fully come to fruition,
[00:47] I also got to work with something that is a hobby of mine and I'm really interested in. So yeah, I had a great time working there.
[00:56] During the course, I've been on two work placements so far. The first one I was with a Sonic Alarm Systems.
[01:02] I did more of a digital work placement, so I was able to work on my graphic skills.
[01:06] And then my second work placement, which I've recently done, I worked in Wild Creations, which is based in Cardiff.
[01:11] So I did fibreglass, which was very messy.And then I did CNC machines, the big CNC machines where I was able to do some of the programming.
[01:20] And then I was also able to do carpentry, which I really liked and I focussed on.
[01:24] I was in a big place where I was able just to learn all different skills and work on different techniques with different people
[01:29] who have worked in this trade for quite a while, so it's good to have like that one on one experience,
[01:34] but it pushes you out your comfort zone, gets you into the industry and makes you more skilled for that type of job.
[01:43]0 I started a placement with Animated Technologies in February as part of my second year.
[01:47] Obviously you've got deadlines in university, but I didn't realise how tight those deadlines actually are when you go out into industry.
[01:54] Yeah, that was one of the biggest things I think that was a bit of a shock to the system.
[01:57] I suppose the kind of stepping stone that I was given here was learning CAD...
[02:01] And my advice for any kind of younger designers is if an opportunity comes your way, just take it.
[02:08] Yeah, they really do care about you. They do want to see you succeed.
[02:12] The biggest shift that students come back with after work placement is the work ethic one.
[02:16] They're enthused by imagining what it would be like to be a designer in a company and
[02:22] seeing that they've been there and they've done it and they've gained that confidence.
[02:25] And I think they come back with a different work ethic and applying the skills that
[02:30] they've learned in industry and knowing that they're working at a professional level.
[02:34] So I'd say confidence, yeah, lots of transferable skills.
[02:38] The magic really happens when at the end of the process, an employer comes to us and say, "Have you got some design students for me to employ?"
[02:46] We get a lot of contact from companies looking for design students.
[02:49] It helps the students actually get the job that they want; design the career that they want. It's probably the most valuable thing we do here.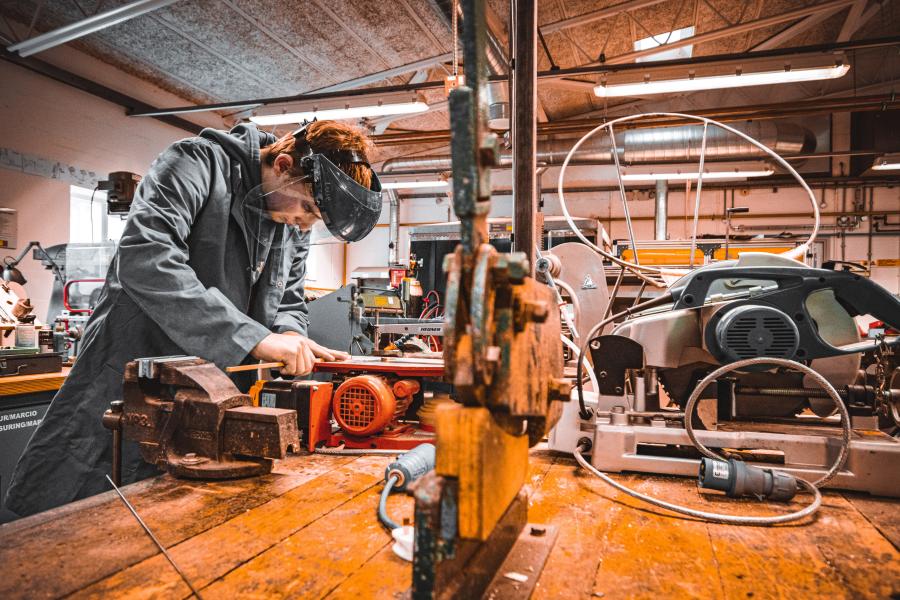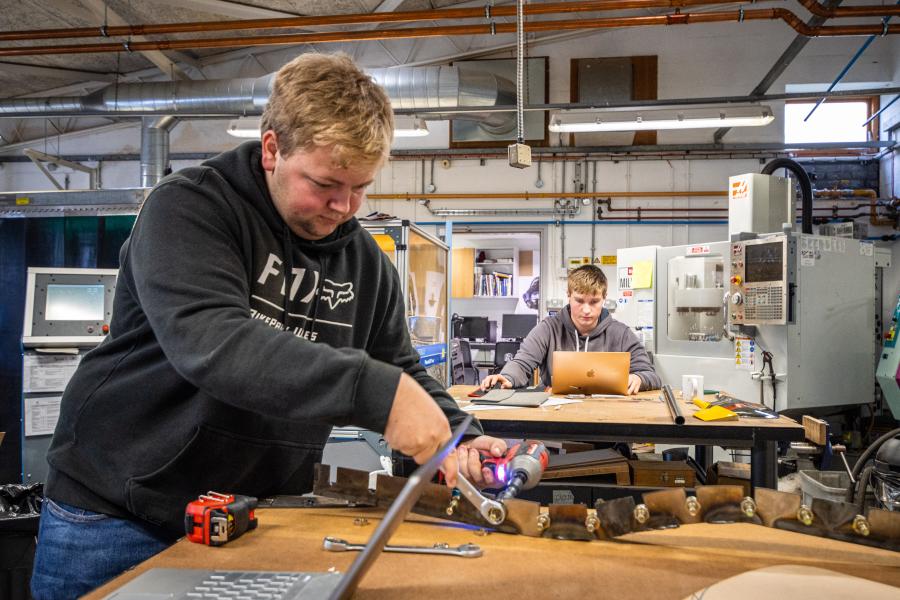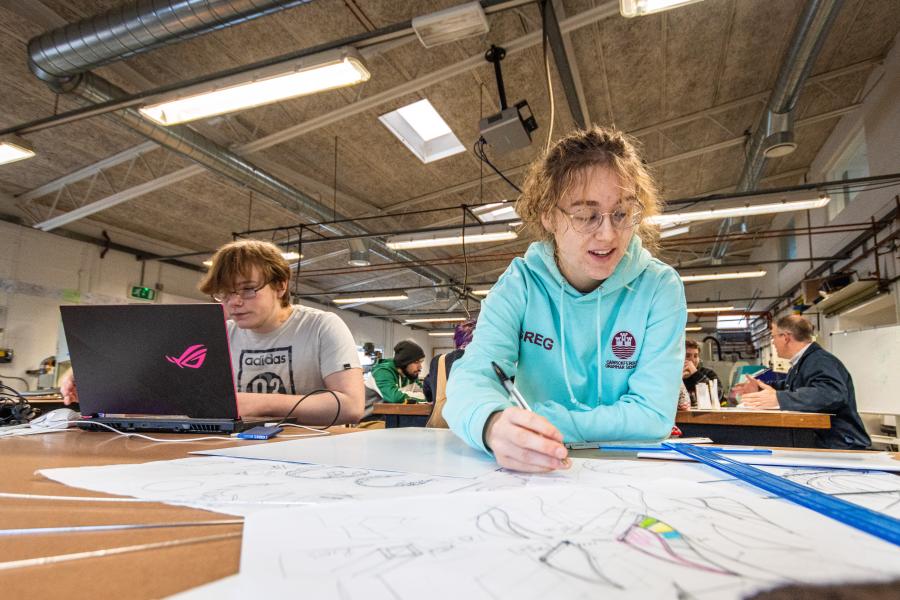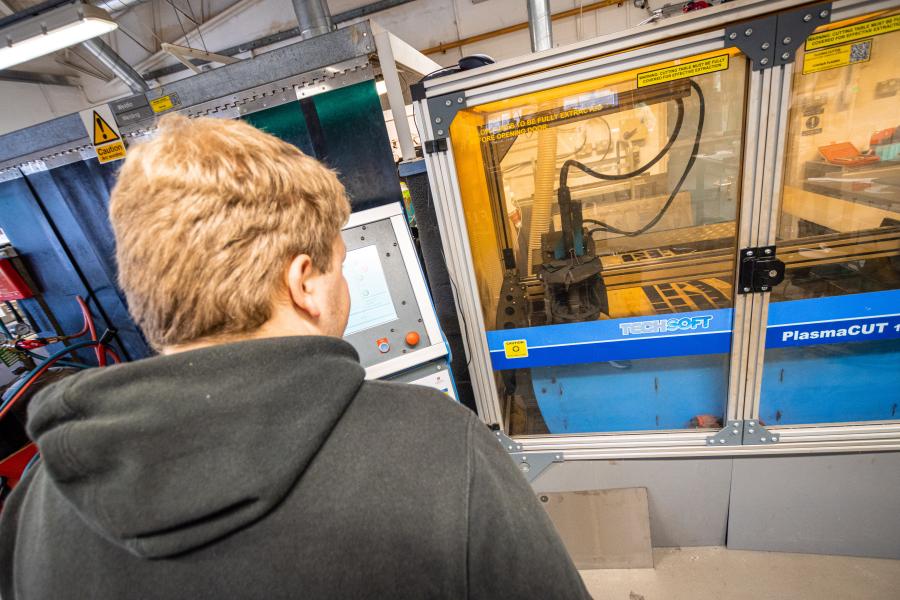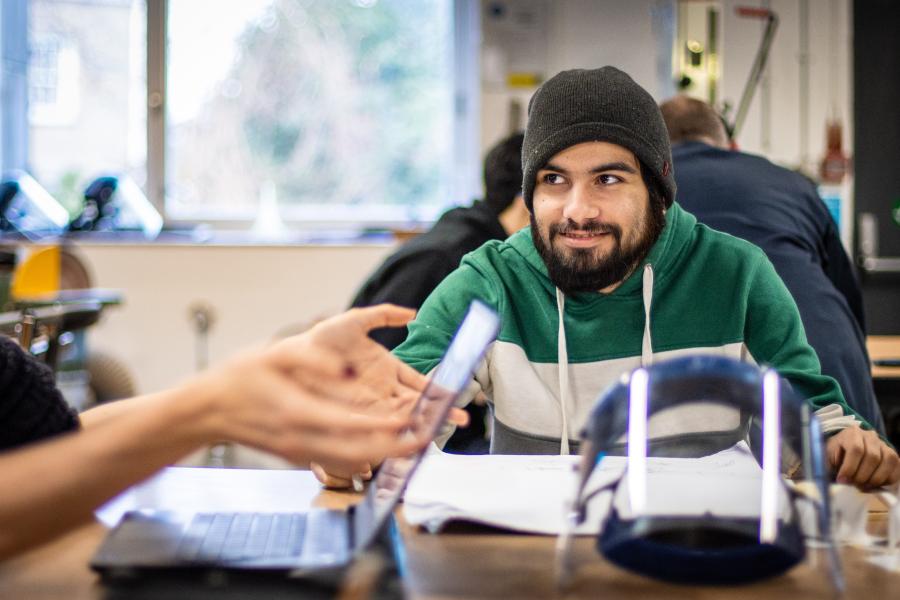 Check us out on Instagram
I love that we have a 7-9 week placement every year, allowing me to specialise in the specific industry that interests me.
Chat with current students
Do you have a question about life as a Bangor University student? Our ambassadors will be happy to help you find the answer.
They can tell you more about studying here, about the amazing Clubs and Societies we have, and how they made friends and settled in to life at university. 
Ask our lecturers a question
If you have any questions about the course, our lecturers are on hand to help. Below are some examples of frequently asked questions. Can you think of any more?
What are the qualities of a successful Product Design student at Bangor?
How can I prepare myself to study Product Design at Bangor?
How will I know that Product Design at Bangor is the right choice for me?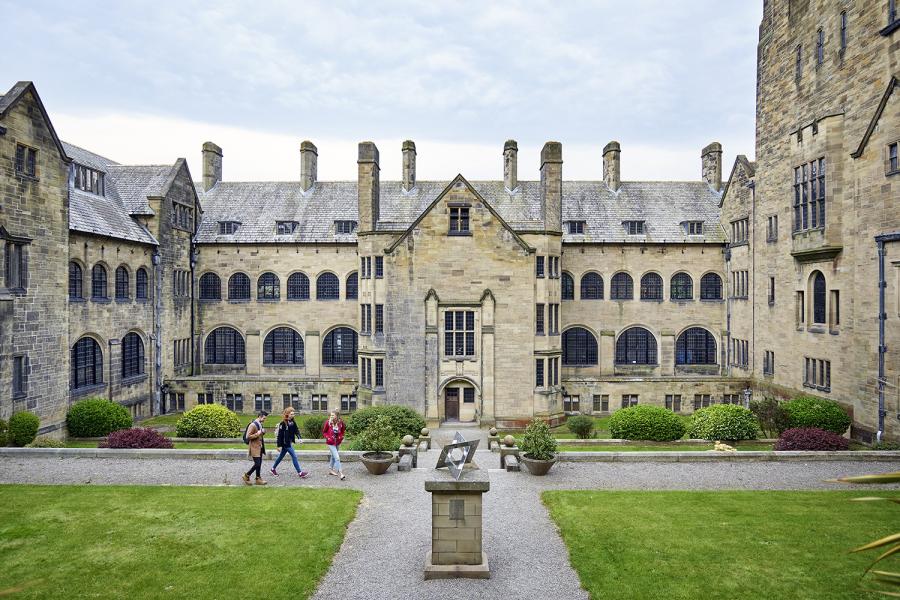 Our Research in Product Design
By studying Product Design, you will learn about the most current research findings in your field and have the opportunity to work alongside nationally and internationally renowned research experts in designing and implementing your own research. You will be taught by individuals who are recognised internationally for their expertise and who are invited regularly to speak at various high-profile events world-wide.
Our Product Design research is continuously embedded in our live briefs and the outcomes become an integral part of new product development and innovation processes within companies. These applied and real-world experiences have resulted in a number of our students being named on patents with our partner companies.
Related subject areas
You may also be interested in these related subject areas.
Related subject areas
You may also be interested in these related subject areas.