Food and Drink
Places to eat and drink
We're committed to delivering tasty, great value food using fresh and where possible, local ingredients.
We offer and support Fairtrade accredited products in all our outlets, and are working towards the new Fairtrade accreditation, we use fish from sustainable sources and all our eggs are free range.
Significant purchasing for catering is with suppliers from the TUCO (The University Caterers Organisation) framework which promotes supply chain sustainability and provides extensive information, resources and networks for us to keep abreast of the latest developments in sustainable catering.
Healing Garden - Student Volunteering Bangor
A student-led allotment and garden is located in the heart of Upper Bangor, next to St James's Church on Ffriddoedd Road. In 2010 the students started to transform a quarter of a hectare of disused University land into a productive, beautiful and biodiverse organic garden. Partnered with Headway Gwynedd, the Brain Injury Foundation, the garden features raised beds, living willow structures, Welsh heritage fruit trees and a sensory spiral and bog garden.
Outside the garden they organise foodie trips, film nights and educational seminars to share knowledge; previous talks have included species identification, organic pest control and a history of organic gardening. All Bangor students are welcome! Just grab your wellies and come along to one of our work parties.
To volunteer please visit their webpage: https://www.facebook.com/groups/SVBHealingGarden/
You can read some more about it here in Seren, the student newspaper, and in a case study published by Social Farms and Gardens.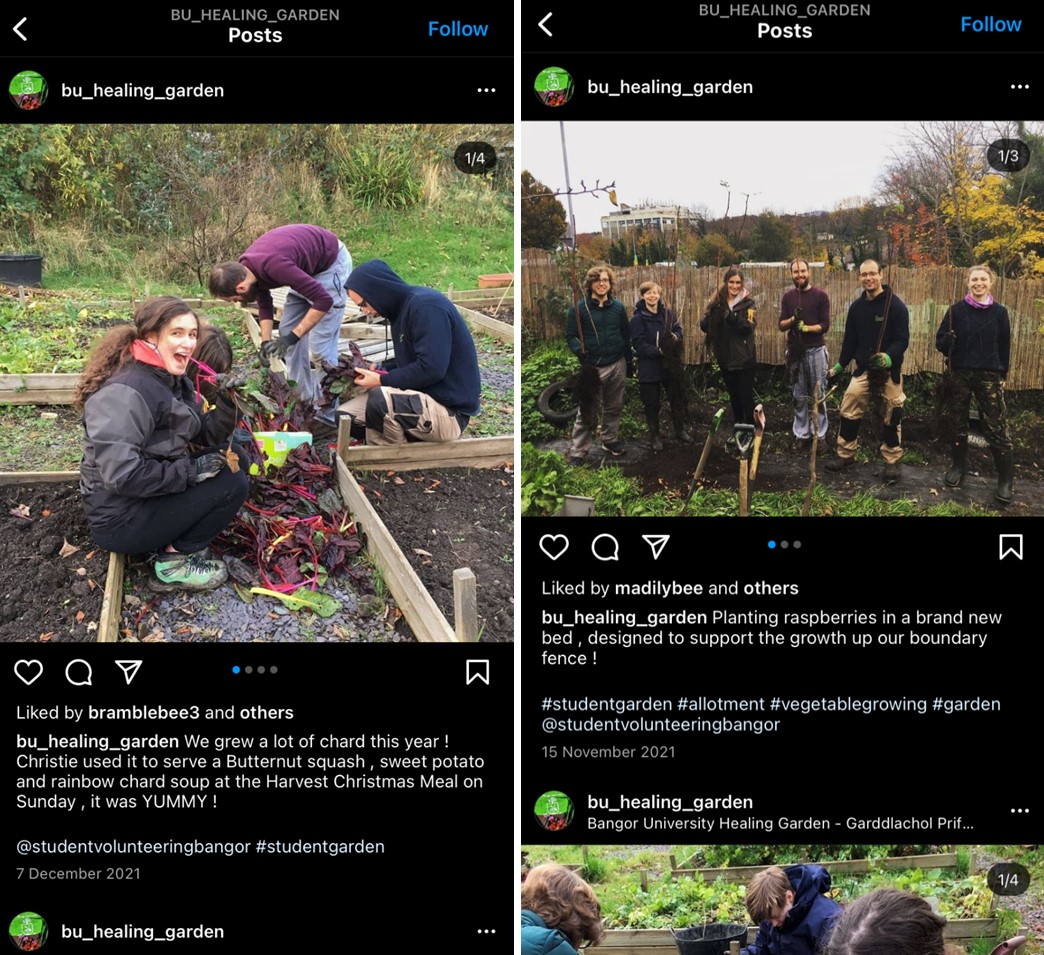 Hungry Dragon Bangor
Hungry Dragon is a student-led food project, working out of a University building, saving surplus food in Bangor. Recently partnered with Bangor Fair-Price Café, they convert surplus fruit and veggies from local supermarkets into yummy preserves and meals.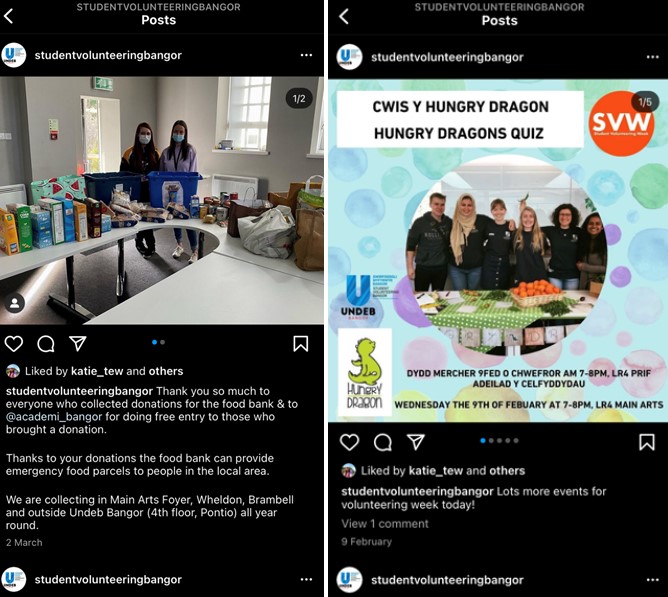 Food Bank Donations
The Students' Union are proud to have food bank donation baskets across the University. The donated food stays in Bangor and is taken for distribution to Bangor Cathedral.
In addition during the months of May and June each year, the Big Give, aims to divert food away from the waste stream back into usage.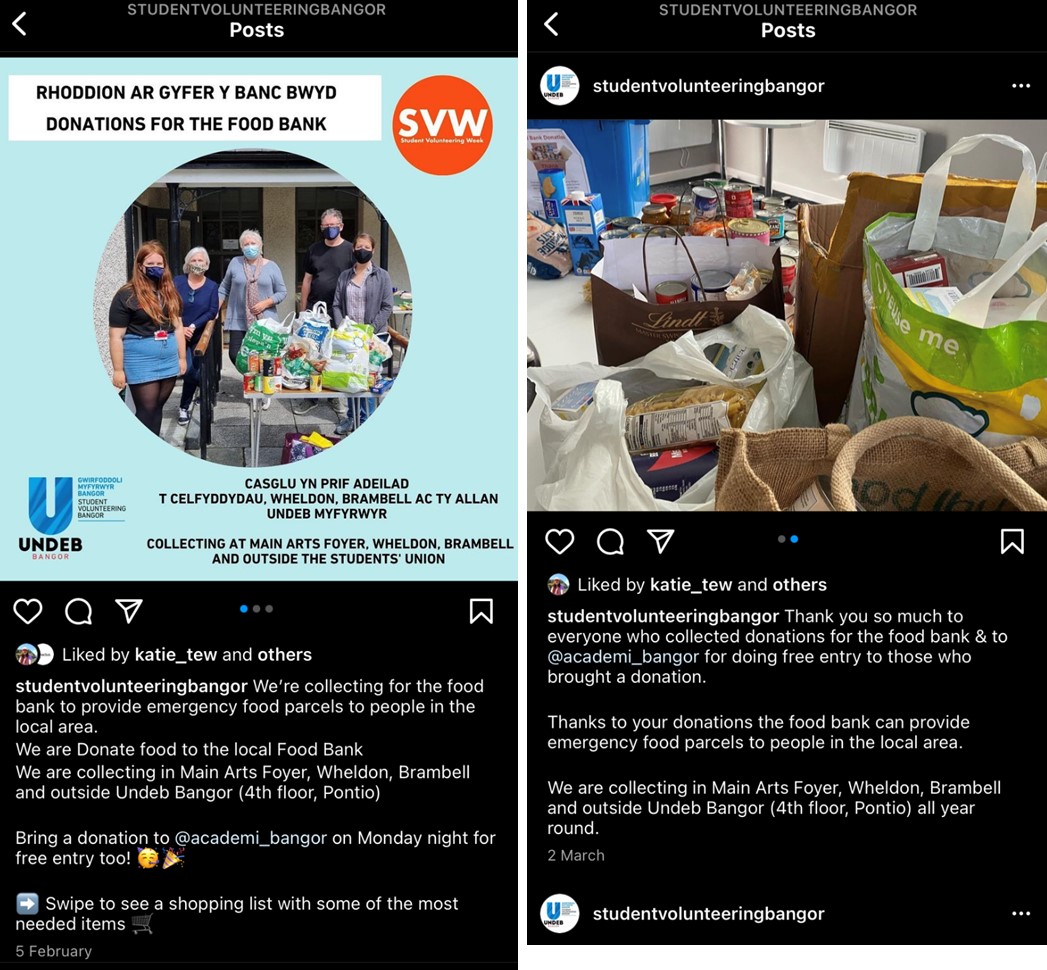 Leading locally and regionally
Our School of Natural Sciences takes a lead on sustainable food within the University and the region. Dr Eifiona Lane, a Lecturer in Food Geography and Environmental Management who spearheads the initiatives, says:
Sustainability is at the heart of Bangor University's mission. We at the School are focussed on supporting and working with food and drink producers across the region to enable them to take up green innovation and become more competitive and sustainable."
Events such as 'North Wales Food & Drink Goes Green' provide opportunities for local businesses in the food and beverages sectors to discuss their commitment to developing a sustainable food industry and share particular interests such as food waste management.
Regional Food Charter
A Food Charter to develop a vision for food and food systems on campus and the region is being co-developed by Dr Eifiona Lane at Bangor University. As chair of Sustainable Gwynedd Social Enterprise, Eifiona established the first Food Charter for Gwynedd and Anglesey which was launched at the Eisteddfod 2012. The Food Charter is a collaborative effort between growers, producers, community food projects, statutory authorities and local/public service boards (Council and Health Board), farmers, hotels, wholesalers, shops, and the tourism sector. Rather than being a prescriptive policy statement it provides a vision for of what we want our food system to look like across our region. Work is still progressing on this Charter including ongoing community food research and a network of stakeholders.
Jones, R., Lane, E. & Prosser, L., (2019) Marketing the Markets – supporting re-localisation of rural food economy through facilitation of local produce markets
Lane, E., Jones, R. & Jones, A., (2018) Cimwch a Chwrw lleol, Bara Brith, Chaws Pob a Seidr: initial reflections on localised innovation in developing sustainable food and drink tourism in Wales
Jones, R. & Lane, E., (2017) Exploring the potential of rural pesca-tourism in Wales
Lane, E., Jones, R. & Ricketts Hein, J., (2017) Foods from catchment to coast – responsible development of rural foodscapes

Jones, R. & Lane, E., (2017) The 'three Rs' of regeneration through place based food systems in Wales
Lane, E., Jones, R. & Jones, A., (2016) A Tale of Two Fishes: Exploring the Delivery of Wales' Rural Food Tourism Strategy

Thomas Lane, E., Jones, R., Jones, A. & Mitchelmore, S (2016) Exploring the potential of local food and drink entrepreneurship in rural Wales
The Food and Drink Forum
Several Food and Drink meetings and talks with external guest speakers are organised during the year. One example of this is 'Food for Life', in collaboration with Conference Food / Campus Catering outlets which has been a regular event for many years.
Click here for details of seminars and events taking place at the University.
Below are some examples of older news and events.
'Expo': Public Procurement and meeting the Wellbeing of Future Generations Act Goals - This 2020 event brought together procurement officers from across the north Wales public sector, academics and other leaders in public procurement together to collaboratively explore how public bodies can use more sustainably produced, local food and meet the Well-being Goals.
Packaging our foods without plastic
Crop rotations offer more sustainable and nutritious food production
Scholarships
A number of scholarships with many cross-cutting sustainability themes are usually on offer through Kess, why not look to see what's available here.
Fair Trade
Bangor University have been granted Fairtrade status since September 2009 by making an ongoing commitment to support Fairtrade. The University sells Fairtrade products in all catering outlets, and Fairtrade and local produce are an important part of the Food@Bangor menu planning. As well as these actions throughout the year, annual promotional campaigns increase awareness of Fairtrade products and encourage people to make ethical choices, for example when they buy food, drink or clothing, and to show support for the farmers and workers who grow crops for us in developing countries.