Campaigns
Fast Fashion Campaign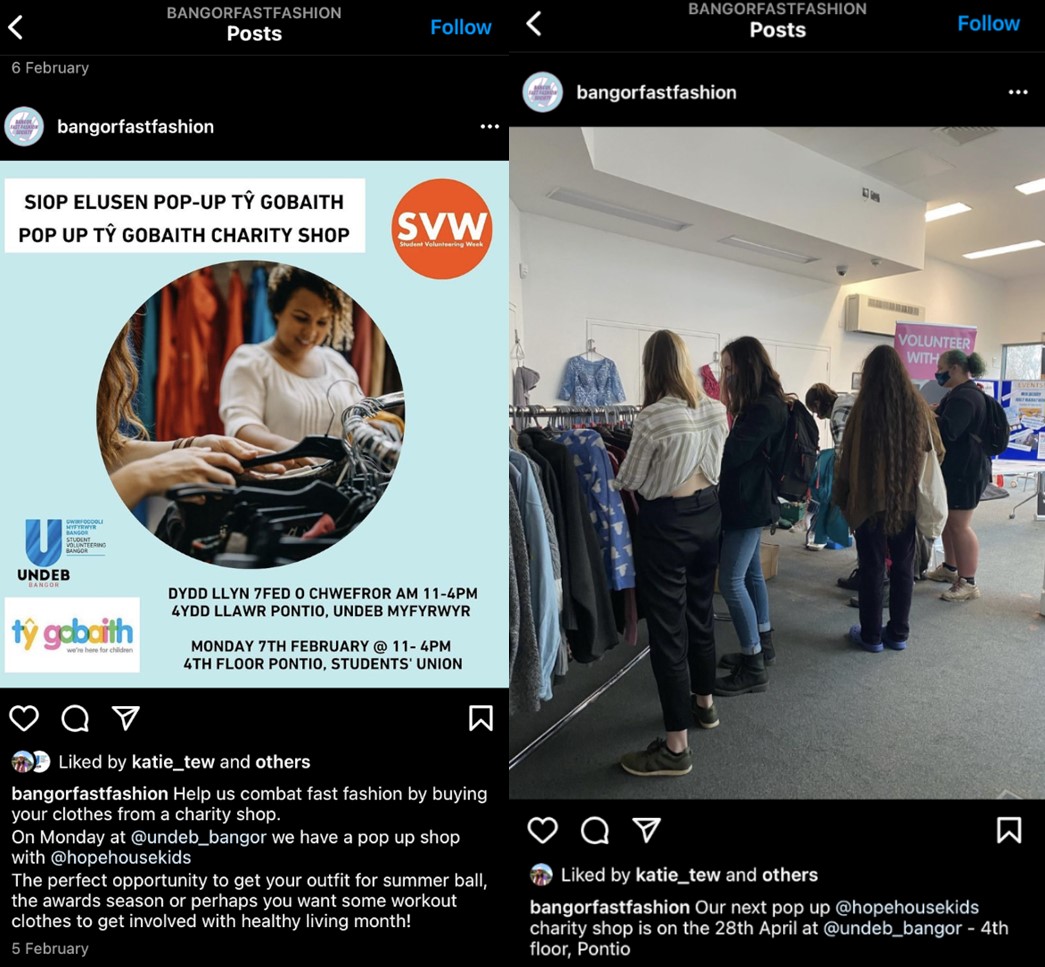 This campaign centered around the environmental and financial impact of fast fashion. Students Union Clubs and Societies organised swap shops for members to swap clothes. 2 events were organised with Ty Gobaith to encourage students to buy second hand – especially at the annual summer ball and the awards season, and also sharing fancy dress costumes.
COP26

Reclaim the Night
Students took to their local streets on the 27th of October 2021 to march against drink spiking. This aimed to challenge behaviours and to create a safer social space for students when on nights out.

Tackling Period Poverty and Period Dignity for all
The Period Poverty and Dignity Pilot Scheme was launched in January 2020 by the Student's Union, Undeb Bangor, funded by the Higher Education Funding Council for Wales (HEFCW), and a Graduate Internship Project Officer was appointed to help manage the pilot scheme.
Its primary aim was to tackle period poverty by ensuring all students have access to free period products as a necessity. This included offering a range of plastic free, single-use and reusable products. Secondary to this, as part of a journey to achieving period dignity for all those who menstruate, it launched a campaign to educate, empower and inspire students on menstruation.
To provide students with safe and discreet access to products during the Coronavirus pandemic, period products were offered through home delivery as a short-term solution. Students were able to order a range of plastic free, single-use and reusable products through completing an online form for supplier Hey Girls and have period products delivered directly to their doors. Alongside the easing of restrictions in May, on campus provision of period products was launched, providing access to plastic free pads and tampons in a range of gender-neutral, male, female and accessible toilets across campus. This was to support students 'caught short' on campus and those struggling financially who require more consistent access.
Read more about this project in the Period Poverty and Dignity Pilot Scheme Report 2021.
Waste Awareness Week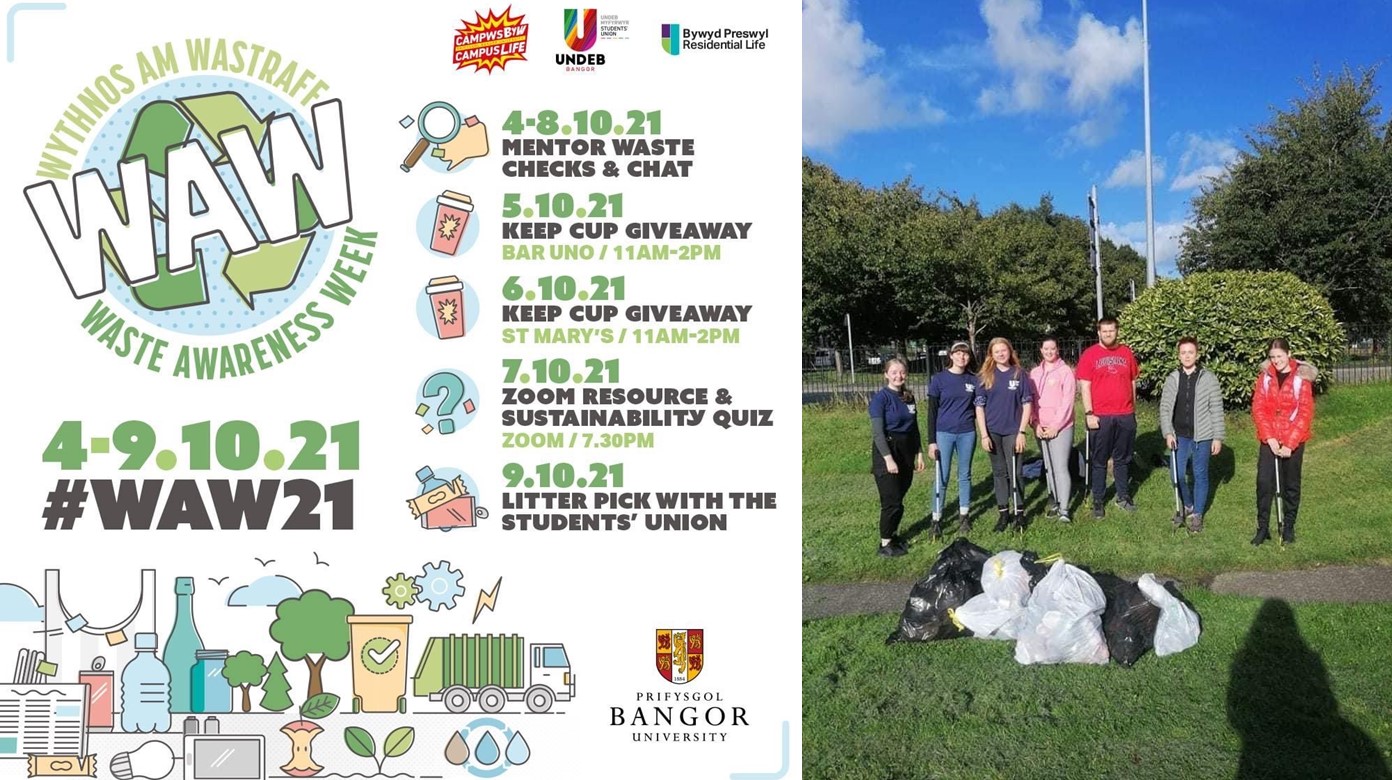 Waste Awareness Week is the University's annual week-long waste campaign, which aims to increase awareness about waste reduction, reuse and recycling, and engage students and staff in resource efficiency events and activities.
We have waste visits in our Halls of Residences and in the community, as well as giveaways, a quiz and litter pick.
Be part of Bangor's Resource Revolution! More information on Waste Awareness Week
End of Term Halls Reuse Drive
Bangor University strives to be the most resource efficient University; indeed we were ranked 7th in the world by the THE impact 2020 for our contribution to the SDG12 'ensuring sustainable production and consumption'.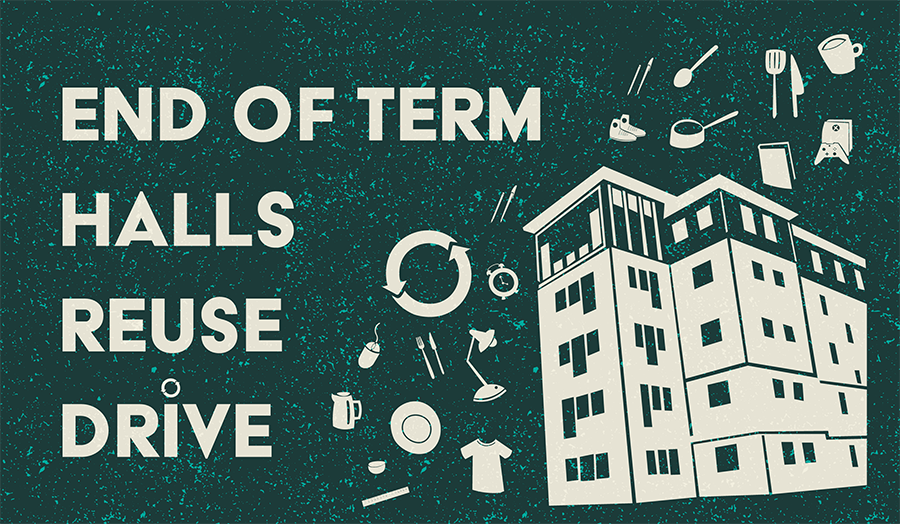 As many students move out of their halls of residence in the summer, they will realise that they have many reusable items that are no longer required. We offer the opportunity to donate them to charity rather than throwing them away.
Donating not disposing
The End of Term Halls Reuse drive, originally organised by Halls, Estates and the Sustainability Lab provides students with the opportunity to donate unwanted reusable items to a local charity, Antur Waunfawr. Items including, crockery, pots and pans, clothes, shoes, kitchen utensils, can all be donated. All that's required is for the student to place the reusable items in a red plastic bag provided, to be left outside the bedroom door. General waste, recycling, or food waste should not be placed in the red bag. It's possible for the students to donate unopened non-perishable foods such as cereal, tins and jars by leaving them on their kitchen table.
Think Before You Drink
Bangor University's 'Think Before You Drink' campaign, launched in 2019 is a set of waste prevention and reuse initiatives encouraging sustainable consumption across all our catering outlets.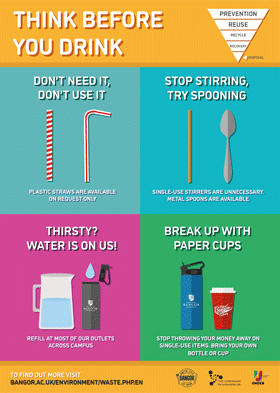 We, as students, staff and visitors are more likely to consider the effect of our actions and use our resources more efficiently if we understand that preventing waste from being created in the first place and reusing existing products is the most sustainable way of ensuring that we have a tidy campus, tidy homes, and a tidy city.
We've got examples of what we are trying to achieve below.
We were finalists! The 'Think Before You Drink'campaign reached the final of the 2019 Green Gowns awards in the 'Campus Health, food and drink' category.Think Before You Drink is a collaborative campaign developed by The Sustainability Lab, the University's Catering team and the Students' Union. Similar campaigns are planned throughout the year, so look out for them across campus and our social media channels.
More information on Think Before You Drink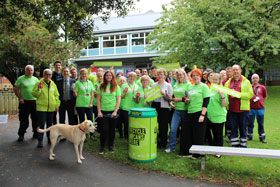 Every Can Counts
On the 30th September 2019, we launched our "Every Can Counts" Campaign as part of Waste Awareness Week.
Whist we have extensive recycling facilities in our buildings, we are aware that we still lose valuable material when our students, staff and visitors are out and about on campus. Aluminium cans are a great material to capture as they are closed-loop, which means they can be recycled over and over, forever, with no loss of quality and using only 5% of the energy used when creating the product from new. We hope this will be yet another step to ensure valuable material is captured here at Bangor, and not lost to energy recovery.
Look out for the can bins located around campus.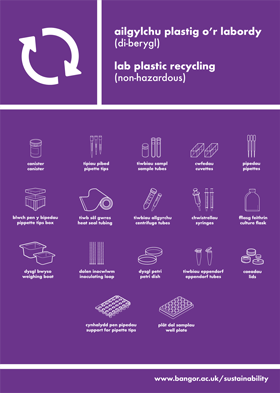 Lab Plastic Recycling
All our labs across the University are heavily dependent on plastics. We have therefore recently been reviewing our practices across campus, to see how we can apply the waste hierarchy in the labs. Whilst there is a great deal of single-use plastic that is discarded, there is also a great deal that is washed and reused across most of our labs, and we would like to ensure this is common practice. When reusing in not an option, we ask our student and staff to recycle the material.
On the 23rd of September 2019, to celebrate Recycling Week, we commenced with our lab plastic recycling collection.