Campaigns
Waste Awareness Week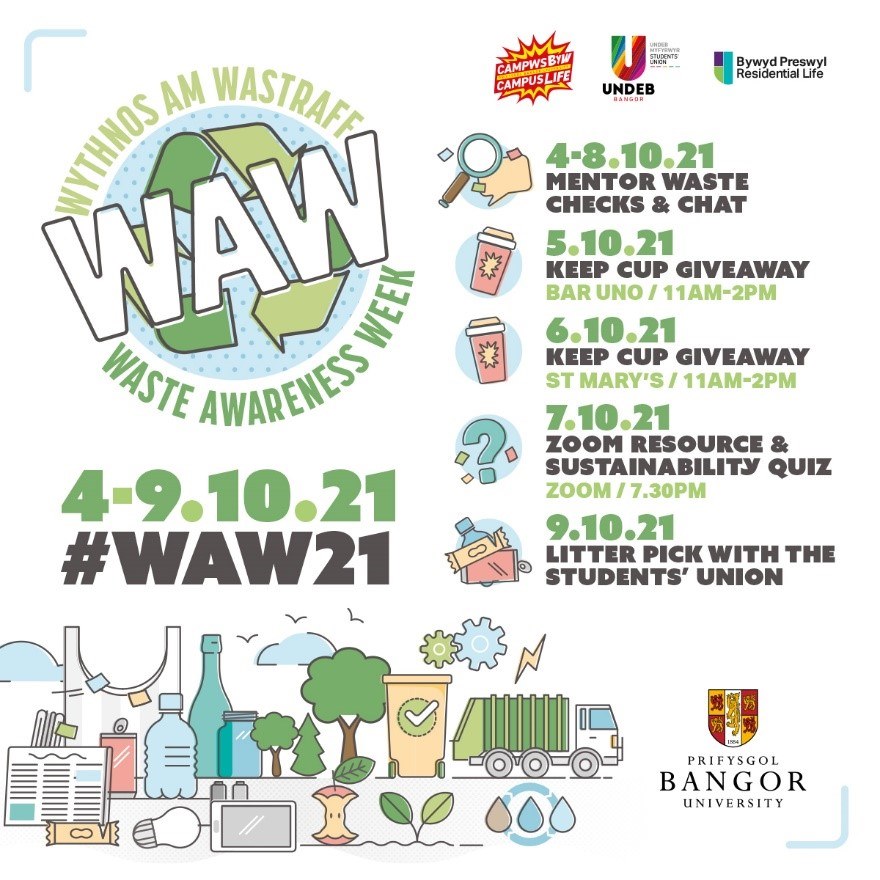 Waste Awareness Week is the University's annual week-long waste campaign, which aims to increase awareness about waste reduction, reuse and recycling, and engage students and staff in resource efficiency events and activities.
We have waste visits lined up in our Halls of Residences and in the community, as well as keep cup giveaways, a quiz and litter pick – so please come and join us.
Be part of Bangor's Resource Revolution!
End of Term Halls Reuse Drive
Bangor University strives to be the most resource efficient University; indeed we were ranked 7th in the world by the THE impact 2020 for our contribution to the SDG12 'ensuring sustainable production and consumption'.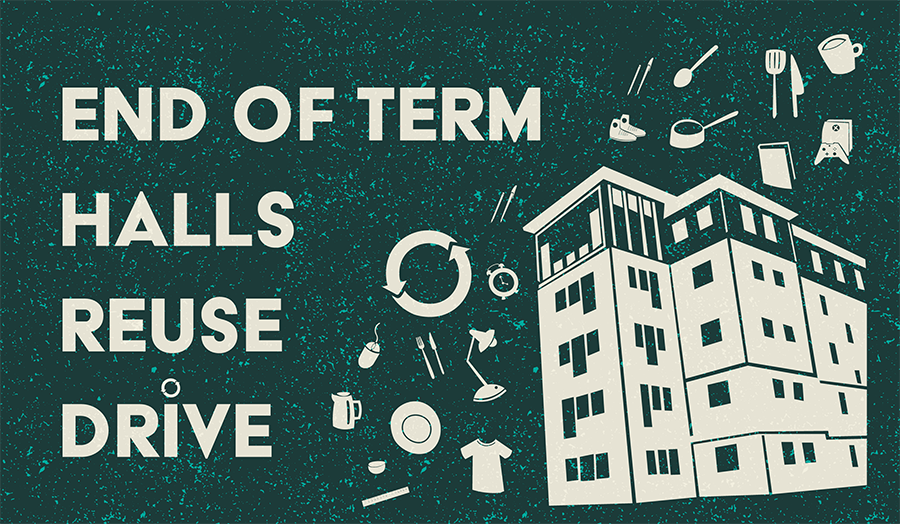 Even though we are currently facing unprecedented challenges due to Covid-19, we are still working hard behind the scenes to ensure we capture as many items and materials for reuse and recycling as possible.
With the summer break approaching, many of students will soon be moving out of their halls of residence. As they pack they will realise that they have many reusable items that are no longer required.We are offering them the opportunity to donate them to charity rather than throwing them away.
Donating not disposing
The End of Term Halls Reuse drive, organised collaboratively by Halls, PaCS and the Sustainability Lab provides students with the opportunity to donate unwanted reusable items to a local charity, Antur Waunfawr. Items including, crockery, pots and pans, clothes, shoes, kitchen utensils, can all be donated. All that's required is for the student to place the reusable items in a red plastic bag provided, to be left outside the bedroom door. General waste, recycling, or food waste should not be placed in the red bag. It's possible for the students to donate unopened non-perishable foods such as cereal, tins and jars by leaving them on their kitchen table.
The health and safety of our students, staff and volunteers is a priority during this pandemic. It has therefore been agreed that all items donated for reuse in the 2020 campaign are to be collected, stored and moved in red, single use bags. This will ensure that donations are not handled by multiple people in a short space of time, and once the donations have reached their destination, they can be sorted and processed as soon as possible.
Sustainability Carnifal
Carnifal Cynaliadwyedd/Sustainability Carnival for the whole month of February, showcasing the vast and diverse array of sustainability events that occur in Bangor.
Check our events page or our social streams for #carnifal updates on what's happening, or keep an eye out round campus for digital posters.
Think Before You Drink
Bangor University's 'Think Before You Drink' campaign, launched earlier this year is a set of waste prevention and reuse initiatives encouraging sustainable consumption across all our catering outlets.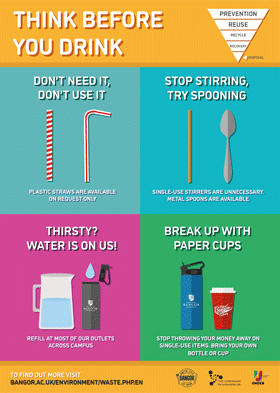 We, as students, staff and visitors are more likely to consider the effect of our actions and use our resources more efficiently if we understand that preventing waste from being created in the first place and reusing existing products is the most sustainable way of ensuring that we have a tidy campus, tidy homes, and a tidy city.
We've got examples of what we are trying to achieve below.
We are finalists! The 'Think Before You Drink'campaign has reached the final of the 2019 Green Gowns awards in the 'Campus Health, food and drink' category. This is a UK and Ireland wide competition and winner will be announced at the Green Gowns awards ceremony in Glasgow in November.Think Before You Drink is a collaborative campaign between The Sustainability Lab, the University's Catering team and the Students' Union. Similar campaigns are planned throughout the year, so look out for them across campus and our social media channels.
More information on Think Before You Drink
Waste Awareness Week
Waste Awareness Week is the University's annual week-long waste campaign, which aims to increase awareness about waste reduction, reuse and recycling, inform students about possible career opportunities in the sector, and engage students and staff in resource efficiency events and activities. WAW takes place annually during the first week in October. The campaign was originally developed by the Sustainability Lab in partnership with Halls of Residence and Campus Life back in 2017.
More information on Waste Awareness Week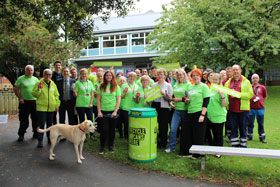 Every Can Counts
On the 30th September 2019, we launched our "Every Can Counts" Campaign as part of Waste Awareness Week.
Whist we have extensive recycling facilities in our buildings, we are aware that we still lose valuable material when our students, staff and visitors are out and about on campus. Aluminium cans are a great material to capture as they are closed-loop, which means they can be recycled over and over, forever, with no loss of quality and using only 5% of the energy used when creating the product from new. We hope this will be yet another step to ensure valuable material is captured here at Bangor, and not lost to energy recovery.
Look out for the can bins located around campus.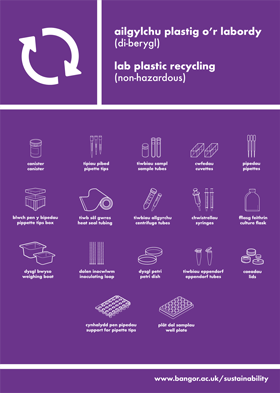 Lab Plastic Recycling
All our labs across the University are heavily dependent on plastics. We have therefore recently been reviewing our practices across campus, to see how we can apply the waste hierarchy in the labs. Whilst there is a great deal of single-use plastic that is discarded, there is also a great deal that is washed and reused across most of our labs, and we would like to ensure this is common practice. When reusing in not an option, we ask our student and staff to recycle the material.
On the 23rd of September 2019, to celebrate Recycling Week, we commenced with our lab plastic recycling collection.
Climathon
Climathon is a world-wide event. It's the largest climate action collective of its kind. The main CLIMATHON event is being held locally at MSParc in Gaerwen where innovators are gathering together to find Solutions to climate challenges.
Climathon day this year happens to coincide with the Bangor Youth Climate Strike on 25th October.
So Bangor Students' Union and Bangor University Sustainability Lab have organised an information session and workshop for those interested in learning more about the issues facing us.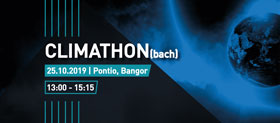 Join us in Pontio LEVEL 2 Lecture Theatre to hear two excellent speakers:
Sian Williams, Natural Resources Wales' Head of Operations, North West Wales will give a presentation outlining the Environmental changes taking place in our local area right now and what sort of challenges and opportunities these will bring over the coming years.
Paola Dyboski-Bryant, of Dr Zigs Extraordinary Bubbles will be telling us about her forthcoming amazing adventure when she joins the Around the World Sailing Expedition to learn more about plastics in the ocean. She is one of 300 women taking part (selected out of 3000 applicants!) and will be sailing from Cook Islands to Tonga from 27th April to 7th May 2020.