How computer visualisation can assist medics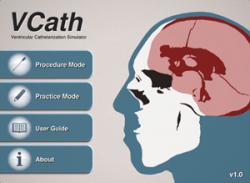 Images from the VCath 'app'If you're about to undergo a medical procedure, it might be good to know that the person conducting the procedure has been able to prepare in advance or been trained using a life-like computer generated simulator, or even been able to prepare based on simulations of your own actual body.
Increasingly, experts in computer visualisation are working with the medical profession to develop applications which assist the medical profession with training and preparation for of a range of procedures. Using computer science in this way can bring cost and efficiency savings to the NHS while also improving the services that can be delivered to patients.
Health professionals in Wales are being invited to three events across the country to find out about the latest work being developed in this field by computer scientists at Bangor University and other universities in Wales. The first event takes place at Ysbyty Gwynedd on Jan 17 2014.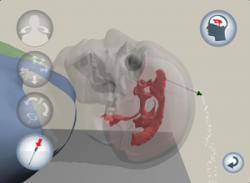 The Advanced Medical Imaging and Visualisation Unit (www.medical-imaging.org.uk), co-ordinated by the School of Computer Science at Bangor University, delivers innovative visual computing solutions to provide added value to many different areas of Healthcare for the NHS in Wales. They are funded by NISCHR (National Institute for Social Care and Health Research) and have a number of exciting projects underway which are led by researchers at the universities of Aberystwyth, Bangor, Cardiff and Swansea.
The development of simulators for training medical procedures is one of the Unit's most active project areas. The team are working on simulators for kidney stone removal, a virtual endoscope to expose trainees to anatomical variations and difficult airways, and for training basic surgical skills such as cutting. A recent example is the development of an iPad app which provides a training tool for a common brain surgery procedure. This was developed by collaboration between computer scientists at Bangor University and neurosurgeons at Cardiff and Leeds. The VCath app is the world's first example of an interactive procedure training tool to be made available on an iPad using a virtual patient and a finger gesture interface. The app takes a neurosurgical trainee through the steps of positioning and inserting a catheter into the brain of a virtual 3D patient. There have been over 6,500 free downloads of the app from the iTunes store since its launch in October 2012, and the current average is over 400 downloads per month, demonstrating far reaching dissemination.
The Unit has also been developing imaging solutions such as segmentation and image based automatic mammographic risk assessment techniques. Mammographic risk assessment provides an estimation of the probability for a woman to develop breast cancer. Due to the variation in manual assessment there has been a drive to incorporate automated approaches in mammographic computer aided diagnosis systems. In close collaboration with Breast Test Wales and NHS Breast Screening radiologists, members within the Unit have developed an approach where the mammographic risk assessment is linked to the segmentation of mammographic anatomical tissue types.
Professor Nigel John said: "We have developed a world leading reputation in our field and aim to provide a big impact on the public in Wales and beyond by providing tools that will make diagnosis and treatment of disease more efficient."
The Unit plans to showcase events at three major hospitals in Wales to demonstrate outputs from the Unit and engage NHS collaborators. The first event will be held at Ysbyty Gwynedd on Friday 17th January. Other events will be held at Heath Park Campus in Cardiff on Thursday 20 February and Morriston Hospital, Swansea on Friday 21 February 2014.
Hear Radio Wales' Science Cafe programme report from the event here ( available until 28.2.14)
Publication date: 10 January 2014