Developments in Public Procurement: E-Procurement and E-Invoicing in Ireland
On 18th October 2012, Professor Dermot Cahill, Dean of Bangor University's Law School, and Director of the Winning in Tendering Project, was invited to speak at a major national Irish conference, 'Developments in Public Procurement: E-Procurement and E-Invoicing in Ireland.'
Other speakers at the conference included Brian Hayes TD, Minister of State at the Department of Public Expenditure and Reform, Donal McNally, Second Secretary General, Department of Public Expenditure and Reform, Vincent Campbell, Director, National Procurement Service, Office of Public Works and Alain Deckers, Head of Unit, DG Internal Market C4 European Commission.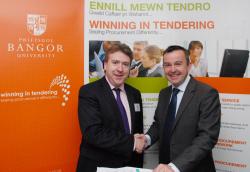 Professor Dermot Cahill with Ireland's Procurement Minster, Brian Hayes, Minister of State at the Department of Finance. Ireland 2012.
Professor Cahill's presentation entitled, Win-Win? focused on the EU's e-procurement ambitions, and referred to topical European case studies in the area. He also critically analysed XChange Wales and gave a detailed description of topical new processes. Professor Cahill's presentation was well received by an audience of over 100 delegates, including public sector procurement officers, procurement managers and policy makers.
Public procurement is constantly evolving and among recent developments, electronic commerce is having an impact. It is estimated by the European Commission that electronic procurement and invoicing could reduce total procurement costs by around 5% and lower transaction costs by 10% or more, saving governments across the EU tens of millions of Euros annually.
Minister Brian Hayes TD announced recently that the Irish government has established an e-invoicing pilot project within the public sector. The National Multi-Stakeholder Forum on e-Invoicing which is led by the National Procurement Service established the pilot with the objective of proving interoperability between service providers while facilitating the adoption of e-invoicing amongst SME's.
The Minister said: "the full rollout of e-Invoicing could lead to multi-million euro savings for the exchequer in terms of reduced administrative and transactional costs, as well as providing savings to suppliers to the public sector. In addition Irish service providers in this area could become leaders in this technology across the EU Member States."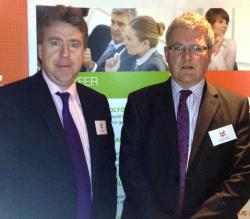 Professor Cahill with Vincent Campbell, Head of the National Procurement Service, Office of Public Works.
Separately, the Pan-European Public Procurement Online project (PEPPOL) was established some years ago by the European Commission to facilitate e-invoicing by the member States. Ireland has now joined 11 European neighbours who have embraced PEPPOL.
While many European countries including Ireland already use electronic procurement to make tendering of public sector contracts simpler and more efficient, most of these solutions are implemented solely on a national or regional level. The PEPPOL project aims to improve interoperability between governments and suppliers systems across borders.
The focus of this conference was firmly on debate in Ireland about electronic procurement, tendering, invoicing and the whole process of electronic communications in procurement.
Professor Cahill met with Minister Brian Hayes to discuss the Winning in Tendering project and its different work packages.
The Winning in Tendering project are part funded by the European Regional Development Fund (ERDF) through the Ireland Wales Programme (INTERREG 4A).
Publication date: 22 November 2012