Cricieth amateur brewer graduates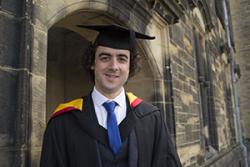 Dyfed MorganA local electrical engineer whose research sought to explain the phenomena behind the increasing popularity of the craft brewing industry in north Wales graduated from Bangor University this week.
Dyfed Rhys Morgan, 33, from Cricieth received an MBA Environmental Management degree which is jointly run by the Bangor Business School and the School of Environment, Natural Resources and Geography.
Dyfed currently travels the UK working on projects to develop management process control systems at various factories and has worked in a variety of industries such as brewing chemical producers, medical drug pharmaceutical and the energy sector. He has also spent a year travelling around Australia.
Pleased to be graduating, Dyfed said: "I took a year off work to complete my studies and I've really enjoyed my time at Bangor University. Looking back, I was aware of the amount of work that was needed to complete the MBA within a year and put so much effort into it, it's great to be graduating.
"I'm really interested in the brewing industry and for my dissertation I undertook some research into the micro craft brewing industry. My objectives were to better understand the success of the craft breweries in the area - how they have developed over the years and their attitude towards networking with other businesses in the industry to achieve their success. The UK's overall alcohol consumption has been falling since 2004 yet these craft breweries are able to compete with global brands for the market share and the demand is increasing annually. In this area there are many unique cases of small brewery businesses being set up and becoming quite successful.
"I've been an amateur brewer for over seven years, and have developed several of my own beers. In fact, I'm now at a point where I'm happy with its quality, and I'm exploring the possibilities of bringing it to market.
"The MBA has enabled me to learn and develop new skills that will be invaluable in my work. I hope to return back to my job as an electrical engineer but at the same time will be continuing with the brewing."
Publication date: 16 July 2015