Mindfulness changed my life
Two Bangor University graduates are experiencing a new way of life thanks to the Centre of Mindfulness Research and Practice at the University.
After graduating in mindfulness related subjects, Jane Brendgen and Jean Nash are embarking on new ventures in Mindfulness.
Jane Brendgen, from East Essex graduated this week with a distinction in MSc Mindfulness Based Approaches while Jean Nash, from Malvern, Worcestershire will graduate with a Postgraduate Diploma (merit) in Mindfulness Based Health Interventions.
Bangor University's Centre for Mindfulness Research and Practice was the first in the UK to establish professional training in the field of mindfulness and remains one of the leading global organisations for the delivery of training programmes.
Jane, originally from South Africa discovered meditation a few years after immigrating to the UK. She said,
"I found out about the masters at Bangor and decided to apply. The practice as well as the process of study has changed my life. It's been a long journey and I have many cherished memories. One of the highlights was the Mindfulness and Individual Therapy module which was held at Trigonos. It's a beautiful setting and this enabled a deep exploration of the material and immersion in the learning process. The most memorable part was the writing of my thesis, where I conducted qualitative research on Mindfulness Teachers' experiences of Authenticity in teaching. This was a deep personal and interpersonal inquiry and I so appreciated the wonderful support I received from both my supervisors".
Jane is passionate about taking mindfulness into organizations. She added,
"I have been working in that setting for the past 12 years. More recently I've been offering mindfulness and am touched by how people respond to it. There is clearly a need for mindfulness as a practice to support health and well-being".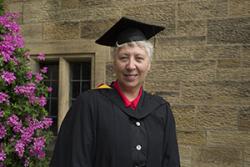 Jean NashJean leaves behind a long career in mental health nursing in the NHS, and now has her own business teaching Mindfulness Based Health Interventions.
"Mindfulness has been part of my life both personally and professionally for about 14 years. On a personal level I deal with physical and psychological difficulties with more equanimity, curiosity and kindness towards others and myself. On a professional level I was able to retire and set up my own business which spreads the word of mindfulness to those unable to access it through the NHS."
"Being self- employed now, offering courses in mindfulness based interventions, whilst unlikely to make me financially rich, gives me and others a wealth which is much more valuable, that of being able to manage and learn new ways of managing life and health in a more kind and compassionate way.
"Completing my diploma was one of the most challenging but affirming 4 years. My peers and teachers were inspirational and I have made some very dear new friends and colleagues who are like-minded and supportive. I always felt as though, at last, I was home, for me it was an incredibly validating experience."
Publication date: 13 July 2015