Prizewinning student graduates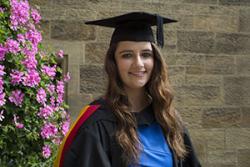 Manon Elwyn HughesA talented, hardworking student graduates this week after "three fantastic years at Bangor University".
A former Ysgol Brynrefail pupil, Manon Elwyn Hughes, 21 from Bethel, Caernarfon graduates with a first-class BA Welsh degree. Manon won a major Coleg Cymraeg Cenedlaethol scholarship to study at Bangor.
Manon is the winner of this year's Sir John Morris Jones prize. The award was established over forty years ago and is awarded to the student who received the best results in his or her final year.
Manon explained: "I decided to study at Bangor because the course and the Welsh department was very appealing, and I enjoyed the Open Day. Having the opportunity to live in the Welsh halls, Neuadd John Morris Jones, was also a factor that inspired me to study at Bangor, as well as being relatively close to home. This also meant that I could continue to work part-time with Gwasanaeth Ysgolion William Mathias. Being a member of the Welsh Students' Union was important during my time here as the Union is quite unique to Bangor University and offers a wide range of opportunities for Welsh students. The degree ceremony will certainly be day to remember, and an excellent way to celebrate my unforgettable three years at Bangor.
During her second year, Manon received the Thomas L Jones Award for being the best Welsh student in the year, and the following year she was one of eight students throughout the University to win the Bangor University Employability Award which are presented to students who have demonstrated a special commitment to develop their employability skills through co- and extracurricular activities at the University.
Also during her three years at the School of Welsh, Manon was extremely active and acted both as Peer-Guide and Senior Peer-Guide, and also formed part of the editorial team of Y Llef, Bangor University's Welsh-language student newspaper, becoming its editor-in-chief during her final year. In addition, Manon sat the Welsh-language Skills Certificate examination in 2014 and won the Norah Isaac Prize, awarded by the Coleg Cymraeg Cenedlaethol, for the best nationwide performance. She undertook work experience at Canolfan Bedwyr which led to further employment at the centre during her summer vacation in 2014.
Professor Angharad Price, School of Welsh, said: "We are grateful to Manon for all that she has contributed to the School and are delighted with her success. She has developed a wide range of skills during the course of her degree in Welsh, whilst maintaining a high standard of academic work, and congratulate her on gaining a first class degree."
Manon will return to the School of Welsh to complete a Masters' degree next academic year.
Publication date: 14 July 2015