Prizewinning student graduates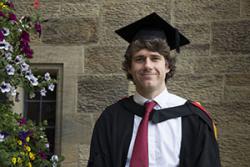 Sean MartinAfter a strong performance throughout his studies, an award-winning student from Bangor University graduated this week.
As well as graduating with a first class BA History degree, Sean Martin, 27, also won the Dr John Robert Jones Prize of £1,500, which is awarded annually to three of the best students across all disciplines at the University.
Sean said: "The course was great and I truly enjoyed completing my dissertation and the experience of doing research was wonderful. The staff in the School of History, Welsh History and Archaeology were fantastic. My highlight was spending time at the National Library in London, I enjoyed its academic atmosphere."
Dr Mari Wiliam, Sean's dissertation supervisor, said: "Sean's performance was particularly strong in every module, but particularly so in the dissertation. Feedback indicated that his dissertation was of publishable standard, and among the best work the internal and external markers have seen from an undergraduate student.
"The dissertation was based on John Smith, leader of the labour party between 1992 and 1994, before he died suddenly of a heart attack. Sean explored the work of John Smith's role as a moderniser, and how it has been set aside from history by New Labour.
"This was a thrilling dissertation, which tackled a significant period in the contemporary political history of Britain, and his analysis is extremely sophisticated. Sean has a distinguished scholarly career in front of him, and the originality of his ideas were very exciting."
Dr Peter Shapely, Head of School, said: "Congratulations to Sean on his success in winning the Dr John Robert Jones prize. The School is extremely proud of his excellent performance, and are looking forward to welcoming him back to do an MA in the autumn."
Publication date: 13 July 2016