Prizewinning talented musician overwhelmed with joy at graduation
A Bulgarian student who broke with the family tradition of a career in engineering and construction graduated with a first-class honours Music Technology and Electronics degree from Bangor University this week.
Bogdan-Antoine Ivo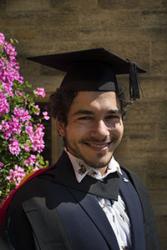 Bodgan-Antonie Ivo Hadjiivanov, 22, from Sofia, Bulgaria not only graduated with a BSc Music Technology and Electronics degree, but also received the R A Jones Prize, which was established over forty years ago and is awarded by the School of Electronic Engineering to the student who produces an outstanding performance in engineering related mathematics, and also the School of Music Prize, awarded Annually to the best third year graduating students.
Bodgan comes from an unbroken lineage of builders, architects and civil engineers, and his family were very surprised by the fact that he was extremely musical. He started building a name for himself in his home city as a performer, multi-instrumentalist and songwriter, and he wanted to become a musician. However, at the same time, he was excelling at all the sciences in secondary school and college, and his passion for knowledge was growing. So when the time came to choose a degree, Bodgan was torn between music and physics, but luckily he did not need to make a compromise, because Bangor University offered him "a very balanced choice".
About choosing to study at Bangor University, Bodgan said: "There are a lot of music tech/music production/etc. degree choices out there in the UK. However, they all teach how to use technology – not how to create it. I liked how the degree in Bangor had a lot of electronics and programming, because I could gather enough knowledge to solve any creative challenge that performers and composers may face. Another major factor that influenced my decision is that Bangor is not a big city with a lot of distractions, so I could really focus on what I came here for – to learn and develop. Of course, the picturesque landscape with the sea and the mountains was a factor too. And last, but not least, the government was sponsoring EU students, which meant that I could start my life without loans.
Bodgan took part in many interesting projects during his three years at Bangor, about his student experience he said: "For two consecutive years, I went to IRCAM Forum Workshops in Paris – a conference for music technologists, and represented Bangor University while learning about new technologies, networking with professionals and academics, and then sharing the gathered knowledge with my colleagues back in Bangor. I also helped out for the festival Electroacoustic WALES, hosted by Bangor University twice or three times every year. Eventually, I was so in love with avant-garde electronic music, that I decided to participate in the Dylan Thomas electroacoustic composition competition and got a chance to perform my own piece!
"I also took part in the annual Enterprise by Design challenge, which is one of the best initiatives in Bangor. It gave me a glimpse at what it is like to design a product, form a business concept and sell it – a great simulation of the turbulent business world, something that everybody should be prepared for.
"I was captain and president of the Bangor Windsurfing Team in my second year and helped develop the club and put Bangor on the student windsurfing map in UK. In first year, I was de facto the only member of the club, so I decided that the club should be developed. I became captain in second year and by the end of my office, the club had more than 100 members, an active core of about 30 people, and an able committee to run everything.
"Finishing my degree, especially with First Class Honours, is a massive achievement that surprisingly few people in the world make. As much as it is a wonderful celebration, there are also bitter feelings on this day – leaving the University which has been my refuge in the past three years, saying goodbye to my course mates who have been my family, leaving Bangor which has been my home. And one big question – what happens now? Despite all the uncertainty that this day is filled with, I just cannot feel sad. I feel overwhelmed with joy, because my effort has been recognized and there are so many roads that I can take in my life now."
Publication date: 15 July 2015