Salma secures internship with the United Nations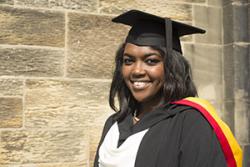 A student from London is one step closer to her dream career having secured a coveted internship with the United Nations.
Salma Khidir, who graduates from Bangor University this week with a 2:1 in Law, will head to Ethiopia in August to work with the UN's Office for the Coordination of Humanitarian Affairs. The three-month internship will see her apply her legal knowledge and skills to OCHA's open casework.
"I'm really looking forward to working with OCHA", says the former pupil of Quintin Kynaston School. "I've always wanted to work in human rights, and OCHA do fantastic work in this field".
The internship is a step in the right direction for 21-year old Salma, who has ambitions of working for a non-governmental organisation (NGO). "Working in the legal department of an NGO requires a legal qualification, so I hope to undertake the Bar Professional Training Course after my internship and qualify as a barrister", she says. "After that, I'll either start looking for jobs or apply for a Masters in International Law at The Hague University in the Netherlands."
Although Bangor felt a world away from her home city of London, Salma quickly settled in, and takes away fond memories of her time at the University. "Moving to Bangor from London was a huge adjustment for me, but the Law School welcomed me and made me feel at home", she recalls. "If I ever had any concerns or questions the staff were always willing to help, whatever the issue was.
"I've really enjoyed my time at Bangor University, and have learnt so much both from my studies and the people I've met."
Publication date: 10 July 2014