Non-Recyclable Waste at the University (Black Lids)
Because the University is working towards not sending any waste to landfill, our non-recyclable waste has been going to an Energy from Waste facility in Runcorn from April 2018 to August 2019, and to an Energy Recovery Facility in Flintshire called Parc Adfer since August 2019. This means that everything we don't recycle at the University is incinerated to make energy, whilst valuable metal is also recovered during the process and later recycled.
The black bins across campus are for our non-recyclable waste. The following materials are accepted in the non-recyclable waste bin: plastic wrappers and film, crisp packets, sweet/chocolate/biscuit wrappers, bubble wrap, used tissues, wet wipes, plastic/wooden cutlery, straws, sachets, coffee cups, plastic bags, masks, plastic gloves and any other non-recyclable waste. Please note that if an item such as a drinking glass, coffee cup, cutlery or straw is labelled "biodegradable/compostable", it will need to go into this bin.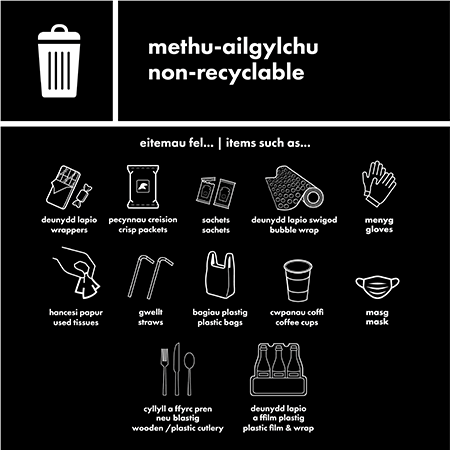 Download the non-recyclable poster here
Coffee Cup Recycling Scheme
Bangor University launched its coffee cup recycling scheme inFebruary 2022. Whilst we would obviously prefer it if everyone used reusable cups for their 'on-the-go' drinks, we know it isn't always possible. We are therefore teaming up with a local company – Humphrey's Waste & Recycling (who also collect our lab plastics) to recycle the normal single-use cups (plastic lined paper cups) we use across campus. Bins are located at Pontio, Main Arts, Café Teras, Main Library, Bar Uno, Barlows and Canolfan Brailsford.
We are also looking at recycling other harder to recycle streams such as film and wrappers, but this is anticipated to take longer as we need to be sure that they are being recycled into a product at their end-of-life.

If you would like to know more about our stance on plastic and ongoing initiatives please visit the following page.