Non-Recyclable Waste at the University (Black Lids)
At Bangor University, we send zero waste to landfill. Our non-recyclable waste has been going to an Energy from Waste facility in Runcorn from April 2018 to August 2019, and to an Energy Recovery Facility in Flintshire called Parc Adfer since August 2019. This means that everything we don't recycle at the University is incinerated to make energy, whilst valuable metal is also recovered during the process and later recycled.
The black bins across campus are for our non-recyclable waste. The following materials are accepted in the non-recyclable waste bin: plastic wrappers and film, crisp packets, sweet/chocolate/biscuit wrappers, bubble wrap, used tissues, wet wipes, plastic/wooden cutlery, straws, sachets, coffee cups, plastic bags, masks, plastic gloves and any other non-recyclable waste. Please note that if an item such as a drinking glass, coffee cup, cutlery or straw is labelled "biodegradable/compostable", it will need to go into this bin.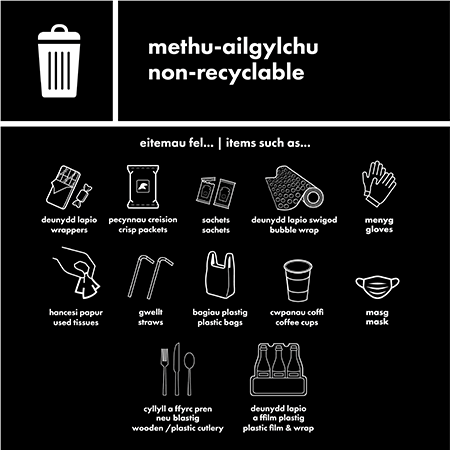 Download the non-recyclable poster here
Are Coffee Cups not recyclable?
We are currently looking at possible opportunities to recycle coffee cups, but for the time being, we are unable to recycle them. This is because it is a composite material i.e. they are made of a mix of materials that are hard to separate, and only specific contractors are able to deliver a collection service as there are only a handful of facilities in the UK dealing with this waste. We are hopeful that the University will be able to collect coffee cups for recycling sometime in the very near future.
We are also looking at recycling other harder to recycle streams such as film and wrappers, but this is anticipated to take longer as we need to be sure that they are being recycled into a product at their end-of-life.

If you would like to know more about our stance on plastic and ongoing initiatives please visit the following page.
Updated September 2019.