Campaigns, Schemes, Initiatives & Awards
Quick Links
Waste Awareness Week
Waste Awareness Week is the University's annual week-long waste campaign, which aims to increase awareness about waste reduction, reuse and recycling, inform students about possible career opportunities in the sector, and engage students and staff in resource efficiency events and activities. WAW takes place annually during the first week in October. The campaign was originally developed by the Sustainability Lab in partnership with Halls of Residence and Campus Life back in 2017.
The University's Stance on Plastic
There has been a great deal of bad press recently surrounding plastics, and whilst the University fully supports reducing the use of plastics where possible, in particular problematic single-use plastics, there are many factors to consider.
Plastic is versatile, durable, flexible and cheap. It is sometimes the best or even the only material that can be used to make certain products, whilst some of it is reusable and recyclable. Plastic is not the problem, the problem is the overproduction of plastic, its overuse, its misuse, and incorrect disposal. In fact, the problem is arguably the overuse of materials in general; especially overuse of single-use products.
There are two main problem areas, which the University is working on addressing and reducing:
Problematic plastics that cannot be reused or recycled
Single-use items in general, regardless of material
Problematic Plastics are non-recyclable single-use plastics that contain no recycled content, have no end-of-life plan, and are likely to be littered as they are very lightweight. These items mostly contain mixed materials that are hard to separate for both technical and financial reasons. They include (but are not limited to) cotton buds, wrappers, crisp packets, chocolate wrappers, sachets, drink stirrers, disposable cutlery, straws and balloons.
Single-use items are items that have been created to be used just the once – for one occasion and only for a short period of time. They have mostly been created for convenience, but not always. Various items fall under this category, including coffee cups, drink bottles/cartons/cans, straws, pipette tips, drink stirrers, disposable cutlery, balloons etc.
The University aims to reduce the use of both but will not be changing the material used unless there is a sustainable end-of-life plan for the alternative material. For example, plastic drinking glasses are recyclable but biodegradable/compostable ones are not. We will therefore not be changing this material as it will do more harm than good. Biodegradable cups/glasses/straws cannot be recycled/composted at the University as we send our food waste to an Anaerobic Digestion (AD) facility, which cannot deal with this material. Biodegradable/compostable materials could possibly be further developed to be dealt with in an Anaerobic Digester in the future, and we will therefore continue to review our practices based on any developing technology used locally. Paper straws cannot be recycled either, as the quality of the paper is too poor, and they absorb liquids. Wooden cutlery and stirrers are also currently non-recyclable here. Our aim is therefore to reduce the use of these items.
Most of our initiatives are therefore focused on minimising or preventing problematic plastic and reducing the need and use of single-use items, regardless of material. Where single-use items are still used, work will be done to promote their possible reuse or to improve their recyclability. We believe that single-use items such as plastic cutlery should be reduced as much as possible, but if they are used, work needs to be done to change attitudes and behaviour to ensure that these items are used again and again – break the myth of single-use products.
More information on specific materials and their recyclability/compostability can be found in this page, whilst further information about the AD process and why we use it can be found under the Recycling at the University section.
Halls of Residence – "Best Environmental Management"
Our Halls of Residence team won the award for the Best Environmental Management in the National Student Housing Survey Awards in 2018.
Founded in 1884, Bangor University has a long tradition of academic excellence and a strong focus on the student experience. Around 11,000 students currently study at the University, with 650 teaching staff based within twenty-three Academic Schools. Bangor University is a strong, confident institution recognised regionally, nationally and internationally as a centre of excellence for its varied portfolio of teaching and research, and for the unique, multicultural, inclusive experience, it provides for its staff and students.
Bangor University is delighted to have won the award for Best Environmental Management, and it is testimony to the dedication and inspired thinking of the Residential Life Team and the Sustainability Team.
Waste awareness sessions are delivered to students at the start of term; these include short presentations, talks and workshops. We work with our Residential Mentors to ensure they are comfortable talking to their peers about waste, and are currently in the process of reviewing an app used by residential mentors, to include questions on the quality and quantity of recycling. This will allow us to monitor recycling behaviour and address any problems our students are experiencing with regards to their waste.
British Heart Foundation Cymru (BHF) banks have been installed onsite, to promote reuse and donations, and are accessible day and night throughout the year. We also ran our first Reuse and Recycling Drive this year, a day spent at both student villages to talk to students and promote recycling, reuse and donations, and to discuss what students will need to do with their recycling once they have left halls and are living out in the community. As well as members of staff from the Halls team and the Sustainability Lab team, BHF and the local council attended. Unwanted furniture from recent Halls refurbishments have also been donated raising tens of thousands of pounds for the charity.
Waste Awareness Week (WAW) is the University's main university-wide waste campaign, and the Residential Life team and Campus Life are central to this. As well as conducting waste visits in Halls of Residence to talk to students, we have an information sharing day, career talks, litter picking and other activities. During the #WAW2017 Campaign, advisors visited 287 flats in students' halls looking at recycling behaviours, answering questions and providing recycling advice first-hand to 252 students. There were also 2 successful litter picks led by Keep Wales Tidy at the St Mary's and Ffriddoedd Student Villages.
The news story can be found here.
Catering – "Think before you drink"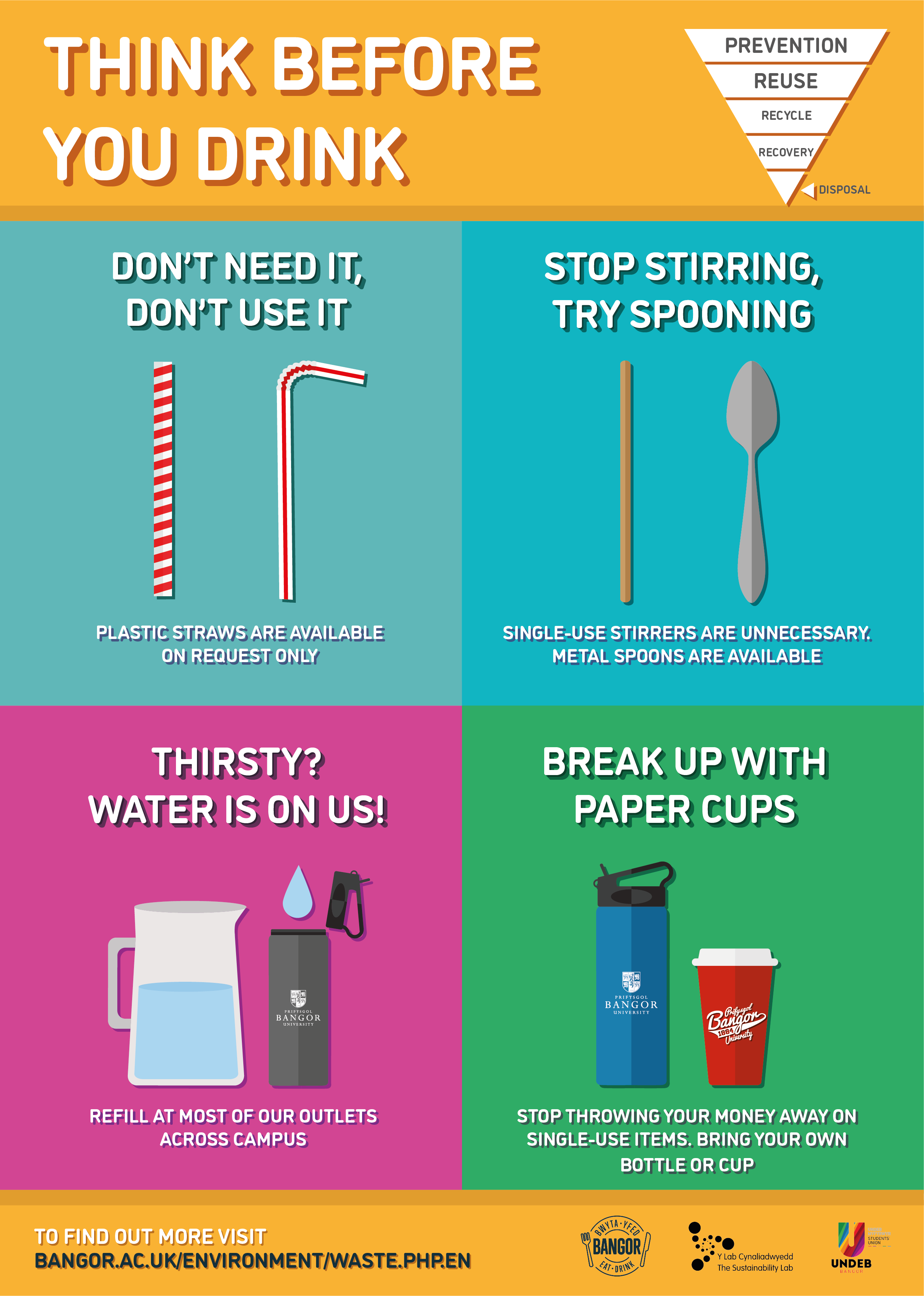 There will be several catering initiatives taking place during 2019/20, which aim to ensure that the University's Catering team operate as sustainably as possible (bearing in mind that sustainable means – considering environmental, social, financial and cultural impacts), use their resources efficiently and contribute to a circular economy. The waste hierarchy will be applied to all decision-making, and waste prevention will be the preferred option where possible.
The first set of initiatives will focus on prevention and reuse. However, the messages delivered during these initiatives will not be restricted to the campaign period but continually promoted and communicated to ensure that the information is available to any new student, staff or visitor; to promote wider understanding and participation.
"Think Before You Drink"
The prevention and reuse initiatives were launched on the 29th April 2019 as part of the "Think Before You Drink" campaign, and focuses on reducing the number of straws used across campus, removing all single-use drink stirrers from our outlets, promoting the refill scheme thus reducing the need for single-use bottles, and promoting the use of reusable cups in order to reduce single-use coffee cups.
Straws have been removed from all counters and will only be available on request. This should substantially reduce the amount of straws used and thrown away in the University. The straws that are available on request will all be plastic, as the people who need straws require them to be plastic – they will therefore always be available on request in line with the Equality Act 2010. No straw is recyclable or compostable locally at present, regardless of material. Paper straws are made from low quality paper that absorbs liquid and is therefore not recyclable, whilst paper straws, biodegradable straws and compostable straws cannot be processed in an Anaerobic Digester. Changing the material is therefore not a sustainable solution, the only sustainable solution is to prevent the waste from being created in the first instance.
We have also removed all single-use drink stirrers regardless of material and have replaced them with reusable metal spoons, which the catering team will wash. Whilst having coffee on the go is a part of modern life, most people don't make their coffee when on the go, and so it is believed that stirrers are an unnecessary waste product regardless of the material they are made of. We ask however, that you please don't take the spoons with you as this would make the initiative unsustainable, as it would become too costly.
We are promoting Bangor University as a refill University, where you can fill up your reusable water bottles for free in any of our outlets (except Copa – that has no running water). Bangor University branded water bottles are available for sale in each outlet.
Reusable coffee mugs are also be sold and promoted. You will receive your first hot drink for free if you purchase one of our Bangor University mugs. You also receive 10p off every drink if you bring your own cup/mug.
"Think Before You Drink" is a collaborative campaign led by the University's Catering team, the Sustainability Lab and the Students Union. We are finalists for this year's green Gown Awards with the campaign. To date we have prevented 9,171 single-use items from being used and disposed of across campus with the campaign.
Over the coming months, we will be continuing with our improvement by replacing condiment sachets with bottles and jars, reviewing possible use of crockery in some outlets, reviewing our alternative milk selection as it generates a great deal of waste and looking at recycling more of our catering materials.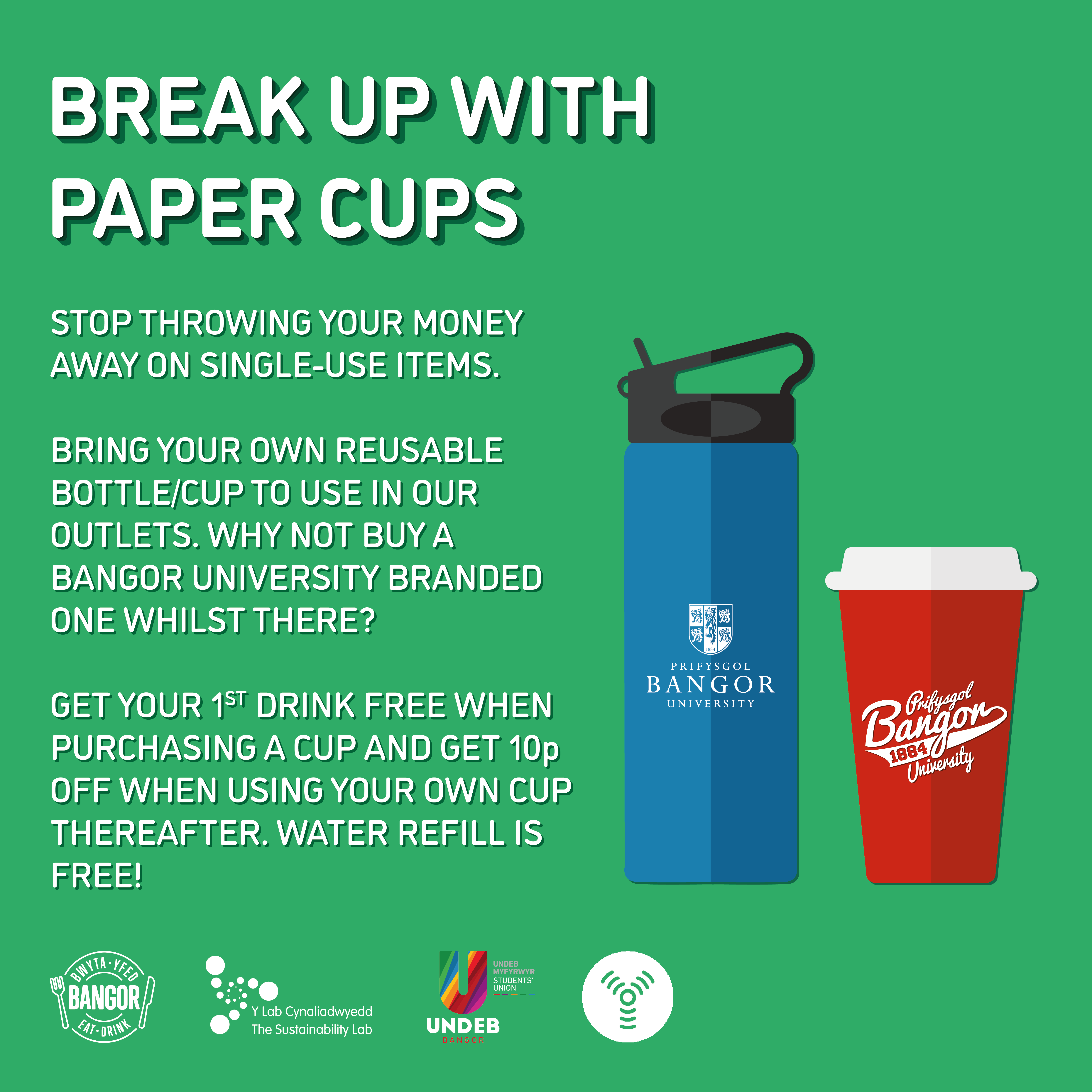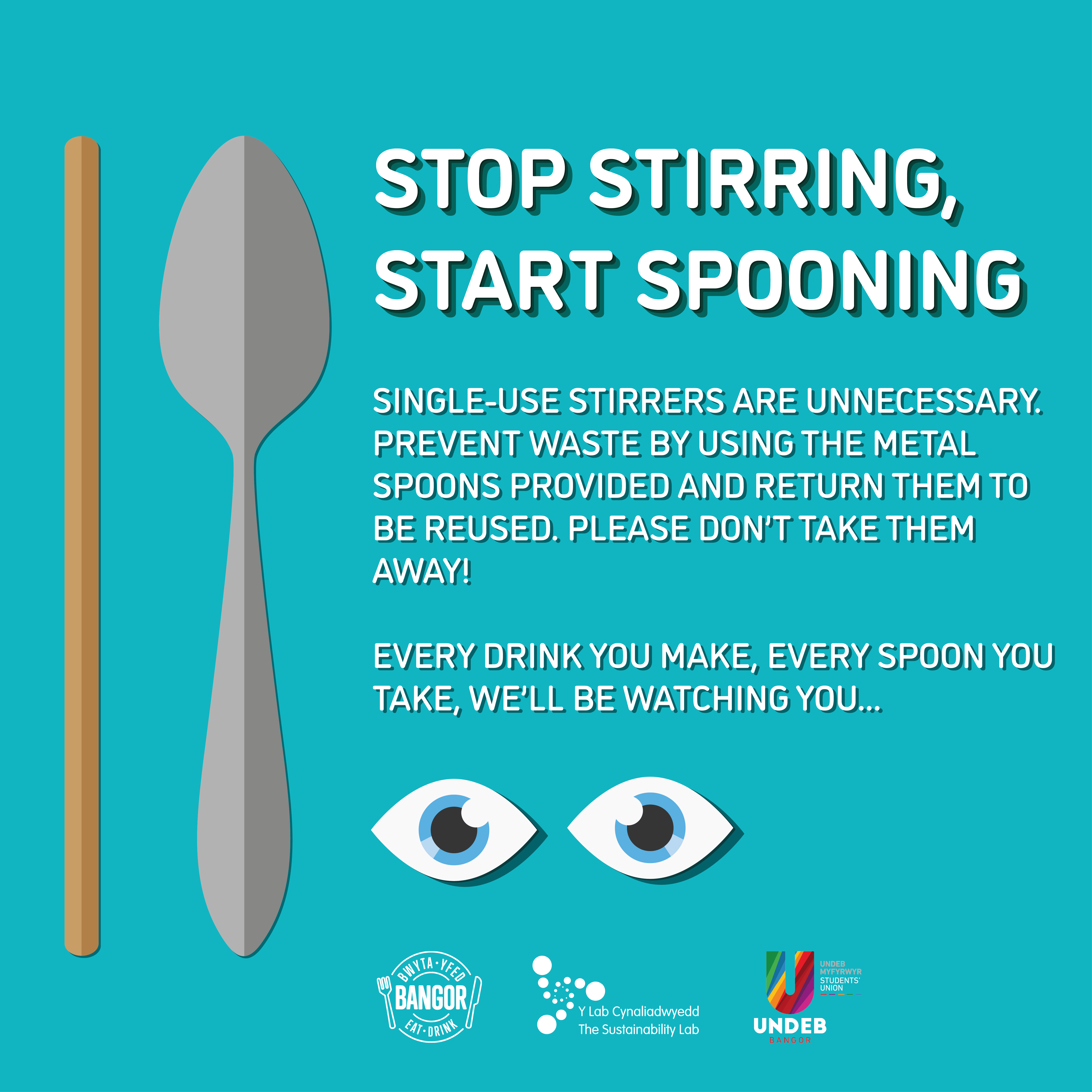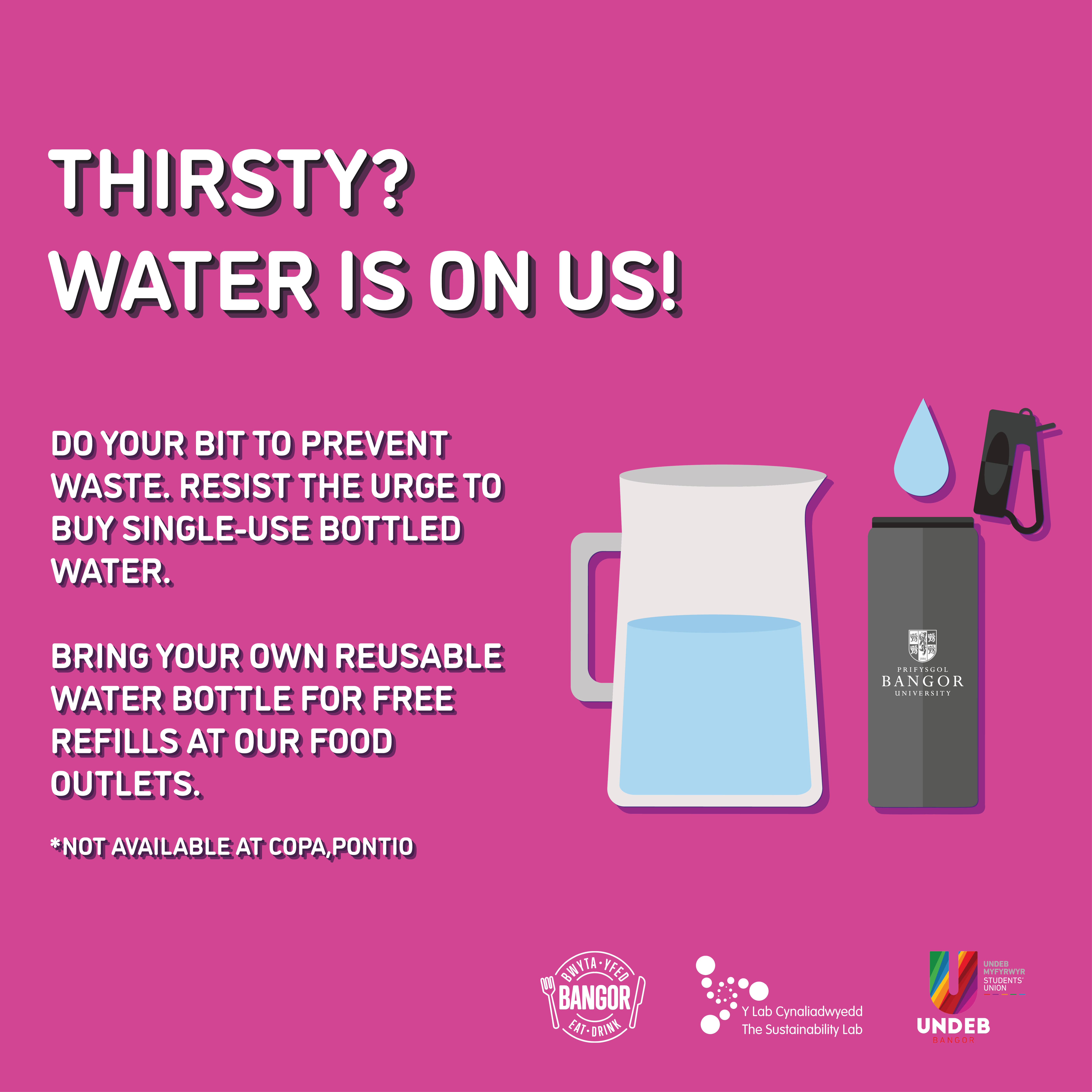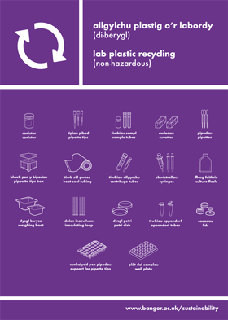 Resource Efficiency in Labs
As most of you are aware, all our labs across the University are heavily dependent on plastics. We have therefore recently been reviewing our practices across campus, to see how we can apply the waste hierarchy in the labs. Whilst there is a great deal of single-use plastic that is discarded, there is also a great deal that is washed and reused across most of our labs, and we would like to ensure this is common practice. When reusing in not an option, we ask our student and staff to recycle the material.
On the 23rd of September 2019, to celebrate Recycling Week, we commenced with our lab plastic recycling collection.
Alternative Recycling Streams and On-the-Go Recycling
We are continually looking at opportunities to recycle more and more materials, as listed above. We are also in discussions with some companies and are looking at possibilities of introducing "on the go" recycling bins for certain materials.
"Every Can Counts"
On the 30th September 2019, we launched our "Every Can Counts" Campaign as part of Waste Awareness Week.
Whist we have extensive recycling facilities in our buildings, we are aware that we still lose valuable material when our students, staff and visitors are out and about on campus. Aluminium cans are a great material to capture as they are closed-loop, which means they can be recycled over and over, forever, with no loss of quality and using only 5% of the energy used when creating the product from new. We hope this will be yet another step to ensure valuable material is captured here at Bangor, and not lost to energy recovery.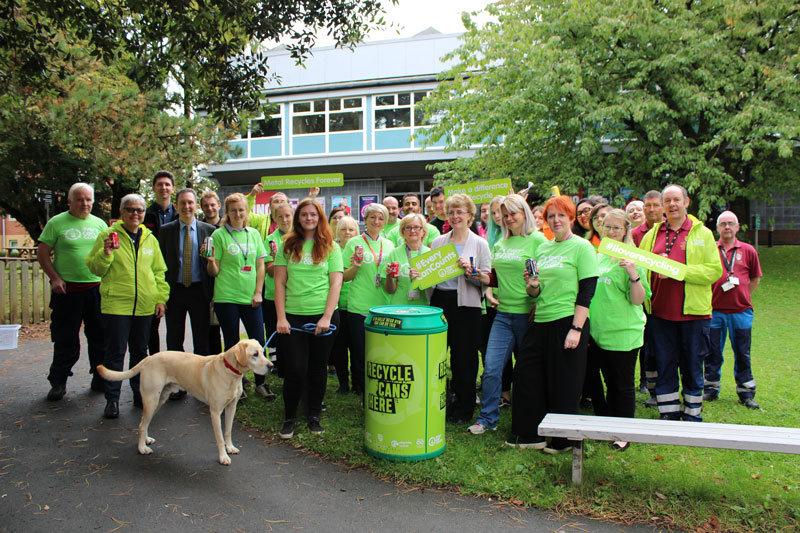 Hard Plastic Pilot
A hard plastic pilot will be rolled-out during 2020 in order to establish a baseline quantity and definitive list of hard plastics accepted for recycling. There will be collection points in the Main Library, Deiniol Library and Normal Library, in Ffriddoedd Halls of Residence, St Mary's Halls of Residence, in the Students Union and in Marine Centre Wales.
All hard plastics will be acceptable during the pilot, but please make sure that you only put hard plastics in the bin. If you are recycling pens for example, please make sure you remove the ink. The plastic will be collected in white hessian sacks and will be clearly signed. Once a date is confirmed, it will be posted on this section.
Eco Office Initiative
The Eco Office Initiative will be launched during 2020 and aims to ensure that all offices across campus are environmentally sustainable, that all staff are environmentally aware and are setting a good example for our students.
We want to ensure that we prevent and reduce waste wherever possible, capture all our recycling, don't send any recycling to energy recovery, and reduce our energy use as much as possible. By making all these changes we are contributing to saving the planet, whilst potentially saving in the region of £65,026 per annum.
This estimation is based on the following assumptions: 1) Approx. 30% of Bangor University's black bag waste is currently made up of recycling, we pay a gate fee of £112.66/t for our non-recyclable waste to be sent to energy recovery and are therefore spending £14,026 on unnecessary gate fees, we spent significantly more last year as we also had to pay landfill tax. 2) Both unnecessary paper waste and personal delivery packaging waste that is disposed of in the confidential waste is costing the University in the region of £6,000 per annum (this does not include general collection costs, which will also be high). 3) Approx. 25% of the University's 4,000 computers (including open access machines) being left on standby continually – overnight/weekends/on leave/bank holidays/conferences (this does not include monitors or other electrical equipment), is costing the University in the region of £45,000 per annum in avoidable energy bills.
There are four main objectives, which are to:
Reduce the amount of recycling currently being lost and sent to energy recovery
Reduce the amount of unnecessary waste being created and disposed of
Reduce our energy wastage
Promote our new hard plastic recycling pilot
Staff are encouraged to behave as they would do at home, sorting out their waste and recycling in a central location to ensure that all recyclates are captured and that the waste sent to energy recovery is reduced as much as possible. This means that all non-recyclable waste bins will be removed from all offices across campus, so that staff are responsible for sorting their waste at the waste stations (orange and black bin hubs). Evidence has shown that when non-recyclable waste bins are kept in offices (or in various rooms throughout the home), recycling is often mixed with the non-recyclable waste because of convenience, and valuable materials are consequently lost in the process. The sorting of recycling in the waste stations will be vital when the university moves to a semi-segregated recycling system in 2020, and this behaviour will need to be common practice before then to ensure recycling is maximised.
Staff are reminded of the waste hierarchy – to prevent and reduce the amount of waste created in the first instance, especially paper waste and waste generated by personal deliveries to work. Focusing on paper waste will be an opportunity to remind staff of the correct procedures with regards to confidential waste, whilst encouraging less printing will reduce the need for confidential waste disposals.
Staff are also reminded to turn off computers, monitors, lights and any other electrical equipment when leaving the office, especially at evenings, weekends and before taking annual leave.
It is also an opportunity to inform staff about the hard-plastic recycling pilot. This will again reduce the amount of recyclable waste being sent to energy recovery.
Working Groups
Student Waste & Resource Action Group (SWRAG)
Catering Circular Economy Working Group (CCEWG)
Resource Efficient Labs Working Group (RELWG)
Updated September 2019