Campaigns, Schemes, Awards & News
Quick Links
Coffee Cup Recycling Scheme
Bangor University launched its coffee cup recycling scheme in February 2022. Whilst we would obviously prefer it if everyone used reusable cups for their 'on-the-go' drinks, we know it isn't always possible. We are therefore teaming up with a local company – Humphrey's Waste & Recycling (who also collect our lab plastics) to recycle the normal single-use cups (plastic lined paper cups) we use across campus. Bins are located at Pontio, Main Arts, Café Teras, Main Library, Bar Uno, Barlows and Canolfan Brailsford.
Contributing to a Circular Economy
What is a Circular Economy?
Historically, society has been applying a linear economic model to resources - we take raw materials from the earth, make items with them, use the items for a short amount of time, before we eventually dispose of them with very little thought as to the harmful environmental consequences.
A Circular Economy is the opposite of this linear economic model, where we keep resources in use for as long as possible by using less of them, sharing, lending, reusing, repairing and recycling. By reducing our use of resources and by ensuring we keep them in use for as long as possible, we are reducing the need for virgin material, using less energy and saving on disposal costs, as well mitigating the negative environmental impacts associated with manufacture, transportation and disposal.
So, how are we contributing to a Circular Economy here at Bangor University?
Not only are our newly installed internal bins made from 100% recycled content, but our new 'on-the-go' external litter bins are also made from 100% recycled plastic. Our newly developed composting facility was created using reclaimed railway sleepers and an environmentally friendly alternative to concrete grasscrete, which is just as strong and manufactured from recycled plastic waste in the UK.
However, this is only half the story. We teamed up with a manufacturing company called Leafield Environmental (our internal bin providers), who collected our old Halls of Residence bins to be recycled into new bins similar to the ones we currently have. The plastic was taken to a recycling facility, smelted down and dyed black to ensure that none of it is wasted as a result of discolouration etc. We have also recently purchased internal coffee cup recycling bins from Leafield (also made from 100% recycled content) in order to roll-out a new coffee cup recycling programme.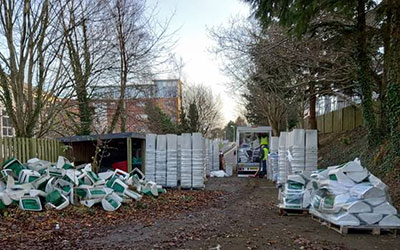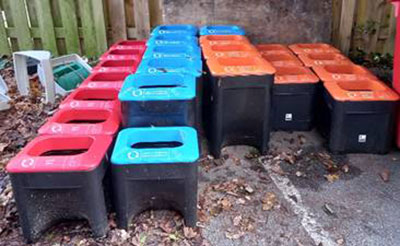 Recycling when 'on-the-go' at Bangor University
When walking across campus from building to building, it is difficult to know what to do with your waste material if all you can see are litter bins (for general waste). That's why Bangor University has installed 'on-the-go' recycling bins so that we can all do our bit for the environment when we are out and about. Please make use of them and remember that coffee cups are not recyclable at these facilities at the moment (apart from the lids that are recyclable in the plastic/cans/cartons stream). Coffee cups don't just contain paper – they are lined with a plastic film, and any liquid in them will contaminate the paper and card.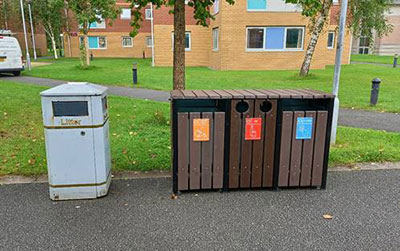 Circular Economy Capital Funding 2019-20
Bangor University received grant funding through the Circular Economy Capital Fund 2019-20 for the redevelopment of our existing composting facility using sustainable reclaimed and recycled material, for 30 'on-the-go' semi-segregated recycling bins (made of 100% recycled content) as well as four electric vehicles and an electrical charging point.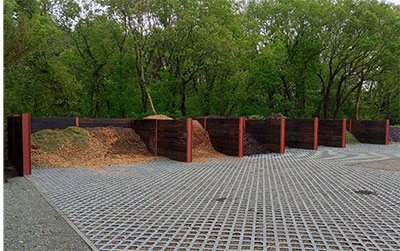 We would like to take the opportunity to thank Welsh Government for their continued support.
Better Apart
Help us become a more sustainable University by using our seperated recylcing system.
We have three seperate 100% recycled plastic bins now:
plastic, metal & cartons (orange lid)

paper & card (blue lid)

glass (red lid)  
By separating our recycling this way, we aim to improve our recycling rates and produce cleaner, higher-quality recycling with a greater likelihood that the recyclets will be used here in Wales or in the UK. Bangor University aims to increase our recycling rates to 70% by 2025.

Waste Awareness Week
Waste Awareness Week is the University's annual week-long waste campaign, which aims to increase awareness about waste reduction, reuse and recycling, inform students about possible career opportunities in the sector, and engage students and staff in resource efficiency events and activities. WAW takes place annually during the first week in October. The campaign was originally developed by the Sustainability Lab in partnership with Halls of Residence and Campus Life back in 2017.
End of Term Halls Reuse Drive
The End of Term Halls Reuse drive, organised by Campus Services provides students with the opportunity to donate unwanted reusable items to charity. Items including, crockery, pots and pans, clothes, shoes, kitchen utensils, can all be donated. All that's required is for the student to place the reusable items in a red plastic bag provided, to be left outside the bedroom door. General waste, recycling, or food waste should not be placed in the red bag. It's possible for the students to donate unopened non-perishable foods such as cereal, tins and jars by leaving them on their kitchen table.
Circular Economy Capital Funding 2019-20
Bangor University received grant funding through the Circular Economy Capital Fund 2019-20 for 260 sets of EnviroStack bins (made of 100% recycled content) in order to move from a comingled recycling system to a semi-segregated one as well as an electric vehicle for waste collections in 2020.
We would like to take the opportunity to thank Welsh Government for their continued support.
Every Can Counts
On the 30th September 2019, we launched our "Every Can Counts" Campaign as part of Waste Awareness Week and introduced 8 'on-the-go' can recycling bins across campus.
Whist we have extensive recycling facilities in our buildings, we are aware that we still lose valuable material when our students, staff and visitors are out and about on campus. Aluminium cans are a great material to capture as they are closed-loop, which means they can be recycled over and over, forever, with no loss of quality and using only 5% of the energy used when creating the product from new. We hope this will be yet another step to ensure valuable material is captured here at Bangor, and not lost to energy recovery.
Look out for the can bins located around campus.
As we collect our plastic, metal and cartons together (as one recycling stream), from 2020, these bins can also be used to for plastic bottles and drink cartons when staff and students are 'on-the-go'.  
Lab Plastic Recycling
As most of you are aware, all our labs across the University are heavily dependent on plastics. We have therefore recently been reviewing our practices across campus, to see how we can apply the waste hierarchy in the labs. Whilst there is a great deal of single-use plastic that is discarded, there is also a great deal that is washed and reused across most of our labs, and we would like to ensure this is common practice. When reusing in not an option, we ask our student and staff to recycle the material.
On the 23rd of September 2019, to celebrate Recycling Week, we commenced with our lab plastic recycling collection. Further details on what can be recycled can be found on our 'Recycling at the University' page.
Catering – "Think before you drink"
During 2019/20 several catering initiatives took place to ensure that the University's Catering team operate as sustainably as possible (bearing in mind that sustainable means – considering environmental, social, financial and cultural impacts), use their resources efficiently and contribute to a circular economy. The waste hierarchy will be applied to all decision-making, and waste prevention will be the preferred option where possible.
The first set of initiatives focussed on prevention and reuse. However, the messages delivered during these initiatives were not be restricted to the campaign period but continually promoted and communicated to ensure that the information is available to any new student, staff or visitor; to promote wider understanding and participation.
"Think Before You Drink"
The prevention and reuse initiatives were launched on the 29th April 2019 as part of the "Think Before You Drink" campaign, and focussed on reducing the number of straws used across campus, removing all single-use drink stirrers from our outlets, promoting the refill scheme thus reducing the need for single-use bottles, and promoting the use of reusable cups in order to reduce single-use coffee cups.
Straws have been removed from all counters and will only be available on request. This should substantially reduce the amount of straws used and thrown away in the University. The straws that are available on request will all be plastic, as the people who need straws require them to be plastic – they will therefore always be available on request in line with the Equality Act 2010. No straw is recyclable or compostable locally at present, regardless of material. Paper straws are made from low quality paper that absorbs liquid and is therefore not recyclable, whilst paper straws, biodegradable straws and compostable straws cannot be processed in an Anaerobic Digester. Changing the material is therefore not a sustainable solution, the only sustainable solution is to prevent the waste from being created in the first instance.
We have also removed all single-use drink stirrers regardless of material and have replaced them with reusable metal spoons, which the catering team will wash. Whilst having coffee on the go is a part of modern life, most people don't make their coffee when on the go, and so it is believed that stirrers are an unnecessary waste product regardless of the material they are made of. We ask however, that you please don't take the spoons with you as this would make the initiative unsustainable, as it would become too costly.
We are promoting Bangor University as a refill University, where you can fill up your reusable water bottles for free in any of our outlets (except Copa – that has no running water). Bangor University branded water bottles are available for sale in each outlet.
Reusable coffee mugs are also be sold and promoted. You will receive 10p off every drink if you bring your own cup/mug.

The "Think Before You Drink" campaign was a finalists for the 2019 Green Gown Awards. To date we have prevented over 9,171 single-use items from being used and disposed of across campus with the campaign.
Over the coming months, we will be continuing with our improvement by replacing condiment sachets with bottles and jars, reviewing possible use of crockery in some outlets, reviewing our alternative milk selection as it generates a great deal of waste and looking at recycling more of our catering materials.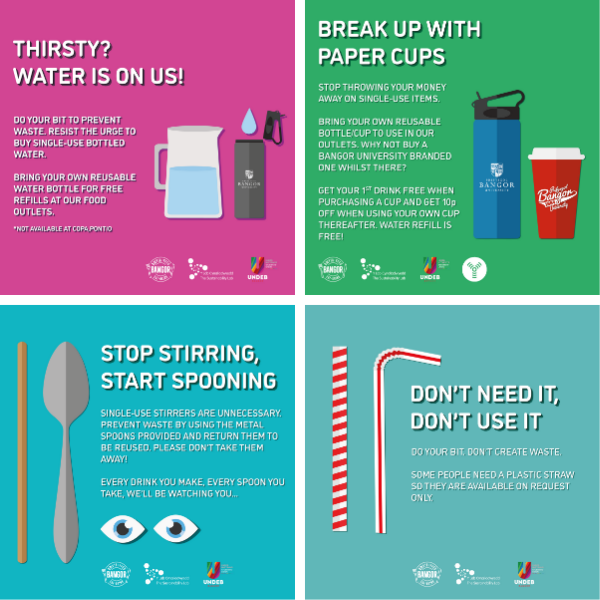 Halls of Residence – "Best Environmental Management"
Bangor University was delighted to have won the award for Best Environmental Management in the National Student Housing Survey Awards in 2018, and it is testimony to the dedication and inspired thinking of the Residential Life Team and the Sustainability Team.
Waste awareness sessions are delivered to students at the start of term; these include short presentations, talks and workshops. We work with our Residential Mentors to ensure they are comfortable talking to their peers about waste, and are currently in the process of reviewing an app used by residential mentors, to include questions on the quality and quantity of recycling. This will allow us to monitor recycling behaviour and address any problems our students are experiencing with regards to their waste.
The news story can be found here.
The University's Stance on Plastic
There has been a great deal of bad press recently surrounding plastics, and whilst the University fully supports reducing the use of plastics where possible, in particular problematic single-use plastics, there are many factors to consider.
Plastic is versatile, durable, flexible and cheap. It is sometimes the best or even the only material that can be used to make certain products, whilst some of it is reusable and recyclable. Plastic is not the problem, the problem is the overproduction of plastic, its overuse, its misuse, and incorrect disposal. In fact, the problem is arguably the overuse of materials in general; especially overuse of single-use products.
There are two main problem areas, which the University is working on addressing and reducing:
Problematic plastics that cannot be reused or recycled
Single-use items in general, regardless of material
Problematic Plastics are non-recyclable single-use plastics that contain no recycled content, have no end-of-life plan, and are likely to be littered as they are very lightweight. These items mostly contain mixed materials that are hard to separate for both technical and financial reasons. They include (but are not limited to) cotton buds, wrappers, crisp packets, chocolate wrappers, sachets, drink stirrers, disposable cutlery, straws and balloons.
Single-use items are items that have been created to be used just the once – for one occasion and only for a short period of time. They have mostly been created for convenience, but not always. Various items fall under this category, including coffee cups, drink bottles/cartons/cans, straws, pipette tips, drink stirrers, disposable cutlery, balloons etc.
The University aims to reduce the use of both but will not be changing the material used unless there is a sustainable end-of-life plan for the alternative material. For example, plastic drinking glasses are recyclable but biodegradable/compostable ones are not. We will therefore not be changing this material as it will do more harm than good. Biodegradable cups/glasses/straws cannot be recycled/composted at the University as we send our food waste to an Anaerobic Digestion (AD) facility, which cannot deal with this material. Biodegradable/compostable materials could possibly be further developed to be dealt with in an Anaerobic Digester in the future, and we will therefore continue to review our practices based on any developing technology used locally. Paper straws cannot be recycled either, as the quality of the paper is too poor, and they absorb liquids. Wooden cutlery and stirrers are also currently non-recyclable here. Our aim is therefore to reduce the use of these items.
Most of our initiatives are therefore focused on minimising or preventing problematic plastic and reducing the need and use of single-use items, regardless of material. Where single-use items are still used, work will be done to promote their possible reuse or to improve their recyclability. We believe that single-use items such as plastic cutlery should be reduced as much as possible, but if they are used, work needs to be done to change attitudes and behaviour to ensure that these items are used again and again – break the myth of single-use products.
More information on specific materials and their recyclability/compostability can be found above and in the 'Recycling at the University' section.