Waste Management (Resource Efficiency)
Bangor University aims to be in all aspects, a 'Sustainable University', embedding sustainability across all its functions and daily operations. Reducing, reusing, recycling and recovering waste is a key part of ensuring that our University is operating sustainably and that our students, staff and visitors are contributing to a circular economy. 
Waste is a resource, a valuable commodity that can be reused several times, altered or repaired, or made into something new; it should not be seen as something to just discard after its initial use.

Waste Hierarchy
The University applies the waste hierarchy when making decisions and prioritises the prevention of waste above all else – waste is essentially a design flaw. If this is not possible reuse is favoured, then recycling, and lastly, energy recovery. We aim to send zero waste for disposal.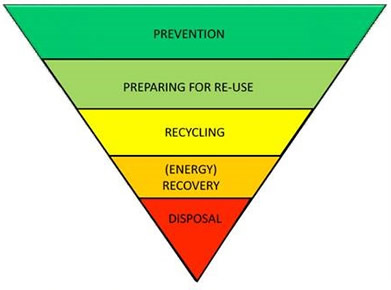 Current Performance
In 2021/22 Bangor University diverted 100% of its waste from landfill. Out of the waste diverted, 57.69% was recycled and 42.31% was recovered. 787.8T of waste was generated in total, a 274.8T (53.6%) increase from the previous year.
Targets and Objectives
We aim to divert 100% of our waste from landfill and reuse/recycle 70% of our waste by July 2025, as laid out in Wales' overarching waste strategy - Towards Zero Waste.
In order to achieve these targets, the University moved from a comingled (mixed) recycling system to a semi-segregated (separated) recycling system in 2020/21; as it is believed that separate collections will improve recycling rates and produce cleaner, higher-quality recycling, with a greater likelihood that the recyclates will be used here in Wales or in the UK. This is in line with the aims set out in the Wellbeing of Future Generations (Wales) Act 2015 and in the Environment (Wales) Act 2016.
The University is continually looking at recycling more specialist waste streams, which is currently being sent to energy recovery. We have already introduced lab plastic recycling and on-the-go recycling bins.
We also aim to improve our procurement practices by 2025, by increasing the amount of materials purchased containing reused, refurbished or recycled content, in order to truly contribute to a circular economy. We also aim to ensure where practicable that most of the materials we buy can be reused or recycled (this is of particular importance when looking at plastic use).
As waste prevention is higher up the waste hierarchy than reuse, recycling and recovery, we also aim to reduce our overall waste tonnages by 2025 regardless of how the waste is processed.
Legislation and Legal Requirements
Please note that Waste legislation has been devolved in Wales.