Travel and Transport
Carbon dioxide, sulphur dioxide, nitrogen compounds, and carbon particulates. All of these, along with many more toxic compounds, are pumped into the atmosphere each time we switch our fossil fuel powered engines on. We will be developing a "Green Transport Plan" in the coming months, and encouraging staff and students to try alternative means of transport.
What you can do
Do you need to drive? Have you thought about cycling or walking to meetings or lectures – it can be invigorating, and it's definitely kinder on the pocket. See a map of locations of our showers and bike racks here.
Is your meeting essential? Will a phone call or e-mail do instead? Alternatively we have a number of videoconferencing facilities on site that are a practicable alternative to face to face meetings These are making a significant contribution to reducing our business travel. Details can be found at the videoconference facilities website

For longer trips, use public transport. The railway station is within walking distance of the University, and we are served by good bus and coach links. Train and Bus timetables can be found at the Traveline website
If the car is the only option, can you lift share?
Campus Services Fleet goes Electric
In its drive to become a resource efficient institution, the University now has 16 electric vehicles in its fleet within Campus Services.
The change-over was made possible by a successful bid for Circular Economy funding from Welsh Government made by Campus Services, which funded four electric vehicles. Additionally, funding was also received from the Higher Education Funding Council for Wales to purchase a further six electric vehicles.
Changing the fleet over to electric contributes to the University's ambitions to be a sustainable University and to contribute further to the goals and objectives of the Well-being of Future Generations (Wales) Act 2015.
Meryl Wyn-Jones, Head of Facilities Operations, Campus Services explains:
"The funding enabled us to replace diesel vehicles with electric ones; the Security section now, in the main, only uses electric vehicles.
The Facilities section has now disposed of its two remaining owned diesel vehicles and the section also now uses electric vehicles, with the exception of a hired diesel tail-lift van used when the need arises to move larger or heavier loads.
Overall, there are currently 16 electric vehicles within our fleet and we'd like to move further down the electric route in future. The electric fleet includes two specialist electric vehicles – a tipper truck and cage van.
The Grounds and Landscape team have reported improved efficiency since using the electric tipper truck. The truck's higher capacity is resulting in fewer journeys to and from the compost site and its tipper facility has reduced the time spent unloading.
The electric cage vehicle used by the Facilities team is also proving to be really useful, especially as it has a ramp facility to more easily load bins and recycling."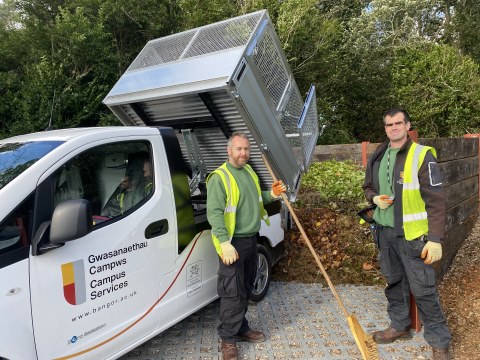 Carbon emissions associated with travel
Our carbon management strategy and annual report include baseline and reduction targets for a number of our travel emissions including staff & student business, conference and field trips, and for staff & student commuting. In the past we attempted to calculate total carbon emissions associated with the travel between students' homes and the university at the start and end of term which included international students' travel to and from their home country. The process was very time consuming, and following a rigorous review at senior level it was decided that the data gathered did not justify the staff time required to fulfil the exercise for the following reasons:
While best efforts (using considerable staff time) were made to obtain accurate data, the calculations were always based on assumptions such as nearest airport/method of travel/route taken, and estimates of factors such as engine size/fuel economy/number of people in the vehicle, so the totals were always approximations and could be highly inaccurate
No significant actions could be taken to reduce the students' travel - students have to get to university at the start and end of term and often have very little choice in how to do that
As a result of this review a decision was taken to stop calculating these totals and invest the money, time and other resources saved in other areas of carbon emissions reduction, for example the Invest to Save programme.
An appeal to all Universities: if there is an accurate and resource-efficient way of gathering data and calculating carbon emissions associated with travel between students' homes and the university of which we are unaware, and good reason to collect and process the data that will yield reductions in carbon emissions, we would be delighted to be able to share best practices.
Links
Read our:
Sustainable Travel and Transport Policy - under review