Recycling at the University
Mixed Recycling (Orange Bins)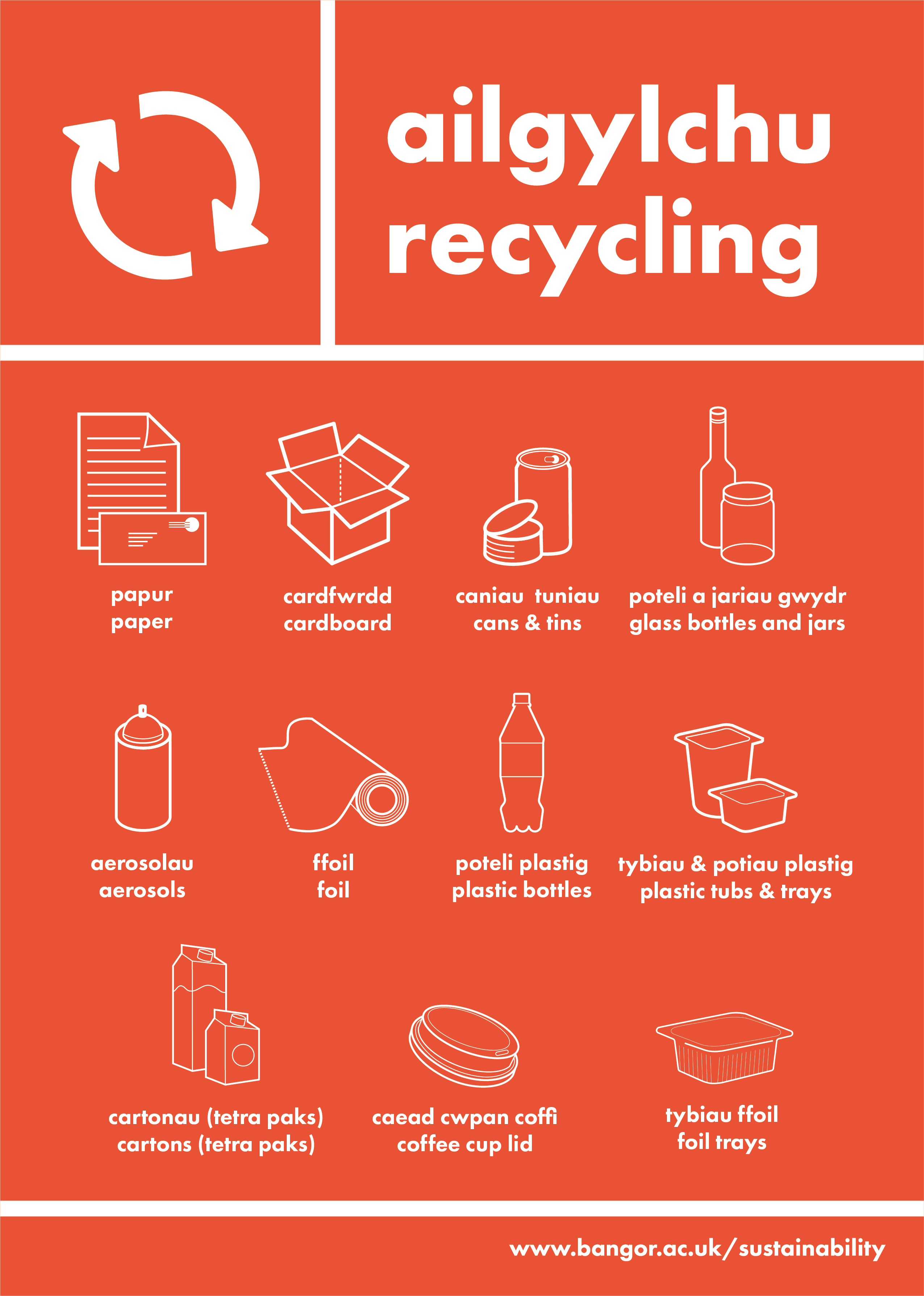 The University currently has a comingled recycling system in operation, which means that our recycling is mixed together in orange bins across campus and is separated at a later stage in a Materials Recovery Facility (MRF). Our mixed recycling goes to a company called UPM Shotton, in Flintshire, where the recycling is sorted before it is transported to various specialist processors.
The orange bins are only for our dry mixed recycling, which means that food waste must go into a separate bin. The following materials are accepted in the mixed recycling (orange bins): paper, cardboard, cans/tins, foil, aerosols, plastic bottles, plastic tubs/trays/pots, coffee cup lids, cartons (tetra paks), glass bottles and jars. No other items are acceptable in the mixed recycling, and if added, will contaminate the recycling load.
Download the mixed recycling poster here
Please rinse your recycling where possible. If 'on-the-go', please ensure all liquids and food is emptied from containers before they are recycled.
Please do not try to recycle plastic wrappers, plastic film, crisp packets, chocolate wrappers, sweet wrappers or used tissues as these are not currently recyclable and need to go in the non-recyclable waste bins. We are however looking at possibilities to recycle these in the future.
Ffriddoedd and Garth Halls of Residence, unlike the rest of the University, are on a segregated (separated) recycling system. This means that the recycling is separated by students into different bins at source (although mixed in the outside bins as we currently have a comingled collection system). Regardless of the materials being mixed outside, this segregated recycling system ensures that the recycling is of much better quality and has much less contamination, which is why we get better quality recycling from these areas. We will not be changing the recycling system in these halls as the University will be adopting a similar segregated system across the whole campus from 2020 onwards.
Food Recycling (Brown Caddies)
The University's food recycling is sent to a local Anaerobic Digestion facility in Gwynedd called Gwyriad, which is run by a UK-based company called Biogen. We send our food waste to an Anaerobic Digestion Facility rather than an in-vessel composting plant as it is recognised by government as one of the best methods for food waste recycling, producing electricity and heat as well as biofertiliser, making it a closed-loop system. This biofertiliser is then used on local farmland.
What does closed loop mean?
Closed loop recycling simply means that the recyclable waste material is made into an item of similar or better quality once it has been recycled.
The following materials are accepted in the food recycling: any type of food waste including raw food, cooked food, food past its use-by-date, leftovers, bones, meat, veg, fruit, eggshells, tea bags and coffee grounds.
All food waste caddies need to be lined with compostable starch bags supplied by the University.
Please take all food waste out of its packaging before putting it in, and do not put any plastic wrappers or plastic bags in the food waste as this will damage the machinery in the facility and contaminate the fertiliser with micro plastics. Please don't put liquids in the food waste caddy either, as this will leak and cause a mess.
We also ask that you please do not put any 'compostable/biodegradable' labelled coffee cups, straws, cutlery or boxes in with the food waste, as they are not compostable/biodegradable in an Anaerobic Digestion facility. If they are included, they could damage the machinery, whilst they also slow the whole process down and don't create any electricity/heat. Please do not include wooden cutlery or paper straws with the food waste either.
For more information about the anaerobic digestion process, please follow the links:
What is Anaerobic Digestion?
What happens to Food Waste?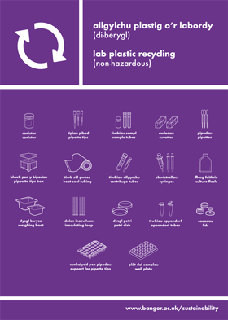 Resource Efficiency in Labs
As most of you are aware, all our labs across the University are heavily dependent on plastics. We have therefore recently been reviewing our practices across campus, to see how we can apply the waste hierarchy in the labs. Whilst there is a great deal of single-use plastic that is discarded, there is also a great deal that is washed and reused across most of our labs, and we would like to ensure this is common practice. When reusing in not an option, we ask our student and staff to recycle the material.
On the 23rd of September 2019, to celebrate Recycling Week, we commenced with our lab plastic recycling collection.
Alternative Recycling Streams and On-the-Go Recycling
We are continually looking at opportunities to recycle more and more materials, as listed above. We are also in discussions with some companies and are looking at possibilities of introducing "on the go" recycling bins for certain materials.
"Every Can Counts"
On the 30th September 2019, we launched our "Every Can Counts" Campaign as part of Waste Awareness Week.
Whist we have extensive recycling facilities in our buildings, we are aware that we still lose valuable material when our students, staff and visitors are out and about on campus. Aluminium cans are a great material to capture as they are closed-loop, which means they can be recycled over and over, forever, with no loss of quality and using only 5% of the energy used when creating the product from new. We hope this will be yet another step to ensure valuable material is captured here at Bangor, and not lost to energy recovery.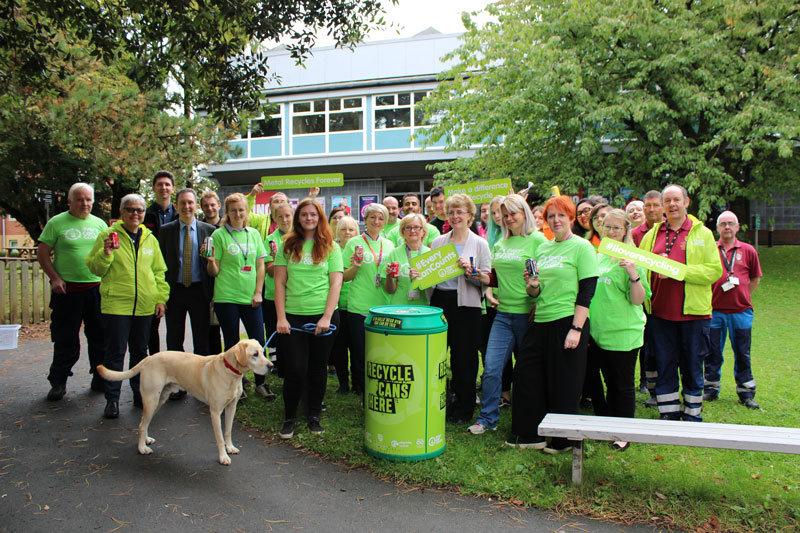 Other Recyclable Waste
For Computers and IT equipment, please click here.
For Bulky items such as furniture, please contact the Helpdesk in Property and Campus Services.
Updated September 2019.