Recycling at the University
Semi-segregated Recycling (orange/blue/red lids)  
The University has recently moved from a comingled recycling system to a semi-segregated one, which means that our recycling is no longer all mixed together in one bin.  By separating our recycling this way, we aim to improve our recycling rates and produce cleaner, higher-quality recycling with a greater likelihood that the recyclets will be used here in Wales or in the UK.
Bins with orange lids are for: cans/tins, foil, aerosols, plastic bottles, plastic tubs/ trays/ pots, coffee cup lds, and cartons.

Bins with blue lids are for: paper and cardboard

Bins with red lids are for: glass bottles and jars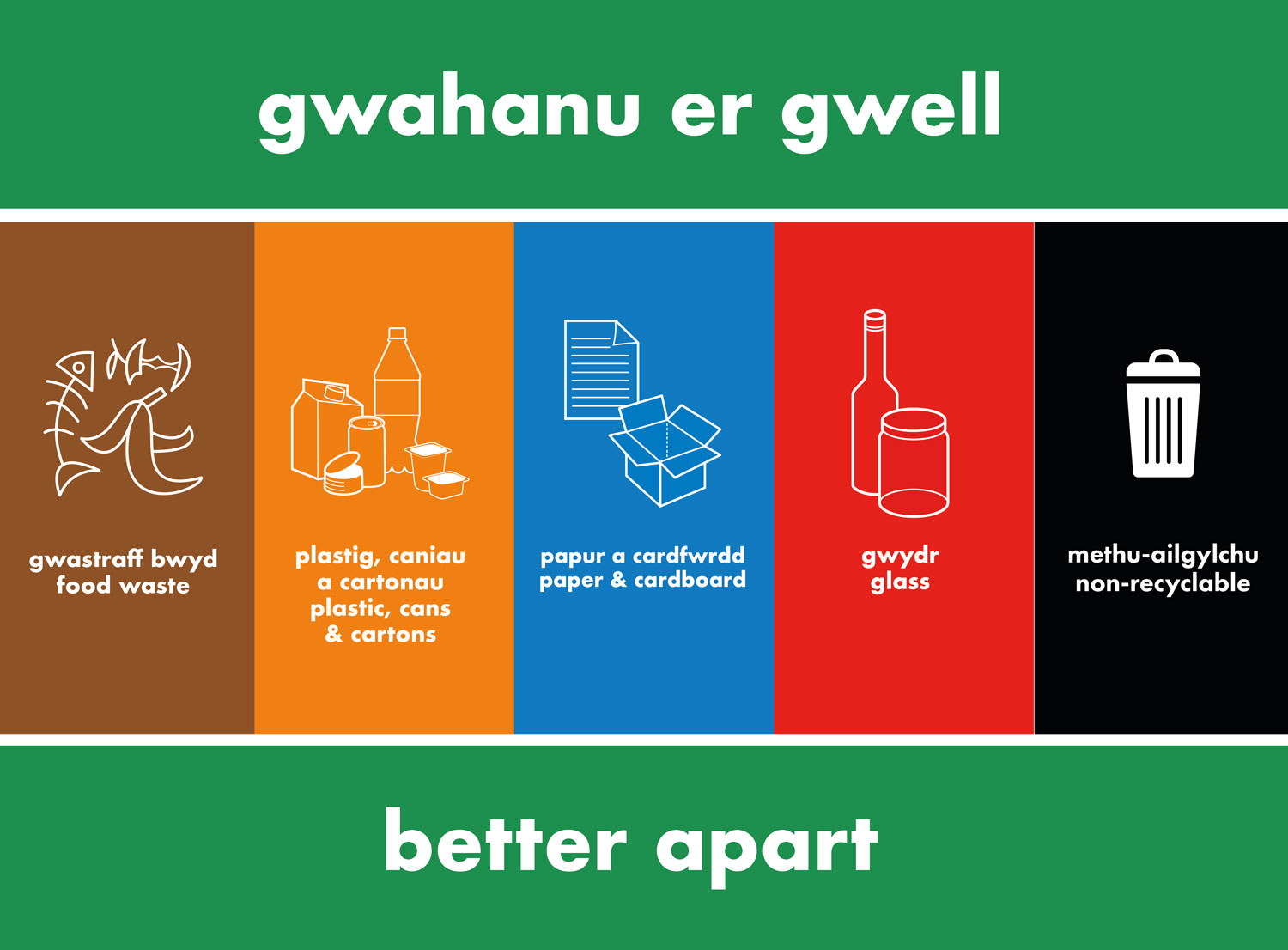 No other items are acceptable in the recycling, and if added, will contaminate the recycling load.  Please rinse your recycling where possible. If 'on-the-go', please ensure all liquids and food is emptied from containers before they are recycled.
Please do not try to recycle plastic wrappers, plastic film, crisp packets, chocolate wrappers, sweet wrappers, used tissues, single-use gloves or masks as these are not currently recyclable and need to go in the non-recyclable waste bins. We are however looking at possibilities to recycle some of these materials in the future.
Food Recycling (brown caddies)
The University's food recycling is sent to a local Anaerobic Digestion facility in Gwynedd called Gwyriad, which is run by a UK-based company called Biogen. We send our food waste to an Anaerobic Digestion Facility rather than an in-vessel composting plant as it is recognised by government as one of the best methods for food waste recycling, producing electricity and heat as well as biofertiliser, making it a closed-loop system. This biofertiliser is then used on local farmland. Wrexham campus' food recycling is collected by a Scottish company called Keenan Recycling Ltd. and is also taken to an Anaerobic Digestion facility.
What does closed loop mean?

Closed loop recycling simply means that the recyclable waste material is made into an item of similar or better quality once it has been recycled.
The following materials are accepted in the food recycling: any type of food waste including raw food, cooked food, food past its use-by-date, leftovers, bones, meat, veg, fruit, eggshells, tea bags and coffee grounds. All food waste caddies need to be lined with compostable starch bags supplied by the University. 

Please take all food waste out of its packaging before putting it in, and do not put any plastic wrappers or plastic bags in the food waste as this will damage the machinery in the facility and contaminate the fertiliser with micro plastics. Please don't put liquids in the food waste caddy either, as this will leak and cause a mess.

We also ask that you please do not put any 'compostable/biodegradable' labelled coffee cups, straws, cutlery or boxes in with the food waste, as they are not compostable/biodegradable in an Anaerobic Digestion facility. If they are included, they could damage the machinery, whilst they also slow the whole process down and don't create any electricity/heat. Please do not include wooden cutlery or paper straws with the food waste either.
For more information about the anaerobic digestion process, please follow the links: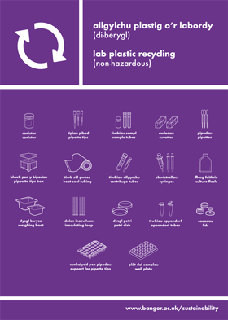 Lab Plastic Recycling (purple lids)
Bangor University introduced lab plastic recycling in autumn 2019. Our non-hazardous lab plastics are collected by Humphrey's Waste & Recycling Ltd and taken to their transfer station in Bryngwran on Anglesey to be sorted. We ask that you please empty all recycling of liquids before placing in the purple lid bins.
The following materials are accepted in the mixed recycling (purple bins):  canister, pipette tips, sample tubes, cuvettes, pipettes, pipette tip boxes, heat sealing tubing, centrifuge tubes, syringes, culture flasks, weighing boats, inoculating loop, petri dishes, Eppendorf tubes, lids, support for pipette tips and well plates.  No other items are acceptable in the lab plastic recycling, and if added, will contaminate the recycling load. In particular no gloves or plastic bags.
Other Recyclable Waste
For Computers and IT equipment, please click here.
For Bulky items such as furniture, please contact the Helpdesk in Campus Services.