A family affair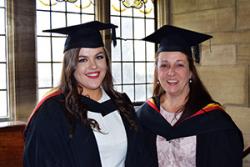 Margiad and Bethan Dobson13 July will be a special day for one family from Garndolbenmaen this year as a mother and daughter take part in the same degree ceremony. Stepping onto the stage to be presented with her degree in Welsh will be Margiad Elen Lloyd Dobson, 21. On the same stage will be her mother, Bethan, who will recite a poem written by the late Emeritus Professor Gwyn Thomas, 'Y Coleg ar y Bryn / The College on a Hill'.
Both daughter and mother were members of the same academic school for a year, as Bethan enrolled at the School of Welsh as daughter Margiad was completing her final year there.
The family connection with Bangor University will continue, with another Dobson sister, Martha Jên, currently studying at the School of Education.
Publication date: 13 July 2016