A taxing time ahead of Business graduate Ross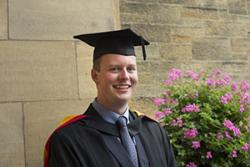 When Ross Starkie, from Poynton, was preparing to apply to university, he had a very specific career in mind: accounting.
After attending several open days, he chose Bangor University on the basis that its degree programme was better tailored towards developing a career in accounting than most of the other institutions he had been considering.
However, things didn't go quite to plan for the former Poynton High School and Sixth Form College pupil. During the third year of his BSc in Accounting and Finance, he discovered a new subject which captivated him: Taxation. "The way it was taught and the content that was covered had me hooked from the start", says the 21-year old.
Opting to pursue his newfound interest in tax, and thinking about his future career, Ross applied for HMRC's highly competitive graduate scheme. Out of around 12,000 applicants, he was one of a successful few who were offered a place on the Tax Specialist Programme. Based in Liverpool, the four-year scheme will see him trained to the standard of a Senior Tax Officer, with a job guaranteed upon completion.
"Studying at Bangor has given me a good understanding of lots of areas in tax, which will help me in my work", says Ross, who graduates this week with a First Class degree. "Many of the skills I've picked up throughout University will help me in the future, whether that's data analysis, report writing or understanding financial statements and accounts. Academic-based schemes, such as being on the student-staff committee, have given me the opportunity to get involved with senior members of staff, challenging issues myself and other students felt were important – this experience will aid me with negotiations, interviews and dealing with sensitive issues in my future career."
Ross now faces an intensive four years of training, studying and examination. "Over the four years I will study all the different areas of tax, such as VAT, Inheritance and Capital Gains", he says. "I'll be tackling case work from day one. At the end of the four years and upon completion I will have gained the AAT (Association of Accounting Technicians) qualification and a Degree in Taxation accredited by Manchester Metropolitan University."
On that fateful open day over three years ago, Ross noted how very comfortable he felt from the moment he arrived at Bangor. And that observation has not changed: "Bangor University has been a great place to learn, mature and develop".
Publication date: 10 July 2014