An award and a degree for Bala student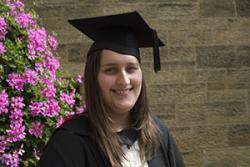 Anna Prysor JonesAfter an incredible three years, a former Ysgol Y Berwyn, Bala pupil will receive a first class degree during the celebratory graduation ceremonies at Bangor University this week.
Not only will Anna Prysor Jones, 20, from Arenig, Bala graduate with BA Welsh and Welsh History degree, but she will also receive the Blanche Elwy Hughes Prize of £100. The prize was instituted in 1960 in memory of the late Miss Blanche Elwy Hughes, a past student of the University, who for many years was the Headmistress at Bangor Grammar School for Girls. She continued to be very interested in the University until her death in 1960. The prize is awarded by the School of History, Welsh History and Archaeology to the best student of Welsh history.
On hearing the news of winning the award, Anna said: "I am privileged and honoured to be awarded the Blanche Elwy Hughes Award after three years of hard work, winning such an award proves that all the work has paid off."
About her background and experiences in Bangor, she said: "I had a Welsh upbringing on a farm by Llyn Celyn with my parents, two sisters and a brother, and I'm very grateful of that. I enjoyed studying Welsh and History at school and it was an easy decision to choose these subjects at University.
"After studying A levels through the medium of Welsh, I was very keen to continue to study through the medium of Welsh and Bangor University was the perfect place. When I attended an open day, the lecturers and all the staff were friendly and extremely helpful and from then on, I knew that I would feel very much at home in Bangor.
"I was a member of UMCB and enjoyed participating in several activities such as singing with Aelwyd JMJ and I participated in the intercollegiate sports and Eisteddfod competing against other Welsh university students' unions.
"The highlight of my three years at Bangor was living and socializing in Welsh and by doing so getting to know other young people from a Welsh background and making lifelong friends. My first two years living at the John Morris Jones Hall and being a member of UMCB was a very important part of my experience and I have thoroughly enjoyed participating in a variety of activities associated with the Welsh Union over the past three years.
"After three years of hard work it is a relief and quite strange to be graduating. Although it will be a happy occasion and a celebration, it feels quite sad knowing that I am coming to the end of an era, but also an exciting time with new beginnings.
"I am not quite sure of what the future may hold, I'll will possibly go on to do an MA History Wales, but whatever route I take, I'm sure that my degree will be a great benefit for the future and in finding a job."
Publication date: 14 July 2015