Back to school for aspiring teacher Kerry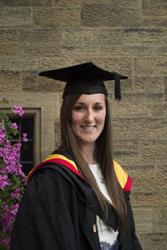 Kerry WestgateIt's back to school for one Bangor University graduate as she heads to London to work at an international summer school.
Days after graduating with a 2:1 in Law with French, Kerry Westgate will take up the role of Activity Leader with Embassy Summer, a UK-wide summer school scheme for international students wishing to learn or improve their English.
There, she'll be leading 14-18 year-olds in a variety of activities – an experience that will come in particularly useful for her as she prepares to undertake a full-time teaching internship at Weston College, Weston-super-Mare, from August.
"I want to become a teacher and promote the education of children, especially those of an age where said education could help them to make a vital decision regarding their future, be it going on to University, an apprenticeship or straight into the working world", says Kerry, from Nailsea.
It's not just her experience of working with children that she'll be taking into the classroom. Four years of studying have equipped her with a range of skills that she sees as key to her career goals. "Studying at Bangor has given me the confidence to tackle anything that comes my way. The degree itself has enabled me to develop efficient ways to prioritise time and research and to pick out key information from a variety of sources. Through experience with practical lectures and workshops, I feel that I will have no issues with contributing my ideas to a project or lesson and to help others to feel comfortable doing the same."
Kerry, a former pupil of Backwell School, knows better than most about what makes a good academic experience, having spent a year of her degree studying French Law at Université Toulouse 1 Capitole in France. "University life in France was an interesting change from here in the UK", she recalls. "For example, lectures were dictated word for word which was initially very hard to follow due to the speed and complexity of the French, but this got easier as time went on. The exams were another shock to the system, as they were spoken exams which lasted less than 10 minutes – it could be quite daunting if it was a subject that you weren't particularly confident with.
"Living in France certainly had its ups and downs – administration for certain things over there is not as fast or straightforward as it is here, for example – but my year abroad was a great experience. Toulouse is absolutely stunning with numerous places to visit including hilltops with fantastic views, markets, museums and other sightseeing opportunities, and there were also plenty of opportunities to travel to nearby French regions and even Barcelona, which was only 6 hours' drive away!"
Although excited about starting a new chapter in her life, Kerry says that she had a "hard time packing up to leave. My experience at Bangor University has been second to none.
"There was no end to the opportunities that were made available to me. I have to extend my gratitude in particular to Mr Gwilym Owen, who brought out the absolute best in me academically, and Ms Sian Beidas from the School of Modern Languages and Cultures, a fantastic lecturer and tutor who never failed to offer her assistance and support.
"I have made memories that will be with me forever and I will always consider Bangor a place I can call home."
Publication date: 16 July 2015