Design student destined for success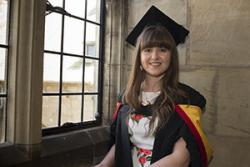 Ceri Mair JonesA Bangor University Product Design student is looking forward to start her career following her success at gaining a First Class degree.
Ceri Mair Roberts from Abergele has also won the Lloyd Jones Award for Entrepreneurship and Innovation. The Award was established by Mr Lloyd Jones, a successful businessman from North America. His aim is to promote and support entrepreneurship among Bangor University students.
Ceri, 21, had an interest in craft designing and creating from a young age and was competing regularly in the community and country shows.
"I studied Design and Technology throughout my time at school and my teacher at Ysgol Dyffryn Conwy inspired me as to carry with the subject. As I enjoy creating, my Design and Technology GCSE and A level projects were recognized as the most innovative of the year in a competition with WJEC."
Ceri decided to come to Bangor as she wanted the option of studying through the medium of Welsh. She decided not to work while studying, as she felt that the course work was enough during the semesters. But during the summer holidays she took advantage of the time to gain experiences of the industry and strengthen her skills.
Ceri explains:
"During the summer I worked in companies involved in design and manufacturing in order to experience working with different materials and techniques that would help with my course.
"My final year project was a live project with Cutting Technologies in Barnsley. I designed a series of decorative panel screens to divide rooms to more specific areas with the option of adding furniture and decorative items to places. They can be used in offices or public areas. I later had the opportunity to return to the company in order to manufacture the screens.
"I am happy that I have accomplished three years and have achieved a first class degree in Product Design. It's nice to know that all the work has paid off with this incredible result!"
Publication date: 15 July 2015