Former BT worker graduates with pride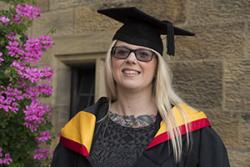 A research secretary at Bangor University has fulfilled her dream of gaining a degree.
Michelle Williams, 35, from Menai Bridge will graduate with a BA Combined Studies from the School of Lifelong Learning.
Following her A Levels at Coleg Menai, Michelle worked for BT as a 100 and 999 telephone operator. She then joined the RAF but found that this was not the career for her and returned home to work for local newspaper, The Chronicle, as an advertisement sales rep. After another sales position selling finance, Michelle has worked as a secretary and quality assurance support officer for 7 Years at North Wales Organisation for Randomised Trials in Health which is part of the Institute of Medical and Social Care Research.
Michelle said: "I never imagined 17 years after I'd done poorly at A Levels I'd be graduating from University.
"As well as working full-time at the University, I also worked part-time for a local stationery distributor at the weekend. This was very hard going with fitting in evening classes at the School of Lifelong Learning, getting all my assignments done as well as fitting in my home life. I must say it was well worth it as I'll be graduating debt free.
"For my final dissertation I conducted an online survey entitled: Making my skin crawl. The project set out to test statements made by journalist Tony Parsons in an article published in the Daily Mail - 'Making my skin crawl: tattoos scream for attention'. As well as testing his theories I also set out to see if there were any differences between tattooed and non-tattooed people on the big 5 personality traits and impulsivity and sensation seeking.
"The highlight of my studies was doing my final dissertation. The response I had from the online survey was unbelievable and the results were pleasing to say the least.
"A month before my final submission date I had a snowboarding accident and was on crutches for a few weeks. Being able to sit at a desk to write was impossible but thankfully I was able to borrow a laptop from IT services which meant I could write up my dissertation from my sofa.
"I hope that gaining my degree will enable me to take my career forward at the Unit and hopefully in the future my aim is to complete an MRes in Psychology.
"I'm very grateful to all my colleagues at NWORTH (Bangor Clinical Trials unit) who have supported me throughout the degree."
Publication date: 10 July 2014