From Bondi Beach to Bangor: "the best decision I ever made!"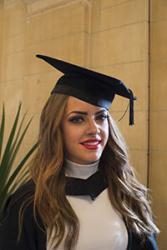 Belinda BambrickA Kilkenny girl whose dream to study Law took her from Australia to Wales is celebrating after achieving her life-long ambition.
Belinda Bambrick, a former pupil of Yates College, Waterford, was living and working in Sydney when she decided the time was right to pursue a Law degree.
After an Open Day at the University of New South Wales revealed that it would take her five years to qualify in Australia, she decided to explore options closer to home.
Research by both Belinda and her father, himself a Barrister of the Inner Temple, London and Kings Inn, Dublin, eventually led her to Bangor University.
Now, having graduated with a 2:1 LLB in Law, Belinda says that she "couldn't possibly have made a better decision.
"I have a brother who has completed his law degree, and a sister commencing her third year of her LLB in the UK. From listening to their experiences, I've realised just how lucky I have been to study at Bangor. Unlike my sister and brother, I was allocated my own personal tutor, somebody I could speak to in confidence. What I found truly amazing was that every one of the staff knew me personally, understood me as a student and were fully aware of my potential."
Belinda has realised that potential by securing a place on BPP's Legal Practice Course (LPC) at Holborn College, London. Before this, the aspiring media lawyer is set to take a two-week diploma in Media Law and Business Affairs with New Media Law LLP, London, with whom she will also complete an internship in October.
If all goes to plan, Belinda's legal journey will take her back to her starting point in Australia. "I'm extremely excited to be starting my LPC. I hope to qualify here in the UK and make my way back to Sydney, eventually."
It hasn't been all tort and statutes for the 24-year-old. She was elected as Social Events Officer of the University's Law Society during her first year, and Vice President for two years running. She counts this experience as one of the highlights of her university experience: "although stressful and manic, planning and executing events like the Spring and Christmas Balls was extremely satisfying, especially when I received fantastic feedback from staff and students", she says. "It was something I really enjoyed doing."
She has also been able to put her antipodean experience to good use by giving a detailed presentation to her fellow students on the laws and history of Australia's Indigenous people, with whom she worked closely on a small island off the North East Coast of Australia, as part of the Law School's 'Legal World' series exploring legal issues across the globe.
Although she longs to return to the bustle of Sydney, Belinda feels that the relative peace of Bangor has been key to her academic success: "Throughout my time at Bangor, I felt fully focused without the usual distractions of the big city lifestyle I had grown used to.
"Going from Bondi Beach to Bangor was the best decision I ever made!"
Publication date: 16 July 2015