From statutes to stitches for Thomas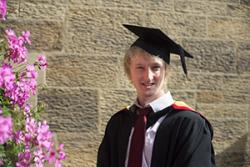 Thomas Eckersley thought his dreams of becoming a doctor were shattered when he failed to meet the grades he required to study Medicine.
Having missed out on his offer to study at Manchester University, the former Lancaster Royal Grammar School pupil faced a difficult decision: take a year out and try again, or find a last-minute course vacancy through Clearing. He went into Clearing and was offered a place at Bangor Law School.
"My decision to study Law at Bangor was, at best, a pragmatic response to being struck by the sudden realisation that I couldn't take my first choice", says Thomas, from Preston. "But Bangor seemed friendly and welcoming when I rang, and I had an interest in Law".
Given his ambitions to study Medicine, Thomas admits that he did not have high hopes for studying Law. But Bangor has more than exceeded his expectations. "I have enjoyed every second at Bangor. I've made friends I expect to keep for life; found a subject which I find fascinating and enjoyable, owing largely to the commitment of the teaching staff; and inadvertently found myself a route into Medicine through a competitive graduate entry scheme."
Now, with a 2:1 in Law, Thomas is finally on course to become a doctor. And the academic qualification is not the only thing he's gained at Bangor. "Bangor has helped me to gain maturity, allowed me to grow emotionally, and given me valuable perspective on the levels of commitment and hard work which I will need to put in not only in my further degree, but also throughout life", says the 21-year-old. "Looking back on myself three years ago, I feel in a much better position now to make the step forward into Medicine.
"Many of the doctors who interviewed me for my Medicine place were very interested in my legal experiences and knowledge, and I think this differentiated me from the many other candidates who studied more science-based degrees."
Publication date: 10 July 2014