Graduate Andra looks forward to a life of crime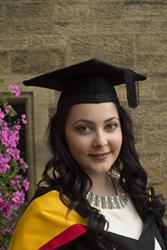 Andra FilimonMany Law students undertake office-based placements during their degrees, but for one Bangor University student, that wasn't quite hands-on enough.
Andra Filimon completed two internships with the Homicide Department of the Romanian police, where she reconstructed a crime scene, questioned a defendant and facilitated communication with London's Metropolitan Police.
The experiences gave her such an insight into criminal law that she now intends to pursue a career in behaviour analysis.
"Although I'd read books about criminology and criminal law, learning the theory is nothing like seeing it in practice", says the 22-year-old, who comes from Bucharest, Romania. "The police officers made me part of the team and taught me everything they could, not keeping anything from me."
Andra's enthusiasm and thirst for knowledge impressed the department so much that her first internship was extended for the summer, and she was invited to return in March this year.
"Undertaking these internships helped me immensely with my degree, and I learnt a lot about this field of work and how to progress within it. The work they do is amazing – it's exactly how I pictured my future career to be."
Andra now hopes to take another step towards her dream profession by pursuing postgraduate studies in Neuropsychology or Forensic Psychology. "Studying at Bangor Law School helped me grow both as a student and as a person – it helped me to become a grown-up.
"I was always proud – whichever country I was in – to say I was a Law student at Bangor University.
"I feel prepared for all the opportunities that will arise for me after graduating – I'm sure there will be quite a few!"
Publication date: 16 July 2015