Graduation Profile – Alec Jukes
Alec is 23 and from Morfa Nefyn graduating with an MSc in Medical Molecular Biology with Genetics degree with Distinction.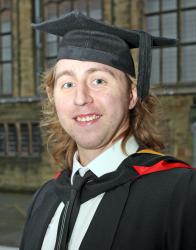 Background
After GCSEs at Ysgol Botwnnog, Alec attended Coleg Meirion-Dwyfor, Pwllheli where he developed a real interest in science and supported by his biology tutor decided to enter a medically-related field. After completing A-levels, he applied to study the BSc Medical Sciences degree transferring into Bangor's second year after struggling to settle in his initial university. Alec thrived at Bangor and after achieving a First Class undergraduate degree in Medical Sciences decided to undertake an MSc, to prepare him for a future in academia and research.
Why Bangor
Many of Alec's tutors at college had studied at Bangor University and had spoken highly of their time here. After not settling in his initial university Alec came to Bangor because of the high level of student satisfaction and teaching, along with his experiences of Open Days and never looked back.
Main focus of MSc
The main focus of his MSc was the summer research project, situated at the North West Cancer Research Institute in Bangor. The aim of his project was to determine the role of a protein known as mTOR in cancer development and how variations in mTOR activity effects growth in cells. mTOR is considered to be a master regulator of metabolism and cell growth and defects in how mTOR is regulated often leads to disease.
Talking about the importance of his research Alec said "In 2015, a study by Cancer Research UK estimated 1 in 2 people born after 1960 will be diagnosed with a form of cancer during their lifetime. Understanding how and why changes in cellular activity lead to cancer may prove vital in improving treatment and outcomes for cancer patients."
Alec particularly enjoyed the practical elements of his MSc saying "I have had the opportunity to undertake several laboratory modules, ranging from cloning a gene into a bacterial plasmid, to analysing the effectiveness of treatment in a chronic myeloid leukaemia patient. From this I have developed my laboratory skills, which will aid me in the future."
Looking forward to the future Alec reflected on how his MSc experience at Bangor has changed his goals "I had initially thought of taking time off after finishing my master's degree. However, the experience of the research project this summer inspired me to immediately carry on my education. As such, I am currently in the process of preparing PhD applications in cancer research."
Publication date: 12 December 2019