Graduation Profile: Claire Golding
Former Coleg Menai student Claire Golding from Criccieth has graduated with a first-class BSc (Hons) Psychology degree.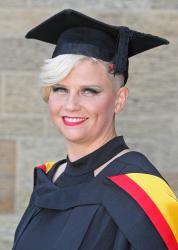 How does it feel to be graduating?
I am ecstatic!
Background…
I am a mature student with four children. I have an interest in child psychology, particularly children with a range of complex needs. Before I came to study at Bangor I was a hairdresser!
Why Bangor?
I came to Bangor after attending a parenting course at the Centre for Evidence Based Early Intervention (CEBEI.) Three of my children have been diagnosed on the autism spectrum, and the Incredible Years parenting course had such a positive impact on both myself and my children, I decided that I wanted to pursue a career in psychology.
Student Experience:
I did an internship at CEBEI, which involved some research work on the Incredible Years Autism parenting programme. I also spent a year as a 'student with disabilities rep'. I was a peer guide during my second year and was involved with the support for student carers at the University through the Widening Access Centre.
I had to overcome many obstacles while studying. As a student carer, it was challenging at times to balance my degree and my personal demands. I am also dyslexic so this made parts of learning – assignments, exams etc challenging, however, I was still able to achieve a first-class degree, so I am very happy!
I'm really grateful to my personal tutor Dr Thandi Gilder, Dr Nia Griffith and Wendy Williams who all went above and beyond to support me through my degree. Also, Dr Kami Koldewyn, my project supervisor, who was an amazing lecturer and supervisor!
The Future:
I'm hoping to complete a postgraduate course in the near future, and then complete a PhD in Clinical Psychology. I want other families of children with complex needs to know that life can be good and nothing is impossible!
Publication date: 16 July 2019