Graduation Profile: Elin Lloyd Wallace - BA French and Spanish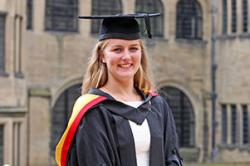 Elin Wallace, 22, comes from Cefn-llwyd, Aberystwyth and is a former pupil of Ysgol Gyfun Gymunedol Penweddig. Elin graduated with a BA French and Spanish degree and is a joint winner of the Modern Languages prize for Welsh-medium students of French.
Background...
I was born and brought up about 4 miles outside Aberystwyth, with my parents and my two brothers. I attended Ysgol Gynradd Penrhyn-Coch and Ysgol Gyfun Gymunedol Penweddig. My interests include music, hockey, swimming, reading, walking and nature.
How does it feel to be graduating?
It's a great feeling, but a little surreal!
Why Choose Bangor?
I wanted to have the experience of living away from home, but not too far! It was also very important for me to receive education through the medium of Welsh. These were the main factors that led me to choose Bangor for my degree.
Student Life:
I was a member of the University hockey club, and vice-captain of the second team for two years. We played in the BUCS League on Wednesdays and in the North Wales Women's League at the weekends.
In my second year, I was a Language Ambassador. I visited secondary schools to talk to Year 9 pupils, to try to encourage them to continue to study a modern language for GCSE. It was a very valuable experience and gave me an insight into the situation of modern languages in education today.
A year abroad was a compulsory part of my course, and so during the third year I spent a semester in Brittany and a semester in Galicia in Spain. It was an incredible experience to have lived my daily life in two different cultures, and I feel that my French and my Spanish improved so much whilst I was there.
Highlights
There are several! I think my main highlight is seeing how much my Spanish has developed over the last 4 years. I had studied French at secondary school but started learning Spanish at Bangor. It is so satisfying to have moved on from speaking hardly a word of the language to having graduated in it.
The future:
I'm not quite sure at the moment, but I'm thinking about doing a secondary education teacher training course. One thing I'm sure of is that I want to hang on to modern languages, one way or another, and teaching would allow me to do that.
Publication date: 17 July 2018