Graduation Profile – Freya Whelan - Law LLB (Hons)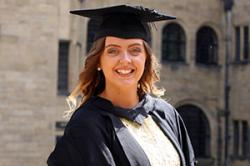 Freya WhelanFreya Whelan, 21, is from Preston, Lancashire and has graduated with first-class Law LLB (Hons) degree. Before attending Bangor University, Freya attended St Cecilia's RC High School and subsequently Cardinal Newman College, Preston where she completed A-Levels in Psychology, Biology and English Language.
Why choose Bangor?
I heard about Bangor University whilst researching universities as part of the UCAS application process and first visited Bangor on a UCAS applicant day. This helped me to decide that Bangor was the place I wanted to study. From the moment I arrived, I was made to feel extremely welcome and from that day onwards, the lecturers and other staff members have and continue to be friendly, approachable and genuinely interested in getting to know me and helping me to achieve my goals. Another appealing feature of Bangor is that it is a relatively small university with small class sizes and excellent facilities. These factors, amongst others, gave me the impression that Bangor would be a place where I would settle in well and be able to make the most of my time at university.
The course:
The LLB comprises of an enriching and diverse programme with a fantastic array of both compulsory and optional modules to study. It is an interesting and insightful course that results in a degree that can be applicable to a plethora of career paths.
A highlight of the course is the level of variety associated with it. As well as constantly learning new things in lectures, there are plenty of opportunities to develop and enhance your understanding outside of the classroom through activities such as those organised by the Law Society, mooting and the Legal Advocacy Society and as part of the Street Law Society.
Bangor Law School
The Law School goes above and beyond to support students and provide an enriching education. One of the things that I have found to be the best about the Law School is the knowledge and availability of the lecturers. Bangor operates a personal tutor system meaning that from your first day as a student at Bangor, you have a personal tutor who can help you with any questions that you have. Similarly, the lecturers will always try their best to assist with any queries and to provide you with fantastic opportunities, helping to ensure that your education extends beyond the lecture room.
From my very first year at Bangor, the Law School has equipped me with confidence, shown belief in me and has helped to enhance my CV and experiences by offering an abundance of fantastic opportunities. The Law School also holds an annual Law Fair where a number of employers and course providers are available for students to network and even have practice interviews with.
Student Experience:
Bangor Law School has fantastic connections. This has meant that I have been fortunate to partake in a number of amazing opportunities to enhance my understanding of the law and to develop my career ambitions. I participated in a two week student exchange programme at the University of Malaya, Malaysia where I took part in a plethora of legal and non-legal activities including a visit to Parliament and a tour of the Prime Minister's house and created a network and became friends with students from Malaysia, China and Indonesia.
I was selected to be one of two students from Bangor University to be an intern on the Chief Justice's Irish Superior Courts Internship Programme in Dublin where I interned for a District Court judge and a High Court judge for a period of just under a month. As part of this experience, I was able to observe a number of court proceedings, meet with judges and witness a selection of historic events alongside other interns from Ireland and America.
With the help and guidance of the lecturers, I have managed to secure and undertake a selection of mini-pupillages in London, Manchester, Chester and Preston all of which have enhanced and contributed to my ambitions of becoming a barrister.
Overall, my time at Bangor University has been wonderful and I have lovely memories that will stay with me forever. I cannot thank the Law School enough for the opportunities and support that they have given to me throughout my studies.
Living in Bangor:
One of the best things about living in Bangor is how conveniently located everything is. You are never too far away from a supermarket or the library and are always likely to recognise a familiar face. It is also a beautiful area of the world, with Snowdonia and stunning beaches just around the corner, creating a relaxing atmosphere to study in.
The thing that I will miss the most about Bangor is the people that I have met and had the pleasure of studying alongside. I have made friends for life at Bangor University and will miss seeing them almost every day!
The future:
My plans for the future are to become a barrister. In September I will be starting the BPTC at Manchester Metropolitan University. I feel my time at Bangor has thoroughly prepared me for the next step of my career path. One of the reasons for this is that with the help of the lecturers and the Head of the Law School who took the time to conduct practice interviews with me, I have been awarded two scholarships to contribute to the BPTC fees, the first from Lincoln's Inn and the second from Manchester Metropolitan University.
Publication date: 17 July 2018