Graduation Profile: Lleucu Myrddin
Lleucu Myrddin, 20, from Llwyndyrys, Y Ffôr, is graduating with a BA degree in Sociology and History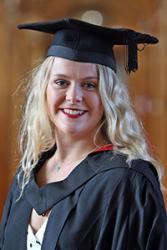 Background
I was raised in the vicinity of Pwllheli and attended Ysgol Pentreuchaf, which wa sa lovely rural school, before moving on to Ysgol Glan y Môr, Pwllheli and then on to Coleg Meirion Dwyfor. I now live in Upper Bangor, after studying here for three years – and I'll be staying here for another year in order to carry out my duties as the latest UMCB (Undeb Myfyrwyr Cymraeg Bangor) President.
How does it feel to be graduating?
It's great to know that all that hard work has been worth it – and that I won't have to sit any exams ever again!
Why Bangor?
I was aware of the lively social life that's available through the medium of Welsh here via UMCB events, and I certainly wasn't disappointed!
Working during studies
During my third year, I worked part-time at the Students' Union from August to March, which was a great experience as I learnt loads of new skills and I was also earning enough to pay the rent. That wasn't a strain until my final month and the dissertation deadline looming!
Clubs and societies
UMBC was central to my life as a student. I was part of the working committee for three years and attended all the events, including some of the events put on by Cymdeithas John Gwilym Jones (drama society), Cymdeithas y Dysgwyr (Welsh Learners' Society) and being part of Aelwyd JMJ. I was also a member of the Cymric women's rugby team and their captain during the final year, which was a lot of fun. I was also active in the Plaid Cymru youth branch during my time at Bangor, too.
Highlight
The whole lot has been great! I've enjoyed every event, every rugby trip and inter-college Eisteddfod and have really had the best of times with my best friends.
The future
I've commenced my duties as UMCB President and am really looking out to carry out the role for a year, but lord knows what I'll do after that. Where ever I'll be, I hope that I'll be happy and in good company.
Publication date: 15 July 2019