Master of the Moot graduates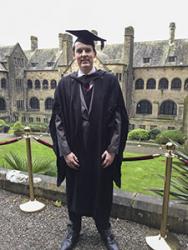 Joshua NelsonJoshua Nelson, 22, from Colwyn Bay graduated with a Law LL.B with French degree after four years of hard work at Bangor University this week.
Having lived in the south of England until he was 16, Joshua and his family moved to north Wales in 2010, where he attended Coleg Llandrillo Cymru and did the International Baccalaureate.
About his time at Bangor, Joshua said: "Although Bangor's Law School is very new, it's positively grown so much in the short time it has been established. It's really highly renowned for the growth it's managed in such a short amount of time. The lecturers are incredibly welcoming and great, it definitely influenced my choice on an open day. It also allowed me to study from home, which was a benefit after I'd moved so recently. Plus, it offered an opportunity to study in Toulouse, which most other universities didn't.
"I took part in every mooting competition available in my second year, placing second in two and winning the Legal Skills mooting competition in my first year. Furthermore, I held the role of Master of the Moot in my fourth and final year, which involved me organising and judging all the internal mooting competitions for the year as well as helping coach external mooting competitions like the ICC Moot and Jean Pictet.
"I participated in an ERASMUS year abroad in Toulouse where I studied and learnt French Law and upon my return, I was an Erasmus+ Ambassador for the University, which involved informing prospective students of the opportunities available on Erasmus.
"I was a member of the University's Law Society and Legal Advocacy and the Gaming League. I also contributed towards and am now the Managing Editor of a Legal News Aggregation website called Legal Loop (www.legalloop.co.uk) where students write hard-hitting legal news stories.
"I held a part-time job at Pizza Hut which was stressful at times. I found it difficult doing University all week working throughout the weekend. But, with good time management and an understanding management team at Pizza Hut, I was able to schedule my time easily.
"The highlight was definitely my year abroad. It was such a culturally enriching experience which no one can rival. Not many people can say they studied French Law in France!"
Come September, Joshua will continue with his postgraduate studies at Bangor University and will embark on an LL.M in International Intellectual Property, International Banking, Corporative Governance and Competition Law and will return as President of the Legal Advocacy Society.
Related stories:
Success for Bangor in national advocacy competition
Keeping you in the Legal Loop: Law graduates launch news website
Publication date: 11 July 2016