Memorial Prize achievement for Fine Art student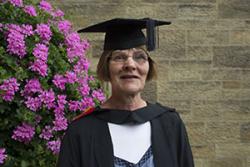 Sarah WhitesideA mature student is celebrating this week having won a prestigious award for her degree.
BA Fine Art student Sarah Whiteside has won the Dr Barbara Saunderson Memorial Prize for Fine Art 2015. The Dr Barbara Saunderson Memorial Prize for Fine Art is awarded to a student on the BA Honours Fine Art course for outstanding achievement.
Originally from Kent, Sarah moved to north Wales over 25 years ago and decided to learn Welsh after settling in the country.
Sarah said:
"I have worked in offices most of my life, whilst keeping on my art studies at every available opportunity. I lived in North Africa for one year, and after returning to England, helped to run a bespoke computer company with my husband for 10 years. We moved to north Wales in 1989, and I never grow tired of the beautiful landscape here. I continue to study Welsh, as I find this helps to give me an insight into the history of Bethesda, where I live now."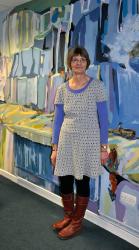 Sarah with the mural in the Confucius InstituteSarah, 64, was working at Natural Resources Wales when she completed an Access to Higher Education course at Coleg Menai and later a part-time BA Fine Art degree over six years at Bangor University.
"I came to study at Bangor because the School of Lifelong Learning offers part time study in Fine Art at degree level. Also, artist Gilly Thomas is a tutor on the course and I find her paintings open up my imagination."
Whilst at Bangor University, Sarah along with another student Ray Murphy, painted a mural in the Welsh Room at the Confucius Institute, on the ninth floor of the School of Chemistry Building. Sarah is currently working on a mural for the toilet block on the beach car park at Trearddur Bay.
Sarah said:
"This gives me a chance to be useful in the community, whilst learning more about outside mural painting, in collaboration with Trearddur Bay Residents Association."
Sarah's winning paintings were exhibited in Gwynedd Museum and Art Gallery last month.
The Fine Art student said of her time at Bangor:
"Graduating this week is fulfilling a dream I have held for 45 years. The students and staff at Bangor University have kept me inspired through both successes and low points for the last 6 years. Lifelong mentors, all of them. And the highlight of the degree has to be receiving the Dr Barbara Saunderson Memorial Prize."
Publication date: 14 July 2015