Model student Bogdan picks up more than a degree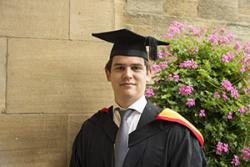 A Romanian student who was awarded £1,000 for his participation in extracurricular activities has further cause for celebration this week as he graduates with a First Class degree.
Bogdan Pop, from Cluj Napoca in Romania, picked up the Santander Excellence in Enterprise award earlier this year in recognition of his outstanding commitment to enterprise and innovation activities throughout his time at Bangor.
Some of those activities include nationwide competitions such as the IBM Universities Business Challenge, FLUX and the Bloomberg Investment Competition, as well as university-run events like market fairs and Enterprise by Design.
Now, 22-year-old Bogdan has replicated this success in the classroom, by gaining a First Class degree in Management with Banking and Finance. But the academic qualification is not the only thing he has to show for his time at Bangor.
"Participating in course-related activities and competitions gave me an excellent opportunity to improve my skills and differentiate myself from other competitors in the job market", says Bogdan. "As most of the competitions were team-based, I developed my team-working and communication skills. Being a team leader helped me to gain leadership and negotiation abilities, and as most of the activities were business-related, I improved my problem solving, numeracy and commercial awareness expertise."
Winning the Enterprise by Design competition is Bogdan's personal highlight of his time at Bangor. "This involved developing a product for a client in a team of four, all from different academic schools", he recalls. "It was very interesting to see how each of us contributed to the same project from different points of view, and how all these ideas merged together. Through this, I learned how a business works and how to develop a new product."
Now, Bogdan is preparing to move to London, where he will study for a Masters in Insurance and Risk Management at Cass Business School. His advice to future Bangor University students is clear. "I would definitely recommend students to engage in as many activities as possible, because from all of them you learn something that could help you in your career. In today's working environment, the competition is extremely high, and you have to differentiate yourself from other candidates. Participating in competitions and activities is a great way to do this."
Publication date: 10 July 2014