Moot champion Aaron wins £3,000 scholarship to fund barrister dream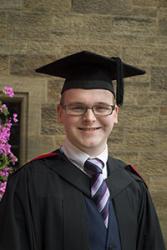 Aaron CleggA Bangor University Law graduate has been awarded a £3,000 scholarship to train as a barrister thanks to his superb courtroom skills.
Aaron Clegg, from Oldham, who graduates this week with a First Class Honours degree, was one of only four candidates to be awarded BPP Law School's 4x4 Advocacy Award.
The scholarship means that Aaron, a former pupil of Oldham Hulme Grammar School, will be able to pursue the Bar Professional Training Course and fulfil his ambition to become a barrister.
It was two placements with Oldham firm Pearson Solicitors and Financial Advisers which initially sparked his interest in Law, and since starting his degree at Bangor, that interest has grown into a passion.
He has been instrumental in developing the University's provision of mooting, an activity in which students argue fictitious legal cases in simulated court proceedings. During his second year he co-founded Bangor's Legal Advocacy Society, through which he organised several mooting competitions on behalf of his fellow students, including one at the UK Supreme Court.
He has also experienced success as a competitor, winning the Welsh National Moot Competition alongside Adam Gulliver in 2014, and representing Wales at the Telders International Moot Court Competition, held in the Netherlands, in the same year.
These activities have been key to helping Aaron on his way to becoming a barrister. "They really helped me put perspective on some of the legal concepts that we were taught in class", he says. "Being able to apply the theory of the law to practical situations really helped me to think more like a lawyer and less like a student."
The 22-year-old also acknowledges the contribution of his lecturers at Bangor, who he describes as "incredibly helpful".
"They genuinely do go above and beyond when it comes to helping students. Mr Gwilym Owen in particular has been a fantastic mentor to me, helping me secure several mini-pupillages with Chambers in Liverpool, Manchester and London, and providing me with guidance on so many things to do with my career."
Aaron will begin his vocational training in September 2016, and will spend the next year working as a Paralegal at Cardiff-based law firm Hugh James. He already knows which direction he will take after completing the BPTC: "my dissertation was on the area of equitable asset tracing and freezing injunctions, and this is a particular interest of mine, so I would love to practice in that area!"
With ambitions to secure a pupillage and tenancy with chambers in Manchester after qualifying, Aaron says that he will always look back on his time in Bangor with "great fondness".
"The absolute highlight of my degree has been finding out that I am graduating with First Class Honours. It is a totally indescribable feeling to have all the work I put in pay off.
"I would urge as strongly as I can any prospective law student considering coming to Bangor to just do it - they won't regret it! The law school here feels so personal, and that makes for a truly unique university experience."
Publication date: 16 July 2015