Prize winning student graduates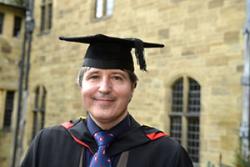 Alex SpichaleA Bangor University student who has a passion for the environment and an ongoing quest for finding new ways of providing socially acceptable, ecologically friendly and economically sustainable development graduated this week.
Alex Spichale, 47, from Llandudno Junction, Conwy was awarded an MBA in Environmental Management with distinction from the Bangor Business School, and was also awarded the Magnox Prize of £200 for best overall student on the course.
Alex spent over 17 years as a structural engineer, working for a consulting engineer on projects such as Eirias Park in Colwyn Bay and Pontio, Bangor University's new Arts and Innovation Centre. During the last recession the company closed their regional office in Llandudno, so to be able to compete in an ever changing workplace, Alex decided to study for a BSc (Hons) Construction Management at Glyndwr University, Wrexham and got a First Class Honours with distinction.
On choosing to study and about his time at Bangor University, Alex said:
"Bangor University has an excellent reputation especially relating to the academic performance of its Environment and Business schools. The MBA in Environmental Management mixes the best attributes of both of these two schools and provides a well-balanced learning experience, which is ideally suited to modern industry.
"When I first started the MBA I was still a full-time student at Glyndwr University and worked there as a Student Ambassador. My final undergraduate year overlapped with my MBA and I did the two degrees together. Unfortunately, I had to give up working as I needed to concentrate solely on my studies to get good grades.
"The main highlight of my time at Bangor was being awarded a fee scholarship. This enabled me to come to Bangor University in the first place. Bangor is a fantastic place to study; everyone is very supportive and I really enjoyed my time here.
"My mother was diagnosed with Alzheimer's dementia disease in 2011 and she had not made any legal provision. In the past couple of years, my sister and I have been going through the process of obtaining guardianship in the courts and this has taken up a lot of my spare time. Also, my wife had major surgery this year so she really needed my help and support. I suppose that immersing myself in my postgraduate studies did help to isolate myself from the worst of these problems.
About graduation day and his future, Alex said:
"It's an absolutely fantastic feeling mixed with relief and some regret that it's finally over. I have worked long and hard for this day. I missed my undergraduate graduation ceremony so have made a conscious decision to really enjoy my graduation this time around.
"If I can raise the funds or find a sponsor in industry, I would love to return to Bangor at some point in the future and do a PhD. It would be nice to remain in academia – it's really hard work but allows lots of blue sky thinking. I would also like to do a PGCE and go into teaching or lecture at university.
"Since completing the MBA, I have received some really interesting offers from local companies, so we'll just have to wait and see..."
Publication date: 17 December 2015