Prizewinning student gets ready for PhD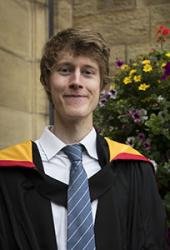 Robin OwenHard work and determination has paid off for a Bangor University student who graduates this week, scooping a top prize in the process.
Former Ysgol Dyfryn Nantlle pupil, Robin Owen, 21, from Penygroes near Caernarfon graduated with a First Class BSc Sport, Health and Physical Education degree. Robin also won the Dr John Robert Jones Prize of £1500, which is awarded annually to three of the best students across all disciplines at the University as well as the Sarah Smythe Award for the highest Sports Science degree mark of the year and the Psychology Project Award for the highest sport psychology/motor control project mark of the year.
Robin was born in Austria and moved to north Wales with his family in 2004.
He recalls: "I love north Wales, and luckily for me, sport science at Bangor has a brilliant reputation. I didn't do exceptionally well at GCSE or A-level despite having brilliant teachers, but at the beginning of my degree I decided to really give it my all. So, I am ecstatic to have won the John Robert Jones award!
"During term-time I did a massive amount of coaching and volunteering at my local school and sports clubs in Bangor. Balancing university with these commitments became quite intense sometimes. I was also involved with Codi Gôl, an S4C TV series which saw a team of mums and dads of a junior football team in Amlwch compete for a chance to play against a team of parents from Brittany in France during Euro 2016. It was a fantastic opportunity to work with former Swansea player, Owain Tudur Jones.
"Half way through my third year I decided to apply for a PhD Scholarship at Bangor. The PhD will focus on Skill Acquisition – which is something I am very interested in from all the coaching I have done. I knew I was at a massive disadvantage not having done a masters, never mind not having graduated, so to be offered an interview was quite unexpected! I prepared like mad and beat all the other applicants; I don't know if I'll ever again be as happy as when I found out I'll be starting a PhD in July!"
Related stories:
Bangor University students assist new Amlwch football team
Publication date: 11 July 2016