Sara lands her dream job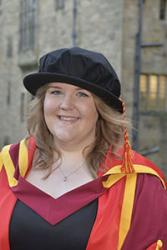 Sara FisherA Bangor University student has landed her dream job of designing and developing foundation, undergraduate and postgraduate business courses as well as teaching after completing her PhD.
Former Upton-By-Chester High School student, Sara Fisher, 27, from Chester, recently received a PhD in Management from the Bangor Business School. Sara's higher education journey began at Bangor eight years ago when she began a BSc Product Design degree.
Extremely proud of her achievements, Sara recalls:
"I remember coming to an open day back in 2007 and visiting the Cilgwyn building on the Normal Site. Product Design was a small course, but everyone was really friendly and helpful and the workshop facilities were second to none. Compared to the other universities I had visited, Bangor made me feel included, and that I mattered. I got that vibe everywhere I went that day and knew it was the place for me. I was never a big city girl and was shy and quiet back then, but Bangor made me feel at home. Looking back on my choice, I wouldn't do anything differently. I owe so much to that course and as it has helped me get to where I am today.
"When I decided that I wanted to do a masters degree, I looked at different options but felt that my time at Bangor wasn't quite over yet. I really enjoyed the marketing and entrepreneurship lectures we had done in product design and I found a Business and Marketing MA in the Business School that looked really great. I thoroughly enjoyed that year, even though I had to work hard as I was a little out of my comfort zone at first. When I got offered a scholarship to do a PhD with some of my favourite lecturers it really was a no brainer to continue with my studies. Before this, I never thought I would be able to do one as I was never the perfect A* student a school, so I knew I couldn't pass up such an opportunity.
"I worked for four years in student services, mainly with the peer guiding scheme and organising the home student day. I really enjoyed working with the team, and they were so supportive throughout both my masters and PhD. I also was a student warden based on Ffriddoedd site. Both jobs were really rewarding and I liked having something else to keep me busy!
"Over the years I've been a course rep, head peer guide, academic study leader and postgraduate ambassador. I was also involved in BEnterprising and the enterprise by design programme. I really enjoyed this as it mixed my passion for design and entrepreneurship. This is how I met one of my supervisors, Siwan, as we worked closely together on the project when I became a facilitator and specialist for design and business.
"Getting a distinction on my masters and passing my viva were really proud moments for me. I also met some of the most influential people whilst studying here and my experience wouldn't have been the same without them.
"I think completing my PhD has been a big obstacle to overcome. Sometimes there were moments when I was sat staring at a screen thinking 'I have no idea what I'm doing'. I had to persevere, stay motivated and most of all have faith in my abilities and knowledge that I could over come problems. It wasn't always easy, but I got there in the end!
"The weekend before my viva I was lucky enough to be offered a lecturing position in the University of Law's new business school, DeBroc, in Portsmouth which is opening in 2016. It was more than I could've hoped for as my first job as I'm now designing and developing foundation, undergraduate and postgraduate business courses as well as teaching. My hope for the future is that I continue developing my academic career."
Publication date: 17 December 2015