"We did it!" Husband and wife graduate together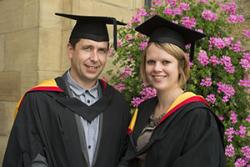 Most of us would find working full-time whilst raising three small children demanding enough; but an Anglesey couple who managed to study for part-time degrees, graduate together from Bangor University this week.
Tony Williams, 35, and his wife, Siân, 33, from Llanfairpwllgwyngyll attended evening classes through the University's School of Lifelong Learning. Tony graduated with a BA Combined Studies degree and Siân graduated with a BA Social Studies Degree.
Tony, who works at Gwynedd Council, said: "It's fantastic to finally achieve a degree. It was difficult working whilst raising a young family and studying, but the support of my wife, work and family has enabled me to complete the degree and achieve an ambition.
"The last few years have been quite eventful; we both worked full-time, had three children, moved house, got married, and now, to top it all, we're graduating!"
Siân, who works as an administrator at the School of Lifelong Learning, said: "It feels very good to reach the end of a long journey and I am proud of myself for not giving up.
"After leaving school I started working in the catering industry but realised after a few years that the hours were very unsociable and the pay was low. I then decided I wanted to work in an office and worked as an administrator for Anglesey Council and the NHS Trust.
"I completed a part-time Access into Higher Education course at Coleg Menai with the intension of progressing onto a degree course. Bangor University offered the BA Social Studies part-time which allowed me the option to work and study. It was also close to home.
"It was a lot of hard work and a few sacrifices were made. Because of the understanding the School of Lifelong Learning has towards adult learning and part-time learning, the support I received from the School was excellent. The School allowed me to work and study at a pace that was suitable for my needs. Without this support and understanding, I would have never been able to complete my degree. I am very grateful for this support.
"I feel the degree has been on a journey with me and it's sad that it's come to an end. But I am also glad that I will not have to submit anymore essays and I can enjoy my weekends without thinking about deadlines!
"I would like to thank all the tutors who have supported both Tony and myself, and also the opportunity that Bangor University gave us and many other students' over the years to study part-time. Working for the School of Lifelong Learning has shown me how important it is for people to have the opportunity to study part-time."
Publication date: 10 July 2014