Bangor University social event in Zambia for past and present students
Dr Fergus Sinclair, Senior Lecturer in Agroforestry in the School of Environment, Natural Resources and Geography (SENRGy) at Bangor University and Science Domain Leader at the World Agroforestry Centre (ICRAF), recently hosted a cocktail party for Bangor University alumni and current students in Copperbelt Region of Zambia. The event was held on 29th August at the Africanza Lodge & Restaurant in Kitwe. The event was not only an enjoyable reunion but also led to fruitful discussions about project research and future collaborations.
Those present included Donald Zulu and Emelda Hachoofwe, two former MSc Agroforestry students from 2008 and 2012 respectively, who are now both Lecturers in the School of Natural Resources at Copperbelt University. Also present was Herrick Mwewa who is currently undertaking the Distance Learning Tropical Forestry MSc degree in SENRGy while working as a training officer at Zambia Forestry College and Dr Gillian Kabwe, a former BSc Forestry student from 1997, who is a Lecturer in the School of Natural Resources at Copperbelt University and now Coordinator of a project (Developing Value Chain Innovation Platforms to improve Food Security in eastern and southern Africa – VIP4FS) being implemented in Solwezi District, North-western Province with funding provided by the Australian Centre for International Agricultural Research (ACIAR) and ICRAF. The Copperbelt University has a memorandum of understanding with ICRAF, under which mandate this project is being implemented. Dr John Kangwa, the Copperbelt University Staff Development Officer, was welcomed to the event as coordinator for training at the University; including management of scholarships and linking staff development fellows with Universities.
Dr Fergus Sinclair said "This year has seen us reconnecting with many of our alumni across the World, and it's been heartening to see them still pursuing research and teaching in the subject areas they studied with us in Bangor. "
Dr Fergus Sinclair pictured below with colleagues and former students in Zambia. August 2015.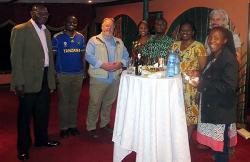 Publication date: 16 December 2015