Dr Nick Jones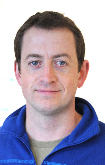 Biography
I graduated from Sparsholt College in 1995 with a BTEC National Diploma in Aquatics and Ornamental Fish Management, during which time I was inspired to pursue a career in marine biology following an internship at Aqualife Research Corporation, a tropical marine ornamental fish hatchery in the northern Bahamas. In 1999 I graduated from the University of Wales, Bangor with a B. Sc (Hons) in Marine Biology followed by an M.Sc in Shellfish Biology, Fisheries and Culture in 2000, having specialised in molluscan biology and ecology for his research projects. I then spent three years as an Aquarist and later Senior Aquarist at The Deep, Hull, before returning to Menai Bridge to work as a Research Assistant in the field of Sclerochronology in 2005. I completed a PhD in 2009 under the supervision of Prof. Chris Richardson on aspects of the biology of the cuttlefish,
Sepiola atlantica
and
Sepia officinalis
. I have also worked at Selonda (UK), a state of the art sea bass aquaculture facility in Penmon, Anglesey. My current work as a Research Officer for the Centre for Applied Marine Science under the supervision of Dr Ian McCarthy focuses on developing conservation aquaculture rearing techniques for the European smelt
Osmerus eperlanus
and the freshwater pearl mussel
Margaritifera margaritifera
as part of the EU funded SEAFARE project.
Research interests
Conservation aquaculture, particularly the development of new culture techniques for tropical marine ornamental fish and invertebrate species.
The reproductive biology of marine molluscs in relation to their culture.
Marine fish and invertebrate larval biology.
Cephalopod fisheries and stock assessment.
Fish welfare.
Publications
Peer Reviewed Journal Papers
Jones, N.J.E. and Richardson, C.A. 2012.
Distribution and reproductive biology of the little cuttlefish Sepiola atlantica (Cephalopoda: Sepiolidae) around Anglesey, North Wales. Helgoland Marine Research. 66, 233-242.
Jones, N.J.E. and Richardson, C.A. 2010.
Laboratory culture, growth and the life cycle of the little cuttlefish, Sepiola atlantica (Cephalopoda: Sepiolidae). Journal of Shellfish Research. 29 (1), 241-246.
Jones, N.J.E., Ridgway, I.D. and Richardson, C.A. 2009.
Transport of cuttlefish, Sepia officinalis, eggs under dry and damp conditions. Journal of Molluscan Studies. 75, 192-194.
PDF copies of some of these publications are available (as indicated by hyperlinks in the list) for non-commercial research and educational purposes only. You may not use the material for commercial purposes or make multiple copies without requesting permission from the copyright holder (usually the book or journal publisher).