Elisabeth Morris-Webb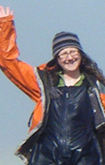 Biography
My academic training began at the University of Wales, Bangor in 1999, with a BSc (Hons.) in Marine Biology. Subsequently, I pursued interests in tropical marine ecology and research in the Philippines and Egypt leading back to Bangor for an MSc. in Marine Environmental Protection. In an attempt to redirect my career to more local, temperate reef ecology, in 2005 I established Marine EcoSol, a small marine consultancy specialising in subtidal epibenthic survey by diving and underwater imagery. I have worked on contracts around the UK coast, as a marine consultant offering advice on species and habitats of conservation concern in areas of proposed developments. My work has been essential in planning marine protected areas and private coastal developments, monitoring and mitigating their impacts and in long term sustainable use of our coastal and marine resources, and so employed by both private and governmental clients. I have also trained recreational divers to survey the Seabed as the North Wales Seasearch coordinator since 2007.

I am constantly striving to explore new opportunities that will actively contribute to the sustainable use of marine environments whilst building on my existing knowledge and experience. In October 2016 took up a Marine EcoSol and KESS2 funded PhD at Bangor which will purse research interests developed on several previous commercial projects, but also my personal passion for beach foraging.
Research Interests and PhD
Over my working career, I have developed many research interests primarily related to subtidal ecology, the establishment of robust survey and monitoring techniques for hard substrates. I have a particular interest in tackling the recording of signs of life on the seabed, including eggs, tracks, siphons and other cryptic signs of biodiversity. My PhD aims to investigate intertidal collection and beach gathering activities. At the moment there are at least 42 marine taxa collected from our Welsh shores, with uses from food, to fertilisers, to fuel. Surprisingly very little research has been undertaken into the social, heritage or economic value of collection activities to the UK, or the levels or impact of harvesting activity locally. As a result my main current research interests are in:
intertidal ecology and developing robust survey design to investigate confounding impacts of beach users on the shore, and
the changing heritage and well-being value of intertidal collection and gathering activities, primarily in Wales.
Publications
Peer Reviewed Papers
Evans, A., Garrod, B., Firth, L., Morris-Webb, E., Goudge, H., Moore, P.J. 2017. Stakeholder priorities for multi-functional coastal defence developments and steps to effective implementation. Marine Policy 75: 143-155.

Evans, A., Firth, L., Hawkins, S.J., Morris, E.S., Goudge, H., Moore, P.J. 2015. Drill-cored rock pools: An effective method of ecological enhancement on artificial structures. Marine and Freshwater Research 67(1): 123-130.


For additional non-peer reviewed publications see my twitter or Research Gate accounts
Funding
This PhD is a Marine EcoSol (www.marine-ecosol.com) collaboration with Bangor University, funded by KESS 2.

Knowledge Economy Skills Scholarships (KESS 2) is a pan-Wales higher level skills initiative led by Bangor University on behalf of the HE sector in Wales. It is part funded by the Welsh Government's European Social Fund (ESF) convergence programme for West Wales and the Valleys.
https://www.bangor.ac.uk/doctoral-school/kess
Links