Dr Ronan Roche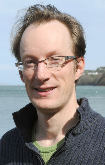 Bibliography
I graduated in Biological Sciences from the University of Edinburgh in 2000. I carried out research in 2002 as part of my MSc in Tropical Coastal Management at the University of Newcastle in Trindad and Tobago. I then worked for several years in Coastal Zone Management and Fisheries topics at the Essex Estuaries Initiative in Colchester, England. I then was awarded an IGERT fellowship to study at the University of Rhode Island, where I completed the MMA (Master of Marine Affairs) program focusing on Marine Law and Policy in 2007.
My PhD thesis is entitled "A multi-proxy reconstruction of mid-Holocene environmental conditions at a nearshore Great Barrier Reef site: King Reef, Northern Queensland." This project was collaboration between Manchester Metropolitan University, The Natural History Museum, London, and James Cook University, Australia. I received additional assistance from the NERC Isotope Geosciences Laboratory, UK.
Research Interests
I am interested in studying how natural systems respond to anthropogenic alteration, using a multi-disciplinary approach. So far, I have focused on coral reef ecosystems and their long-term resilience and diversity. I am also interested in the policy and legal structures for management of marine areas.
I am currently working on the
Seacams
project at Bangor University
Publications
Peer Reviewed Journal Papers
Roche, R.C., Walker-Springett, K., Robins, P.E., Jones, J., Veneruso, G., Whitton, T.A., Piano, M., Ward, S.L., Duce, C.E., Waggitt, J.J. and Walker-Springett, G.R., Neill S., Lewis M., King J. 2016. Research priorities for assessing potential impacts of emerging marine renewable energy technologies: Insights from developments in Wales (UK). Renewable Energy, 99, pp.1327-1341.
Roche, R.C., Pratchett, M.S., Carr, P., Turner, J.R. Wagner, D., Head, C., Sheppard, C.R.C. (2015)
Localized outbreaks of Acanthaster planci at an isolated and unpopulated reef atoll in the Chagos Archipelago. Marine Biology 162 (8) Ms. No. MABI-D-15-00124R2, 14/07/15.
Roche, RC, Monnington, JM, Newstead, RG, Sambrook, K, Griffith, K, Holt, RHF, Jenkins, SR (2014).
Recreational vessels as a vector for marine non-natives: developing biosecurity measures and managing risk through an in-water encapsulation system. Hydrobiologia 12/2014; 750(1). DOI:10.1007/s10750-014-2131-y
Perry CT, Smithers SG, Roche RC, Wassenburg J. (2011).
Recurrent patterns of coral community and sediment facies development through successive phases of Holocene inner-shelf reef growth and decline. Marine Geology 289: 60-71.
Roche RC, Abel RL, Johnson KG, Perry CT. (2011).
Spatial variation in porosity and skeletal element characteristics in apical tips of the branching coral Acropora pulchra (Brook 1891). Coral Reefs 30: 195-201.
Roche RC, Perry, CT, Johnson KG, Sultana K, Smithers SG, Thompson AA. (2011).
Mid-Holocene coral community data as baselines for understanding contemporary reef ecological states. Palaeogeography, Palaeoclimatology, Palaeoecology 299: 159--167.
Roche RC, Abel RL, Johnson KG, Perry CT. (2010)
Quantification of porosity in Acropora pulchra (Brook 1891) using X-ray micro-computed tomography techniques. Journal of Experimental Marine Biology and Ecology 396: 1-9.
Whitfield RJ, Roche RC. (2007)
UK Personal Watercraft Management: A user perspective. Marine Policy 31: 564-572.
PDF copies of some of these publications are available (as indicated by hyperlinks in the list) for non-commercial research and educational purposes only. You may not use the material for commercial purposes or make multiple copies without requesting permission from the copyright holder (usually the book or journal publisher).