A focus on wellbeing
This week our very own Dr Anne-Marie Smith was at the Cultural Education Research Initiative (CERI) conference in Liverpool, presenting some initial themes emerging from a collaborative research project on Wellbeing in Schools and Cultural Spaces. AM is collaborating with Dave Moloney, Head of Drama at Fred Longworth School (Manchester) and a Fellow of the 'Specialist Leaders in Cultural Education' (SLICE®) initiative funded by Curious Minds (curiousminds.org).
Via a series of 'Writing for Wellbeing' workshops led by Dr Anne-Marie Smith, teachers from schools around Manchester and staff from the Royal Exchange Theatre have been able to reflect on their personal and professional wellbeing. The project culminates in June with the 'Notebox': a travelling writing pod that will take up residence at the Theatre and in schools, offering writing prompts to the public, theatre staff, teachers and pupils. Come along to AM's research seminar later in June to find out more!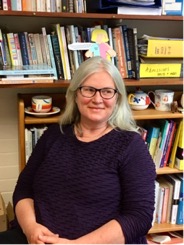 Publication date: 10 May 2019