Hedgehog Friendly Campus at Bangor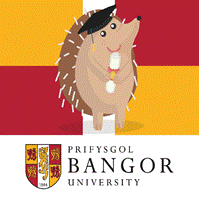 In June 2020, Bangor University joined the Hedgehog Friendly Campus initiative to gain accreditation for being a safer and more friendly place for hedgehogs to thrive. The initiative consists of three stages: bronze, silver and gold, each stage consisting of a number of initiatives to complete to spread awareness and to get more people involved in the campaign.
A small group of staff and students have begun various activities from the comfort of their homes to make this accreditation possible and hope more people will join in with their actions!
The first event hosted by the Hedgehog Friendly Campus was on learning how to survey for hedgehogs.
Social media will be a strong source of support from the wider community, staff and students especially during this time of lock down and will be an effective way of communicating the actions that will be taking place. Check out their social media pages at the bottom to find out more.
Get involved
Megan Stone, a first year undergraduate student of Bangor University studying zoology with animal behaviour has written their first blog explaining what the project is about, the events that will be happening and how you can get involved.
Blog
Read the blog by Zoology and Animal Behaviour student Megan Stone