Re:fit
In 2018, Bangor University was awarded £2.5 million pounds to invest in energy efficiency of buildings as part of the Welsh Government's Re:fit Cymru programme. This money has been used to fund a range of improvement measures in 12 buildings across Bangor, Normal Site & Menai Bridge, plus in 26 Halls of Residence blocks on the Ffriddoedd site. The energy efficiency improvements will lead to reduced use of electricity & gas, lower energy bills and reduced greenhouse gas emissions.
As a result of the works undertaken, the University is expected to reduce its annual electricity and gas bill by more than £400,000.
About Re:fit Cymru
Re:fit Cymru is a funding and support scheme implemented by the Welsh Government. The scheme assists public bodies and Higher Education Institutions in improving the energy efficiency of their buildings and estates; reducing overall energy use and delivering reductions in both carbon emissions and energy expenditure. Funding from Re:fit Cymru is in the form of an interest-free loan to be repaid through the financial savings delivered by improved energy efficiency. Savings are guaranteed through an Energy Performance Contract.
The buildings which received improvements and the specific measures implemented were selected as part of a thorough assessment process. Conditions of the funding require the measures installed to deliver both a specified level of carbon reduction and sufficient financial savings to repay the loan within a set timeframe. As a result of these conditions, certain energy-saving measures were not eligible for funding through the programme.
LED Lighting
New, high efficiency LED (light emitting diode) lighting was installed in 12 buildings and 26 Halls of Residence blocks. LED lighting uses around 30% less energy than CFL "Energy Saving" bulbs, and as much as 90% less energy than old fashioned incandescent bulbs. LEDs also last as much as 3 times longer than "Energy Saving" bulbs so don't need to be replaced as often, reducing waste and costs.
In total, the lighting upgrades will reduce electricity use across the University by more than 970,000 kWh per year, preventing the emission of more than 370 tonnes of CO2e.

Upgrading Heating and Cooling Systems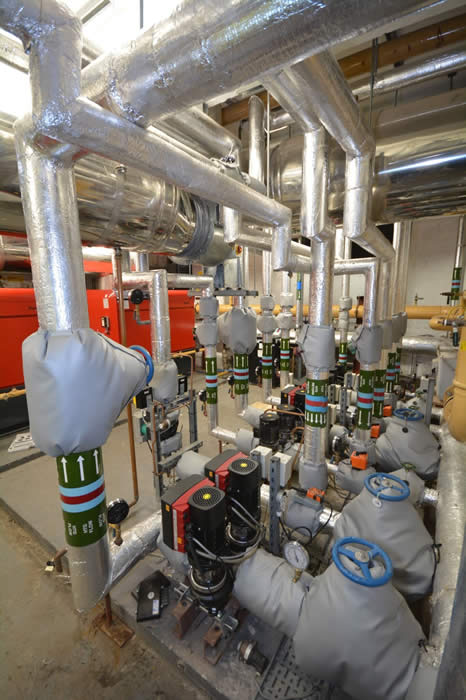 Newly insulated pipes and valves
A lot of the work undertaken to improve the energy efficiency of buildings has happened "behind the scenes", in areas of the University where most people don't go – boiler rooms, piping ducts and control systems. Although you're unlikely to see the pipe insulation, pump upgrades and system optimisation that's been done, they're making a big impact on our energy use.
Overall, the improvements made to heating and cooling systems will reduce electricity use by more than 700,000 kWh per year and gas use by more than 2,590,000 kWh per year. These reductions in energy use will also cut the University's carbon emissions by more than 730 tonnes CO2e per year.

Solar Photovoltaic Panels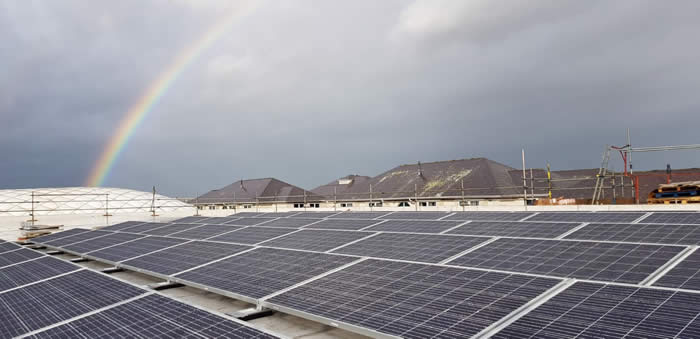 Solar Photovoltaic Panels installed on the roof of Canolfan Brailsford
As well as reducing energy use, some of the funding was used to install solar panels on 5 buildings to generate renewable electricity on-site. Solar Panels have been installed on Brambell, Thoday and Wheldon Buildings, New Arts Library as well as Canolfan Brailsford. The panels are expected to generate more than 140,000 kWh of electricity per year and reduce carbon emissions by more than 56 tonnes CO2e per year.

Main Arts & New Arts
The Main and New Arts Buildings on College Road received some of the most extensive energy efficiency improvements as part of the scheme. More than 1300 lightbulbs were replaced with high-efficiency LEDs, reducing electricity use by more than 322,000 kWh and preventing the emission of nearly 124 tonnes of CO2e.
A range of improvements were made to the heating system, including pump upgrades, increased pipe insulation and installing more advanced monitoring & controls. In tota,l these improvements will reduce electricity consumption by nearly 70,000 kWh and gas consumption by more than 960,000 kWh, reducing carbon emissions by more than 210 tonnes CO2e.
During Autumn 2019, nearly 200 Solar Photovoltaic panels were installed on the roof of the New Arts Library. The solar panels will generate more than 40,000kWh of electricity per year, reducing carbon emissions by nearly 16 tonnes CO2e.