Dr Joshua Andrews
Lecturer in Eastern Religions
Name: Joshua Andrews
Position: Lecturer
Email: j.andrews@bangor.ac.uk
Phone: 01248 382103
Location: M11a, Main Arts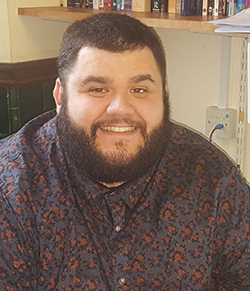 My educational background is firmly rooted in Bangor University, having completed my BA, MA and recently submitting my PhD as part of the School of Philosophy and Religion. My research has primarily focused on the dialogue that exists between Eastern religions and Western philosophy, with particular focus on formidable parallels that exist between Buddhism and existentialism. My research interests have influenced my teaching, leading me to develop a range of modules which examine the influence that Eastern religious philosophy and Western philosophy and culture have had on each other, exploring areas as diverse as human rights, politics, film, social media and ritual. My modules therefore focus on the practice of religion in modernity, recognising the vital role religion plays within contemporary society.
Modules taught
Ethics: Religious Perspectives
Introduction: Judaism & Christianity
Comparative Philosophy: East and West
Applied Ethics
Hinduism in the Modern World
Buddhism in the Modern World
Sex and Society
God and Government 
Independent Study
Dissertation
Research Expertise
Hinduism (especially in relation to the practice of Hinduism in diaspora)
Buddhism (especially the Theravada traditions)
Comparative Philosophy (particularly in the fields of Eastern Philosophy, existentialism and ethics)
Administrative Roles
Director of Student Engagement 
Communications Office
Pastoral Care Lead (Philosophy and Religion)
Recognition/Awards
2017: 'Postgraduate Teacher of the Year', Bangor University Student-Led Teaching Award.