Disability Health and Safety
Health and Safety has recently prepared a document 'Getting Around Bangor' which we hope will enable staff / students to familiarise themselves with the layout of the Campus, facilities etc.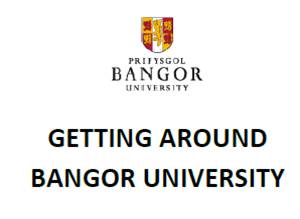 Health and Safety is often seen as the 'stick' or the excuse to stop people doing something.  Unfortunately, this can also be the case with disabled students, especially where well-placed but misguided concern for the student's health and safety emanates from a lack of understanding of a person's abilities and how these interact with academic needs.
Often our own limited experiences can cloud our judgement, resulting in over-bearing restrictions, when none are actually required.
The appended booklet is all about providing easy to understand information and advice, to help both the disabled student and the College / School. It also gives examples of adjustments which have previously been made to ensure the student could participate fully and did not miss out on any part of their course.
It is also very important that Colleges and Departments consider accessibility issues when planning events, trips, field trips etc to ensure locations, venues and vehicle providers are suitable, meeting the needs of all participants wherever possible.
Personal Emergency Evacuation Plans
In addition, Health and Safety prepare Personal Emergency Evacuation Plans (PEEPs) for staff and students.
PEEPS are a requirement of the University's Fire Safety Policy and are needed for those students, staff and visitors who may experience difficulities evacuating in an emergency. Disability Services will inform Suzanne Barnes, Health and Safety Support Officer that a PEEP is needed for a student. Human Resources or Colleges / Departments should inform Health and Safety if a member of staff requires a PEEP.
When a student requires a PEEP, Suzanne Barnes will arrange to meet with the student to identify what arrangements can be put in place for the areas the student will visit as part of their studies and / or their Halls of Residence. Once agreed with the student, a copy of the PEEP is sent to Disability Services who formally issue a copy to the student, the students's Disability Contact and if necessary the Halls Office.
If a member of staff requires a PEEP, Suzanne will meet with the member of staff and relevant College / Department staff eg Line Manager to discuss appropriate arrangements and prepare a PEEP if required.
It is important PEEPs are kept under review by the person they are issued to, to ensure the document is kept up to date eg change in location.